Final: West Germany 1 : 0 Argentina
Strange but True
The same two teams met in the final as 4 years earlier.
The Republic of Ireland did well at World Cup 1990
Three football codes prevail in Ireland:
Rugby: which is defined as a thugs' game
played by gentlemen;
Soccer: a gentleman's game played by thugs;
Gaelic football: a thugs' game played by thugs.
Background.
In the final, one team came to play
football, the other team came to stop them playing football, fortunately right triumphed, West Germany won and Argentina not only lost but also had two players sent off.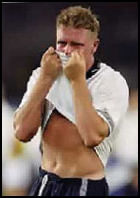 Key Players
Goal Keeping Record
Paul Gascoigne famously cried when he was booked and thus became ineligible
for the next game. As it happens, it was the third place game and not the final as England lost on penalties to Germany.
Walter Zenga, the goalkeeper of Italy, holds the record for the longest unbeaten run in World Cup history. He played 517 minutes (almost 6 games)
without letting in a goal in the 1990 tournament.
Claudio Caniggia of Argentina ended his run in the semi-final which Italy lost on penalties 3-4 after a 1-1 draw.
Salvatore '
Toto'
Schillaci (Italy) 6 Goals - Those eyes!
Classic
Match
West Germany 1 : 1 England (AET) 4-3 Penalties.
Average goals per game 2.1 (Lowest to date)
A variety of good, clean and free football (soccer) jokes. Funny sportsman's
nicknames. Amusing short stories. Anecdotes and tales about football. Will and Guy hope
that you share our joy of sporting funnies.
See more Football stories and jokes:
•
2014 World Cup jokes •
Footballer nicknames •
Football bloopers •
Funny footballer quotes
• Funny jokes
about football •
Football jokes
•
Funny football pictures •
Funny football stories
• Funny World Cup
stories
• Football
4
women •
Funny Super Bowl jokes
• Funny football photos