What we seek is to combine
funny pictures, football jokes, videos and funny stories.
'If winning isn't everything, why do they keep score?' Vince Lombardi.
Funny Football Jokes
10 Commandments
Bad Defending - Free Video
Beckham - Moves to America
Bloopers
Chants - Who ate all the pies?
Crazy Bets
Dogs
Football Flippers, Also Underwater Ice Hockey
Footballers'
Haircuts
Funny Football Pictures
Funny Football Jokes
Lemfids
Nicknames
Offside for Women
Pedaspheraphobia
Peter Crouch
Photos of Funny Football Events
Pig banned
Quotes
Robots
Streaker Problem - Free Video Download
Stories
Stupid players
Video of Funny Football Video Clips
World Cups Index
Commentary to
Look Out for:
Did Kenneth Wool-Stone Gnome really say: 'Some people are on the pitch, they think it's
all over...it is now'? Yes but he was actually Kenneth Wolstenholme.
'Peru score their third, and it's
3-1 to Scotland.'
David Coleman, BBC, 1978 World Cup finals.
'And in the other group match, Uruguay and Spain drew love-all'
- Female announcer.
'Apart from their goals, Norway haven't scored' - Terry Venables.
'Batistuta gets most of his goals with the ball' - Ian St John.
'If I walked on water, my accusers would say it is because I can't swim' - Berti Vogts, Germany coach.
Funny Football Video Clip - Over the Top Reaction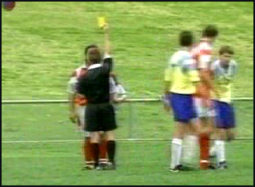 Amusing Names of Real Footballers
Harry Daft won five England caps.
Australia once had a goalkeeper called Norman Conquest.
Segar Bastard played for England and later became a referee. [There is no truth in the rumour that his name is regularly chanted at football matches in Britain.]
Martyn Booty played for Reading.
Nicky Butt played for England, Manchester United and Newcastle United.
Rafael Felipe Scheidt, once of Celtic [cost £4.9 million in 1999] and of whom a fellow
professional said, 'The guy couldnae trap a bag of cement.'
Lionel Prat played for Le Havre AC and had a trial for Aberdeen.
Dean
Windass: Hull City, Bradford City, Oxford and Middlesbrough always raised a grin.
Football Joke - Seat in Stand?
Bernie and Eddie were fortunate enough to have a season ticket to watch Manchester United. They could not help noticing that there was always a spare seat next (K37) to them and they had a friend who
would love to buy a season ticket, especially if all three could have seats together.
One half-time Bernie went to the ticket office and asked if they could by buy the season ticket for K37. The
official said that unfortunately the ticket had been sold. Nevertheless, week after week the seat was still empty.
Then on Boxing day, much to Bernie and Eddie's
amazement the seat was taken for the
first time that season. Eddie could not resist asking the newcomer, 'Where have you been all season'
. Don't
ask he said, the wife bought the season ticket back last summer, and kept it for a
surprise Christmas present.
Funny Footballers' Haircuts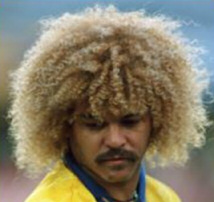 Snow White and the seven dwarfs
One day just outside Leeds, the seven dwarfs went off to work in the
salt mine, while Snow White stayed at home as usual to cook their lunch.
However, when she went to the mine to deliver their lunches, she found there had been a cave-in, and there was no sign of the dwarfs.
Tearfully,
Snow White shouted down the mine shaft: 'Hello - is anyone there. Can you hear me, Bashful, Doc, Dopey, Happy, Grumpy or Sneezy?'
(She knew it would be no good calling Sleepy.)
Then
a voice floated up from the bowels of the mine: 'Leeds will win the F.A. Cup'. '
Thank God!'
said Snow White, 'at least Dopey's
still alive!'
See more football jokes and funny stories
See more good clean jokes and funny pictures:
•
Home •
Humour Sections •
Comedians •
Football •
Videos •
Computers
•
'Joke of the Day' free subscription •
'Thought for the Day' free subscription
• Special Day Today