Aircraft crash photos revealed as hoax say Will and Guy.
An United States Air Force F-15 fighter aircraft with the Missouri National
Guard broke apart in mid-air on 2nd November 2007; the pilot escaped using his
ejector seat.
The following pictures appeared on the internet claiming to be actual
photographs of the F-15 breaking up. Will and Guy have learned that these
pictures are an animation of what might have happened. Knowing that the pilot is
safe, although injured; we would like you to look at the free PowerPoint
Presentation and draw
your own conclusions.
F-15 plane in level flight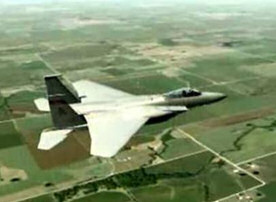 F-15 Plane - nose cone coming away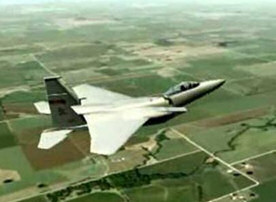 A serious crack appears in the F-15, just behind the cockpit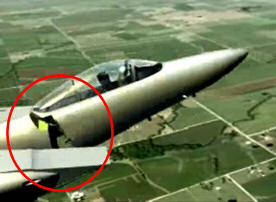 Crucial frame - Pod breaks away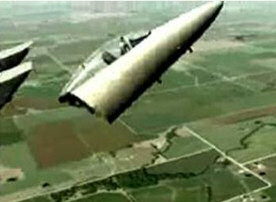 Phew.... The F-15 pilot ejects safely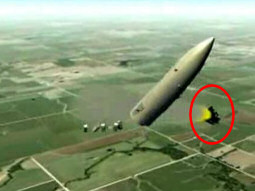 Free PowerPoint Slide Show - F-15 Plane Hoax
Free PowerPoint Slide Show -
F-15 Hoax
The F-15 Hoax
F-15 in flight
The pilot is just visible
The pilot is clearer in this slide
In this photo it appears that the front pod is breaking away from the rear
This is looking serious
The pod has totally broken free from the fuselage
The pilot prepares to eject
Equipment flies out
The pilot will be next
There he goes
The pilot is safe
The F-15 Plane Hoax Revealed
The truth behind this story: The pictures that you have been viewing are not
real photographs but are taken from an animation created as part of the
investigation into the crash. All models of the F-15 were grounded until an USAF
investigation into the crash concluded that there was a manufacturing defect in
the airplane, which was built in the 1970s by McDonnell Douglas.
How to Create a PowerPoint Presentation
Making presentations in PowerPoint is satisfying, moreover, it's easy to get
started.
The PowerPoint program is intuitive to learn and easy to create your own PPT
slides and build them into a slide show. If you have
Microsoft Office you may find that you already have PowerPoint along with Word
and Excel.
One way to begin is simply to open any example presentation. Just
download one of our free PPT files and open it with PowerPoint. As you examine the slides, so it will become obvious how
to add pictures and titles, if you do get stuck, ask the wonderful built-in 'Help'. To
make an amazing slide show requires these skills;
Imagination - Think an idea, then build a themed slide set
Artistic - An eye for a good picture
Wordsmith - Choose a catchy title for each slide
Humour - Your viewers will appreciate a funny PowerPoint Presentation
PowerPoint mechanics - Actually, this is the easiest skill of them all, the
program is so intuitive.
Good luck with creating your PowerPoint Presentation
Will and Guy