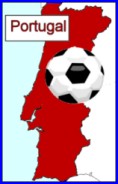 Euro 2004 Football - Sweden
Founded 1904 Fifa 1904

Prospects for the European Football Championship 2004
Sweden squeezed past Latvia, Poland and Hungary in the qualifiers. At face value that does not look like Championship form. Whereas Alan Shearer has retired gracefully from English international football, the Swedes cannot make up their mind about Henrik Larsson's participation. International footballers should be able to play anywhere, but I cannot help feeling that players from Scandinavia will be at a disadvantage come Portugal in blazing June. If my theory is correct this could let in Bulgaria. Qualified 1964, 1992, 2000
Group C

GS

GA

PTS

Sweden (20) Q
Denmark (14) Q
Italy (11)
Bulgaria (37)
(Fifa Ranking)
Only games between equal teams count. So disregard Bulgaria scores /goals
Sweden Won Qualifying Group 4
Group 4

GS

GA

PTS

Sweden

19

17

Latvia

10

16

Poland

11

13

Hungary

15

11

San Marino

30
Provisional Swedish Squad for European Football Championship 2004
Men to watch Zlatan Ibrahimovic (Ajax). Henrik Larsson retired?
Goalkeepers
Magnus Hedman Andreas Isaksson Magnus Kihlstedt
Defenders
Tomas Antonelius Mikael Dorsin Erik Edman Andreas Jakobsson Nils-Eric Johansson Tommy J?sson Teddy Lucic Olof Mellberg Michael Svensson
Midfielders
Niclas Alexandersson Christoffer Andersson Anders Andersson Pontus Farnerud Andreas Johansson Kim K?lstr? Marcus Lantz Tobias Linderoth Fredrik Ljungberg Johan Mj?lby Magnus Svensson Anders Svensson
Forwards
Marcus Allb?k Andreas Andersson Johan Elmander Zlatan Ibrahimovic Mattias Jonson J?gen Pettersson Rade Prica Niklas Skoog
---
Which country did Peter Schmeichel and Michael Laudrup play for?
Sweden
Holland
Germany
Denmark
Italy
Free sample quiz