Caller: Hi, hum, we've found an elephant walking down the street near the
community center.
911: How big are we talking here?
1) Elephant escapes onto the street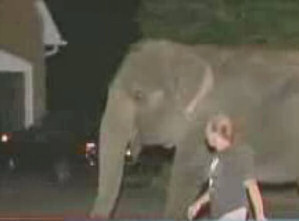 2) Police Dispatch:
We have a report of an elephant currently walking down Eagle Street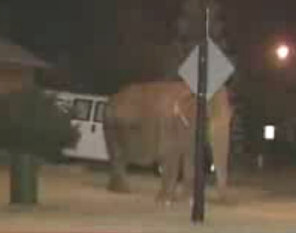 Police Car: There is one (elephant) travelling north bound on Crossland Gate.
Dispatch: 10-4 One elephant is outstanding on Crossland Gate.
3) One
Outstanding Elephant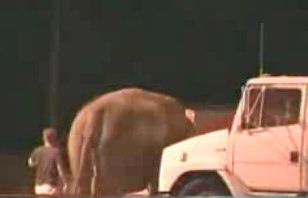 4) Elephant Eats Someone's Tree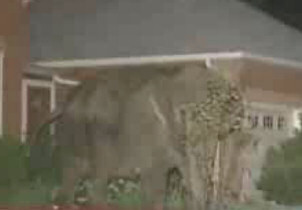 5)
Elephant Escapes Capture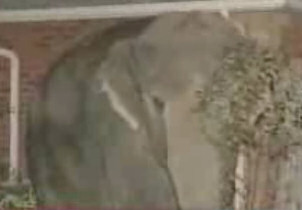 Police Car: The outstanding elephant on Crossland Gate is eating someone's tree.
Dispatch: 10-4
We suggest that to see precisely what happens you watch the elephant
escape video below.
N.B. With some browsers you need to click twice on the Play arrow

to start the video.
N.B. Help for Mozilla browsers
Video Clip Elephant Escapes - 911 Police Call
Here is a sign that they need in Eagle Street and Crossland Gate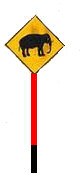 More Elephants on the Rampage
The Sri Lankan Daily News has informed Will and Guy that a herd of wild
elephants blocked the access road for voters heading to vote in polling booths
in Wellaveli, eastern Sri Lanka.
Security forces had to employ megaphones to drive away the wild elephants.
What happened was villagers in Wellaveli complained that they were could not
reach the polling station to vote. The police and army were able to draw away
the herd of elephants. The roads are now clear and the villagers can
exercise their vote.
Elephant Checks Into Hotel
It is not every day that guests in a hotel would expect to share the
foyer with an elephant, or even a herd of elephants. However, Will and
Guy have learned that in the Mfuwe Lodge in Zambia, it is a common occurrence. The herd,
numbering ten, is led to the lodge each day by the matriarch, Wonky
Tusk.
The hotel was unwittingly built on the route to the herd's favourite
mango trees and the elephants have seen no reason to change the path
trodden by generations before them.
Andy Hogg, 44, director at Mfuwe Lodge, said the herd appears every
November as the mangoes ripen, 'This is a totally natural phenomenon,
the elephants come here of their own accord and it is certainly a rare
but magnificent sight.'
See more funny pictures of animals, also jokes and
stories
•
Baby elephant •
Elephant pics •
Elephant escapes •
Bears •
Giraffe •
Tiger & piglet •
Zebra
•
Animal index •
Hippo & Tortoise •
Hippo & Tortoise •
Rory and Millie •
Animal videos •
Monkey
•
Panda •
Buffalo •
(Lassie) •
Lion •
Cheetah •
Leopardess and mouse •
More animals