Will and Guy have no tattoos at all; this is a matter of choice.
In the UK tattoos are quite popular with some people. However, few people
have their heads tattooed. Also not many tattoos can be said to be really
funny. We have chosen a few which we would like to share with you.
Funny Story of the Egg Tattoo
This man has had a tattoo of a full breakfast created on his head. He was selected after a plea for a volunteer. Reports from BBC news online.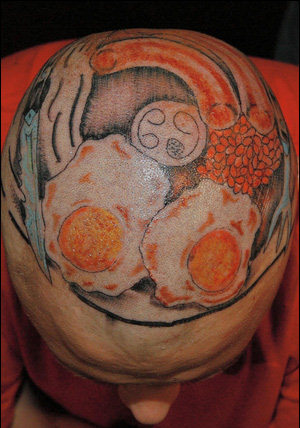 It took tattoo artist Blane Dickinson, 32, from Penmaenmawr, Conwy, Wales, six hours to
complete the bacon, eggs, sausages, beans and with cutlery. Volunteer Dwayne Gilbey, 19, from Coventry, said he wanted to take part in something different. Mr Dickinson said he next wanted to find someone
willing to have their face tattooed on the back of their head.
Mr Gilbey, who already has four tattoos, said,
'My friends and family keep asking me why I'm doing this. For me it's just something
different which has never been done before. My mum is really unhappy about it and threatened to throw me out but I don't think she'll
go through with it.'
He volunteered for the tattooing, which took place
at The Albion pub in Conwy.
The tattooist added, 'I'm not charging Dayne
but this tattoo would normally cost around £350 [USD$700] and must
definitely be the most expensive breakfast he has ever had.'
Egg Tattoo With Knife and Fork
Here is another example of a breakfast tattoo. This one not only
has the eggs and bacon, but also includes a knife and fork.
More Head Tattoos
These examples are clever in conception and very well presented.
We particularly like the man with lawn mower on his head; slightly more
than the girl holding shears.
Should the man with the 'head warning' ever suffer from stress he can
just show the tattoo on his head. While the man with the 'back to front'
look might look strange in a crowd.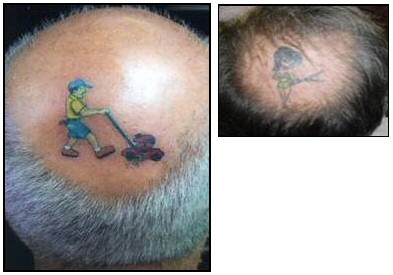 Footnote:
Please send us your amusing head tattoos