Cool Easter Eggs

Will and Guy's collection of Cool Easter Eggs, with much help from
Alicia Moss.
New Meaning To 'Dying Easter
Eggs'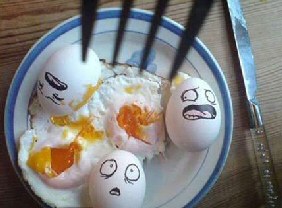 Look at that sinister fork! And then there's the menacing knife!
Died Easter Egg - Singing 'EggShellSheSaw'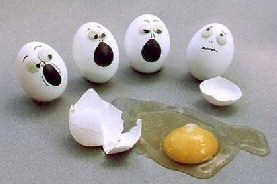 Easter Eggs on Death Row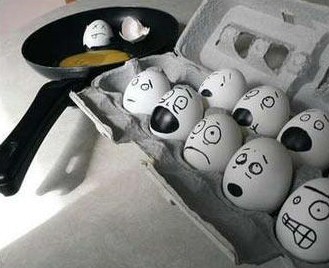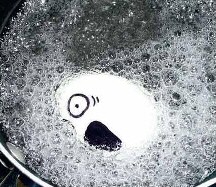 Easter eggs stoically facing EggStermination
Eggscape Artist . . .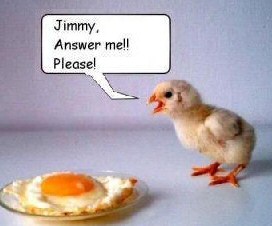 Which day of the year do chickens hate the most?
Good Fry-day!
More Crazy Easter Eggs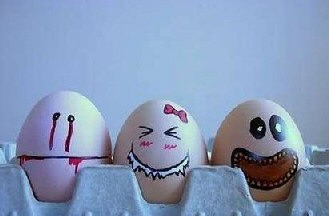 Guess what's EggsCruciating?
It's Dai The Welsh Easter Egg - From Aberystwyth, Wales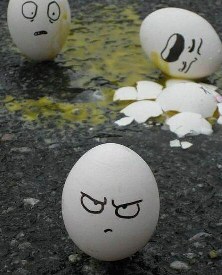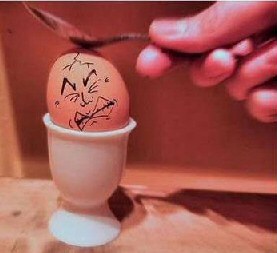 A friend is someone who thinks you're a good egg - even though your
slightly cracked.
Real Dyed Easter Egg
When Guy was a boy his mother made decorated Easter eggs by boiling them
in a cochineal dye, I think she added tartaric acid to deepen the
colour.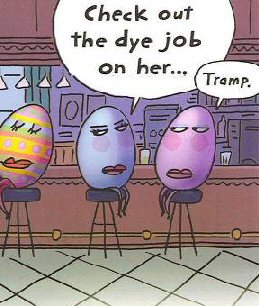 Incidentally, my mother once asked me to separate two eggs, so I put one
in a saucepan and the other in our fridge!
Since those halcyon days I have discovered options to produce a greater variety of
cool Easter eggs, for example:
Red Eggs
Red onion skins (Or orange onions if you
prefer)
Yellow
Orange
Carrots
Curry powder
Green Easter Eggs
Spinach leaves
Blue Eggs
Red cabbage leaves
Cool Easter eggs picture "Check out the dye job" by photobucket
After the Bad Easter Eggs, We Have the Good Easter Eggs
Fabergé Easter Eggs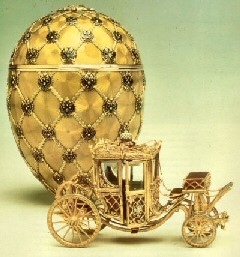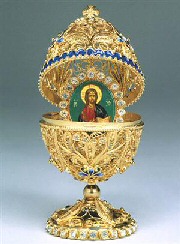 Peter Carl Fabergé original name Carl Gustavovich Fabergé [1846 - 1920]
was a Russian jeweller, best known for the famous Fabergé eggs, made in the
style of genuine Easter eggs, but using precious metals and gemstones rather
than more mundane materials, each egg is about 5 inches tall and depicts a
different event or theme in Russia's history.
He was commissioned to create
the first egg for the twentieth wedding anniversary of Tsar Alexander III
and his wife Maria Feodorovna, of Russia, in 1885. Every subsequent Easter,
another egg was made for Maria as a gift from her husband. After the passing
of Alexander III, his son took up the tradition presenting his wife and his
mother with their own custom Fabergé egg every Easter. In all, 50 eggs were
commissioned; to this day eight are still missing.
This is the
Coronation Egg, which features the coach that Empress Alexandra rode into
Moscow in 1897.
Chinese Truck Driver Balances Egg On Pencil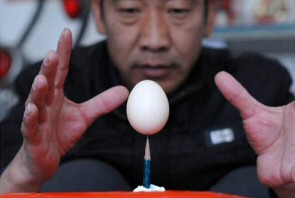 Cui Juguo, a truck driver, stands an egg up on the end of a pencil at
Hongxing market in Changsha, Hunan province, China.
The Ultimate Cool Easter Egg - Take Part in 'THE
EGG ROLL'
Since 1878 the White House Easter Egg Roll has taken place on the South
Lawn. In 2010 President Barack Obama and First Lady Michelle Obama are
continuing the Easter tradition, started by President Rutherford B. Hayes.
2010 Easter Egg Roll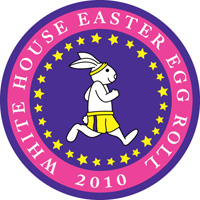 President Obama and the First
Lady have announced that this year's White House Easter Egg Roll will be
held on Monday, April 5, 2010 with the theme of "Ready, Set, Go!" promoting
health and wellness. The event will feature live music, sports courts,
cooking stations, storytelling and, of course, Easter egg rolling. All of
the activities will encourage children to lead healthy and active lives and
follow the First Lady's 'Let's Move!' initiative, a national campaign to
combat childhood obesity. The White House will open its South Lawn for
children aged 12 years and younger and their families.
2009 Easter Egg Roll
The theme for 2009 is "Let's Go Play", clearly setting an example for
children to more active pursuits. This is the first year when people
can apply for tickets online. We do hope that President Obama's
daughters Malia and Sasha will take part in the White House Easter Egg Roll
on April 13th.
Cool Easter Egg Hunt
An Easter Egg hunt is a cool game for adults to organize for
children. Years ago it was something that parents did in their
downstairs rooms, nowadays it the Easter Egg Hunt has evolved into an
outdoor event for the whole neighbourhood.
Organization plus the greater expanse has created more creative
opportunities both for the egg hiding places and the clues to locate the
chocolate treasure. If you are the organizer try to make it as fun as
possible, the secret is to keep them them moving and keep them guessing.
Sign on bathroom door
Your Easter Egg
is near now,
On this I'd like to bet
The next
place that it's hiding in
You're bound to get a little wet.
(Egg hiding in the bath)
Easter Bunny Footprints
Another twist for your Easter egg hunt is to use bunny footprints to give
the children clues where to look for the eggs.
Memorable Easter Egg Hunt Story
Emma and Tony thought it would be cool to give their toddlers a special Easter egg
hunt. Firstly, Emma hit upon the idea of sprinkling talc on the wooden
floor, then using the bunny footprints, they created a trail in the talcum
powder.
In the lounge Tony not only placed carrots at strategic points, but also
gnawed them to look like the rabbits had been there. One neat touch
was to leave a spilt saucer of milk in the kitchen.
This Easter bunny scene was so realistic that on Easter Sunday morning
their children Ken and Lizzy rushed into our bedroom, screaming: 'the Easter
bunny has been'.
Over the years the story has been relived and embellished, 20 years on I
am not sure who is the more embarrassed the parents, or the now grown-up
children.
An Easter Poem - Egg Hunt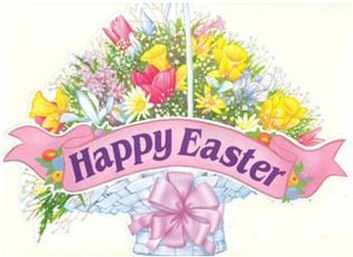 Easter morning, Easter morning, Easter morning dawning fine
Have to
find the Easter eggs now, I've already picked up nine.
Fill the basket,
fill the basket, fill the basket every time
Candy eggs and jelly beans
are tucked behind each growing pine.
Bend and scramble, bend and
scramble, bend and scramble, reach and climb.
Find each hidden Easter
treat now, pick them up and they'll be mine.
See them glow and see them
glisten, see them glow and see them shine.
Join me with my Easter candy
and together we will dine.
Author Unknown.
Happy Easter from Will, Guy and Alicia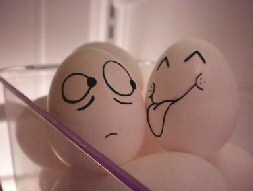 Footnote:
Please send us your cool Easter egg pictures.