Here are the dates in April (or March) where Easter Sunday occurs in
the twenty teens.
When Is Easter Day?
Here Are
the Dates for Easter Sunday
2013 31st March
2014 20th April
2015 5th April
2016 27th March (Early)
2017 16th April
2018 1st April
2019 21st April
2020 12th April
How To Calculate
The Date of Easter Sunday
Let us remember that Easter Sunday celebrates the day when Jesus Christ was resurrected
from the dead. On Good Friday,
Christ was first crucified then buried. However, on the third day he rose from the dead. Thus Easter Sunday is the most important date in the Christian calendar, far more important than
Jesus' birth day - Christmas.
Fewer than one person in a thousand could tell you how
to determine the date for Easter Sunday, and only few people can explain why Easter falls on a different date each year. While many people will tell you the moon was a factor,
few realize that the vernal equinox also plays a crucial role in the calculation.
The following simplified calculation for 'When is Easter' works for most years:
1) Start from the Vernal Equinox, which is usually on March 20th.
2) Consult a diary
or almanc to determine the next full moon following the Equinox. Easter falls on the
next Sunday.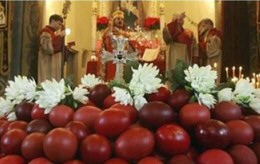 See the full
complex calculation for when Easter falls.
Days Derived From Easter
Palm Sunday is
always on the Sunday before Easter
Mothering Sunday (UK) 3 weeks before Easter
Ash Wednesday,
which marks the start of
lent is 46 days before Easter. The calculation of 40 days for lent discounts Sundays, thus explaining the discrepancy between 46 and 40.
There is also 'Shrove Tuesday' otherwise known as 'Pancake
Day'.
Easter Date Trivia
As mentioned earlier, Easter Sunday is set by the 1st full moon after the
Spring Equinox (which is March 20). Here's the interesting info.
This year 2008 is the earliest Easter any of us will ever see the rest of our
lives! And only the most elderly of our population have ever seen it this early
(95 years old or above!). And none of us have ever, or will ever, see it a day
earlier! Here's the facts:
1) The next time Easter will be as early as March 23 will be the year 2228
(200+ years from now). The last time it was this early was 1913 (so if you're 95
or older, you are the only ones that were around for that!).
2) The next time it will be a day earlier, March 22, will be in the year 2285
(275+ years from now). The last time it was on March 22 was 1818. So, no one
alive today has or will ever see it any earlier than this year!
Easter Celebrations in Europe
Easter in Poland
Poland is a Catholic country and attending Mass is an important part of
the Easter celebration so Will and Guy's Polish friend, Mateusz, tells them.
Polish Easter Eggs
Easter Sunday - Wielka Niedziela
On Easter morning, a special Resurrection Mass is celebrated in every
church in Poland. At this Mass, a procession of priests, altar boys and the
people circles the church three times while the church bells peal and the
organ is played for the first time since they had been silenced on Good
Friday. Following the Mass, people return home to eat the food blessed the
day before.
The Easter table will be covered with a white tablecloth. On the middle
of the table in most homes housewife will put coloured eggs, cold meats,
coils of sausages, ham, yeast cakes, pound cakes, poppy-seed cakes, and a
lamb made of sugar.
Polish Easter Soup called Zurek or White Barscz is
often served at the Easter meal, garnished with the hard-boiled eggs and
sausage.
There is also tradition to share blessed eggs with the members
of the family and wish each other good health, happiness for the rest of the
year.
Easter in Bulgaria

In Bulgaria, people don't hide their eggs: apparently they have egg
fights! Whoever comes out of the game with an unbroken egg is the
winner and assumed to be the most successful member of the family in the
coming year.
Easter in Bulgaria is a strongly celebrated holiday. Red, the predominant
color of Bulgarian Easter eggs, is a part of pagan mysticism that pervades
Bulgarian culture even today.
Orthodox priests consecrated traditional red-dyed eggs during a service
in the town of Varna, Bulgaria. Red Easter eggs are baked into an Easter
loaf, may be blessed at the church, or may be cracked against each other to
see who will be the most successful, healthy, or happy during the following
year.
Photo: Steven Miric
See more worldwide Easter Celebrations.
Germany and Easter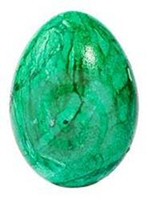 In Germany, eggs are dyed green on Maundy Thursday.
Known as Ostern in German speaking countries of Austria, Germany and
Switzerland, it is important to Catholics and Protestants alike.
Easter customs can be traced back to pre-Christian, pagan rites that were
related to the beginning of Spring and fertility, symbolized by daffodils,
rabbits and eggs.
The art of decorating hollowed out eggs, Easter eggs or Ausgeblasene
Eier, is an Austrian and German tradition.
Nowadays, the Satzvey Castle, which is a beautiful, moated castle in
Germany, has an Easter market that displays elaborately decorated eggs along
with spring inspired arts and crafts.
Saxony holds a traditional Easter parade with 250 horsemen and
traditional costumes.
The town centres in Southern Germany decorate their fountains for two
weeks starting on Good Friday and Northern Germany celebrates by burning big
piles of logs, sometimes with a witch puppet to signify the end of Winter.
Beer, hot punch and grilled sausages are served.
In Franconian Switzerland to Northern Bavaria, the city fountains are
decorated with real, blown eggs.