Here are a wide variety of festivities to celebrate one of the most holy
days in the religious year, Jesus Christ's death on the cross and his
resurrection.
Traditional Easter Celebration in Hungary
A girl runs as boys throw water at her as part of traditional Easter
celebrations during a media presentation in Holloko, 100 km east of
Budapest.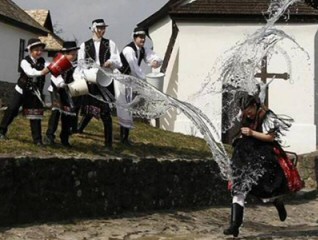 Photo: Laszlo Balogh
Will and Guy have found out that the locals from the village of Holloko,
northeast Hungary, [which is incidentally a World Heritage site] celebrate
Easter with the traditional "watering of the girls".
This, apparently is a fertility ritual rooted in Hungarian tribes'
pre-Christian past, going as far back as the second century after Christ.
Easter in the UK
In England, the festivities of Easter begin with Lent, which falls on Ash
Wednesday, and lasts for 40 days.
Easter celebration in England is usually a low-key affair, as people
prefer religious observations as compared to joyous merriment. Easter is an
occasion for sober worship and quiet family gatherings.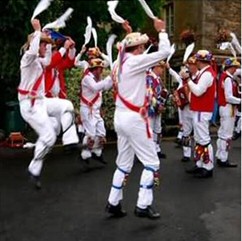 However, we are not completely without soul and in many parts of England,
professional troupes of dancers perform Morris Dances on Easter Sunday.
These troupes of dancers, almost exclusively male, perform old spring dances
to frighten away the evil spirits of winter.
These Morris Dancers, seen in the picture, dress themselves in smart
white trousers, [some groups wear black] red sashes, and straw hats, with
lots of flowers and streamers. Red and green ribbons and little bells are
tied onto the dancers, to complete the look. Musical accompaniment is
essential also, often in the shape of an accordion or fiddles. [violins]
English villages, with their quaint charm, provide the perfect backdrop
for witnessing traditional Easter traditions of England. During the
ceremonious occasion of Easter, the village church would be bedecked with
fresh flowers. Traditional Easter egg hunts are organized in the villages,
wherein the Easter Bunny hides Easter eggs for the local children to find.
Tithe village bakery would offer fragrant hot cross buns, warm from the
oven, and Simnel cakes, with homemade "*marzipan".
*a paste made with almond and sugar, generally used as icing for cakes
and pastries.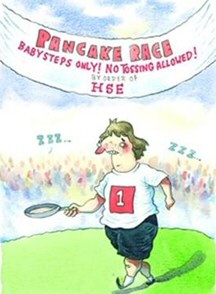 In many towns across the UK, pancake races have been held on Shrove
Tuesday, some date back 500 years or more. These have recently been stopped
as health and Safety Officers have gone mad and banned the races for safety
reasons.
This cartoon sums up Will and Guy's feelings about the bans.
Easter Celebrations USA Style
Parades are traditional in some US cities. Atlantic City's
140-year-old parade is the oldest, and the promenade on New York's Fifth
Avenue, immortalized in Irving Berlin's song, "Easter Parade," is perhaps
the best known.
The annual White House Easter Egg Roll takes place in the nation's
capital city on Easter Monday.
Will and Guy Offer Ideas of Easter in the USA
In New Orleans, an annual Easter carnival called "Mardi Gras"
occurs, which features lot of fun activities like parade, jazz music
bands and a massive party.
A 'must play' Easter game for American kids is the Easter egg roll.
A special dish for Easter springtime in USA is baked ham, potatoes
and vegetables. Another, as in the UK, is the making and eating of hot
cross buns.
It was in the early 1700s, when for the first time, eggs were dyed
and the credit for starting this practice in America can be attributed
to Pennsylvania Dutch and German settlers.
As a part of Easter traditions in the US, sunrise services are held
and the prime motive is to include various Christian religious groups in
this event.
Painting the Easter eggs and then conducting Easter egg hunt games
for children is what many American parents do during Easter week.
Easter in Mexico

Easter in Mexico is more of a solemn remembrance of Christ's death than
an egg-hunt or a chocolate frenzy.
Easter and related holidays are colourful and lively in Mexico, where
children actually break eggs over each other's heads in the week before Lent
begins. Fortunately, these eggs are filled with small pieces of paper rather
than raw egg.
Holy Saturday - 'Sabado de Gloria': In some places there is a custom of
burning Judas in effigy because of his betrayal of Jesus, now this has
become a festive occasion. Cardboard or paper mache figures are constructed,
sometimes with firecrackers attached, and then burned. Sometimes the figures
are made to represent political figures.
Easter Sunday - 'Domingo de Pascua' - You won't come across any mention
of the Easter Bunny or chocolate eggs on Easter Sunday in Mexico. This is
generally a day when people go to Mass and celebrate quietly with their
families, though in some places there are festivities with fireworks.
Easter Celebrations in Europe
Easter in Poland
Poland is a Catholic country and attending Mass is an important part of
the Easter celebration so Will and Guy's Polish friend, Mateusz, tells them.
Polish Easter Eggs
Easter Sunday - Wielka Niedziela
On Easter morning, a special Resurrection Mass is celebrated in every
church in Poland. At this Mass, a procession of priests, altar boys and the
people circles the church three times while the church bells peal and the
organ is played for the first time since they had been silenced on Good
Friday. Following the Mass, people return home to eat the food blessed the
day before.
The Easter table will be covered with a white tablecloth. On the middle
of the table in most homes housewife will put coloured eggs, cold meats,
coils of sausages, ham, yeast cakes, pound cakes, poppy-seed cakes, and a
lamb made of sugar. Polish Easter Soup called Zurek or White Barscz is
often served at the Easter meal, garnished with the hard-boiled eggs and
sausage.
There is also tradition to share blessed eggs with the members
of the family and wish each other good health, happiness for the rest of the
year.
Easter in Bulgaria

In Bulgaria, people don't hide their eggs: apparently they have egg
fights! Whoever comes out of the game with an unbroken egg is the
winner and assumed to be the most successful member of the family in the
coming year.
Easter in Bulgaria is a strongly celebrated holiday. Red, the predominant
colour of Bulgarian Easter eggs, is a part of pagan mysticism that pervades
Bulgarian culture even today.
Orthodox priests consecrated traditional red-dyed eggs during a service
in the town of Varna, Bulgaria. Red Easter eggs are baked into an Easter
loaf, may be blessed at the church, or may be cracked against each other to
see who will be the most successful, healthy, or happy during the following
year.
Photo: Steven Miric
Germany and Easter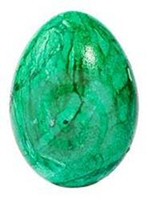 In Germany, eggs are dyed green on Maundy Thursday.
Known as Ostern in German speaking countries of Austria, Germany and
Switzerland, it is important to Catholics and Protestants alike.
Easter customs can be traced back to pre-Christian, pagan rites that were
related to the beginning of Spring and fertility, symbolized by daffodils,
rabbits and eggs.
The art of decorating hollowed out eggs, Easter eggs or Ausgeblasene
Eier, is an Austrian and German tradition.
Nowadays, the Satzvey Castle, which is a beautiful, moated castle in
Germany, has an Easter market that displays elaborately decorated eggs along
with spring inspired arts and crafts.
Saxony holds a traditional Easter parade with 250 horsemen and
traditional costumes.
The town centres in Southern Germany decorate their fountains for two
weeks starting on Good Friday and Northern Germany celebrates by burning big
piles of logs, sometimes with a witch puppet to signify the end of Winter.
Beer, hot punch and grilled sausages are served.
In Franconian Switzerland to Northern Bavaria, the city fountains are
decorated with real, blown eggs.
Easter Celebrations In The East
Celebrate Easter in China

Written by Caroline Baker on the Chinese Culture Site.
Easter is an International holiday that is celebrated in China as well.
Even beyond the religious implications, Easter has many significances in the
Chinese culture.
For many, Easter is a mark of the coming of spring. While ancient Chinese
generally celebrate the coming of spring with Chinese New Year, the passing
of the spring equinox is yet another reason to celebrate.
The three most common symbols that are associated with Easter in the West
are: the Easter egg, rabbits, and baby chicks. All hold significance in the
Chinese culture as well. In one of the creation stories that comes to us
from ancient China, the world was created from an egg of chaos. Rabbits and
chicks can be seen in many pieces of art, often there to symbolize life and
birth.
From olden times, the art of painting on eggs has been part of the
Chinese culture. Eggs would be drained and then fine line art depicting
women, sceneries, and other images of beauty would grace the exterior. Jade
and wood would be smoothed and carved into eggs to symbolize the "dragon
egg". All these would be given as gifts in wishes of growth and many
children.
But even beyond the commercialized aspects of Easter today, Chinese also
celebrate the Christian rising of Christ. Perhaps even before the United
States became known as the melting pot of cultures and religions, China held
many, if not all, the known religions of the world. Much of these other
religions entered China by way of the Silk Road and trade with other
countries.
Thus, from very early on, Christianity has been part of the Chinese
Culture, as many other religions of the world.
In order to wish someone a "Happy Easter" in Chinese, one of the ways you
might say it is: fu huo jie kuai le. Literally translated it means "happy
festival for the sign life".
Easter in India
Easter is one of the most significant festivals in the Christian calendar
and marks the beginning of the spring season. The occasion is celebrated
with great zeal and enthusiasm throughout the world. The holiday
commemorates the resurrection of Jesus Christ from the dead.
India is a land of cultural diversity; hence every festival is celebrated
with great pomp and show. Although Christians constitute a meagre 3% of the
total population in India, the festive spirit of Easter is no less.
Being multi-ethnic, the country respects and honours every religion and
celebrates Easter with the same religious solemnization as any other
festival. A spring time festival, the celebrations start with Lent and end
with Easter Sunday.
Easter eggs and Easter bunnies form the major attractions during Easter.
Hence, these elements are largely sold in shops and people exchange these
items with one another as gifts.
Chocolate cakes, flowers and colourful lanterns are also presented as
gifts to people. Wonderful carnivals throng at the beach state of India,
Goa, where various street plays, songs and dances are staged.
An Indonesian Easter Celebration
Indonesia has the largest Muslim population in the world yet it also has
a large Christian population [approx. 8 million] and therefore Good Friday
and Easter Sunday are National public holidays.
Occasionally plays, representing the crucifixion, are shown.
Footnote:
Please send us your Easter celebrations
from around the world.