After years of being in the dog-house, dogs are now fighting back. Will
and Guy bring you evidence of the how dogs fight back.
Dog Gets Revenge on Cat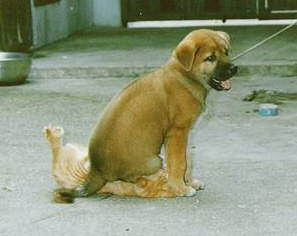 True dog story
A dog owner is having to chain up his pet to stop him hopping on to the bus and going to the pub. Gary Kay's terrier Ratty regularly got on the bus on his own to go to the Black Bull pub, in Hull Road, York. Ratty made the trip to the pub, where he was fed sausages by a barmaid, twice a week, reports the York Post. His outings came to an end when the pub went upmarket and banned animals from the premises. But now
Gary, from Dunnington, York, says Ratty has found a new local - the Rose And Crown Pub, in Lawrence Street. He believes Ratty has been getting off the bus at the Black Bull on his own, crossing the road and
turning up at the Rose and Crown.
'I've had to start chaining him up because, although he can get to the pub on his own he can't get home,' said Gary. [Not an uncommon occurrence say Will and Guy] 'I've no
idea how he is doing any of this or how he crosses the road. This dog just has a mind of his own.'
Dogs lick owners?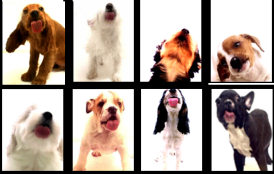 PowerPoint Presentation
Download the PowerPoint presentation
(Right Click, Save Target As..)
How to Create a PowerPoint Presentation
Making presentations in PowerPoint is satisfying, moreover, it's easy to get
started.
The PowerPoint program is intuitive to learn and easy to create your own PPT
slides and build them into a slide show. If you have
Microsoft Office you may find that you already have PowerPoint along with Word
and Excel.
One way to begin is simply to open any example presentation. Just
download one of our free PPT files and open it with PowerPoint. As you examine the slides, so it will become obvious how
to add pictures and titles, if you do get stuck, ask the wonderful built-in 'Help'. To
make an amazing slide show requires these skills;
Imagination - Think an idea, then build a themed slide set
Artistic - An eye for a good picture
Wordsmith - Choose a catchy title for each slide
Humour - Your viewers will appreciate a funny PowerPoint Presentation
PowerPoint mechanics - Actually, this is the easiest skill of them all, the
program is so intuitive.
Good luck with creating your PowerPoint Presentation
Will and Guy
Please send us your funny pictures and stories of how dogs fight back.