Tiger Suckling Piglets
Hippo and the Tortoise
More Short Stories
Honey (Golden Retriever) and Precious (Kitten)
A dog, or to be specific, a bitch named 'Honey' has taken a kitten to her bosom. This true story started when the tiny kitten ran out in front of Jimmy Martin's truck in Stephen's City, Virginia.
Jimmy searched for the kitten's mother amongst the old tires at the Front Royal plant. No luck.
At first Jimmy and his wife Kathy tried to feed the kitten, who they named Precious, from a
bottle. No success. At this point their golden retriever Honey took an interest in Precious. Honey was so excited and attentive to the new kitten that she started lactating naturally after a few days.
It transpires that Honey had previously reared a litter of puppies, but that was over year before Precious appeared on the scene.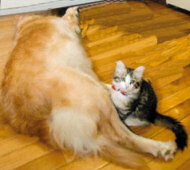 Equally importantly, the kitten took to her surrogate mother Honey. Rearing tiny kittens can be difficult as they won't always take cows milk from a bottle. Kathy summed up the situation by saying: "Precious really is precious. And Honey has really proved to be a honey."
Other Cross-Species Cases
Vets say that such cross-species rearing is uncommon. However there have been other notable cases for example, a Tiger suckling piglets.
Also, while
there was no suckling involved there was the interesting case of the baby Hippo and the Tortoise
Mutt Adopts Moggies
A female dog is nursing a litter of kittens which were orphaned when
their mother died.
Their owner, Cai, of Jiangmen, China said he has been raising cats and
dogs together for more than 10 years, and they all got along together well,
however, this was the first time he had ever seen kittens being nursed by a
dog Will and Guy have learned.
The four kittens seemed happy and content with their new mother's milk,
while the dog was tending to its adopted family with love and care. 'Several
days ago, the kittens' mother died after eating a poisoned rat, leaving
behind a litter of kittens without a source of milk,' Cai volunteered. 'The
kittens' cries may have stirred the dog's maternal nature, since it too had
recently given birth. It volunteered to take over and feed the kittens of
its old friend.'
The dog's own puppies had been taken away by one of its grown-up
offspring. Cai mused, 'That's perhaps another reason why the dog adopted the
kittens. She lost all of her own children.'
More Funny Cat & Dog Pictures
Cats and Dogs At War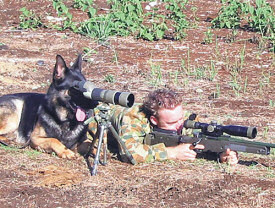 Cat or Dog? Whose Side Are You On?
If you're much like a cat, there's something to learn from the dogs:
loyalty, courage, and an unconditionally loving and positive attitude, for
example.
If you're much like a dog, there's something to learn from the cats:
independence, dignity, mutual respect and being yourself, for instance.
If you aren't at all like a cat and not at all like a dog, then we think
there may well be something you can learn from both.
Funny Cat and Dog Video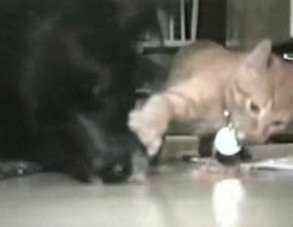 See the cat and dog fight video.
Cat in the Dog House?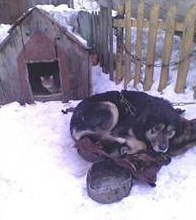 Possession is 9/10 of the law. Is that a cat I see in the dog house?
Surely it couldn't be a fox?
Finally, Dog and Cat - A Picture of Co-operation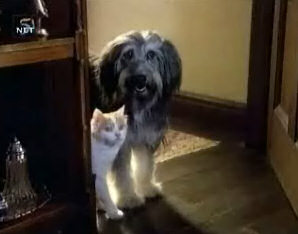 See how this cat and dog
foil a robbery.
Footnote:
Please send us your kitten stories.
See more funny cat stories
•
Funny cat stories •
Cat flush •
Party •
Dog & cat play •
Funny cat jokes •
Friends
•
Funny Christmas cats •
True cat story •
Cat and mouse •
Sleeping cats •
Home
•
4 Cats story •
Useless •
Christmas Cat Stories •
Kitten story •
Bagpuss •
Cat robbery