Printing instructions: Press the printer button on your browser. If all else fails, press Ctrl + p
Olive, from County Westmeath, Ireland, arrives in England to live with her daughter and son in law. She is moving because of her poor health and brings with her most of her treasured
possessions. These include a small piece of tissue paper in which she has secreted what appear to be five teeth which have broken off her denture.
Having settled in she asks Thomas, 'Do you know where I
can get my dentures mended?'
'Of course, 'replies Thomas, 'If you give them to me I'll take them to a dental technician.'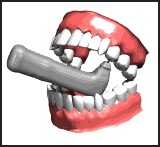 Olive duly hands over the rather tired piece of paper which contains some very grubby
looking teeth.
He drives to Waterlooville to the dental laboratory.
'How long will it take?'
Thomas asks the technician.
'Oh, about an hour, 'smiles the dental expert.
'Then I'll wait in the car, 'says Thomas, 'and read my newspaper.'
An hour passes and the technician appears at the car window holding a plastic bag and the piece of tissue paper.'
That'
ll be £20, 'requests the specialist, 'but I
could only fit four of the teeth to the denture. I'm sorry.'
'That's
a pity, 'comments Thomas, 'what happened to the fifth one?'
'I have it here in the tissue, 'answers the techie, showing it to Thomas.
'The thing is, he said, 'it's
easy to fit the teeth but nigh on impossible to fit this peanut.'
Footnote
We know this was true because Will was there.
---
This Will more than Rot your Teeth
The hospital's
consulting dietician was giving a lecture to several community nurses from the Southampton area of Hampshire.
'The rubbish we put into our stomachs and consume should have killed most of us
sitting here, years ago. Red meat is terrible. Fizzy drinks attack your stomach lining. Chinese food is loaded with msg. Vegetables can be disastrous because of fertilisers and pesticides and none of us
realises the long-term damage being done by the rotten bacteria in our drinking water. However, there is one food that is incredibly dangerous and we all have, or will, eat it at some time in our lives.
Now, is
anyone here able to tell me what food it is that causes the most grief and suffering for years after eating it?'
A 65-year-old nursing sister sitting in the front row stood up and said, 'Wedding cake.'
---
This is a familiar story about four people named Everybody, Somebody, Anybody, and Nobody.
There was an important job to be done and
Everybody was sure that Somebody would do it.
Anybody could have done it, but Nobody did it.
Somebody got angry about that because it was Everybody's
job.
Everybody thought that Anybody could do it, but Nobody realised that
Everybody wouldn't
do it.
It ended up that Everybody blamed Somebody when
Nobody did what Anybody could have done.