Will and Guy's collection of funny seagull pictures and stories.
Please
Don't Feed the Seagulls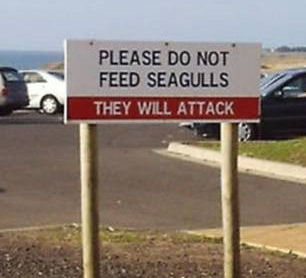 I wondered why anyone would put up a sign saying:
Please Do Not Feed Seagulls. The answer in an article from
the South Devon newspaper the Herald Express. (See underneath the picture.)
Helmets Deflect Seagull Attacks
Workers at a Devon council have been issued with crash helmets - to protect them from dive-bombing seagulls. Flocks of seagulls have been attacking staff who collect
weather data from the roof of council offices in Newton Abbot.
One victim, David Potter, said: 'It can be really bad and it's
getting worse. It is my fourth year doing the job and there are more and more
gulls. 'The big gulls swoop at my head and are backed up by half a dozen others which scream and dive-bomb me.
'It's
very distressing but at least we now have crash helmets to protect us from being pecked
about the head and face.'
The data is collected every day and is used by the Met Office as part of its national record-keeping and weather forecasting. A Teignbridge District Council spokesman said the
helmets were issued as a security measure to staff. Reported in the local South Devon newspaper the Herald Express.
Footnote
While the seagull article from the Herald Express is genuine, I
confess that the seagull photograph is taken elsewhere.
Sam Seagull
A pilfering seagull has turned shoplifter by wandering into a store and helping himself to his favourite crisps. The fearless bird lies in wait every day and pounces at a corner shop in Aberdeen, Scotland,
when the door opens. He sneaks in, grabs his spicy Doritos, then flies off with them in his beak and shares them with other birds.
The seagull, nicknamed Sam by staff and customers, has become so popular locals
have started paying for his crisps.
Shop assistant Sriaram Nagarajan reported: 'At first I didn't believe a
seagull was capable of stealing crisps. But I saw it with my own eyes and I was
surprised. He's very good at it. He's becoming a bit of a celebrity. Seagulls
are usually not that popular but Sam is a star because he's so funny.'
See picture above right, Sam Seagull and his pals eating the 'stolen' Doritos.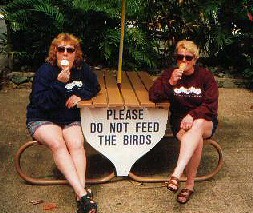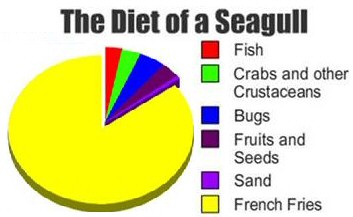 Dangerous Seagulls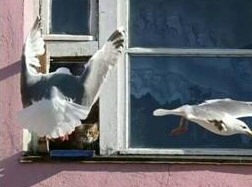 Miaow!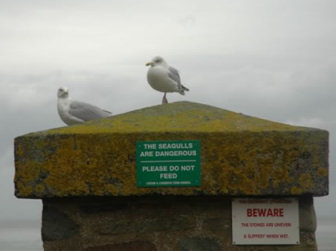 These seagulls above are dangerous - Please do not feed.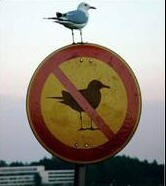 However, Please Note: It is Forbidden to Eat Seagulls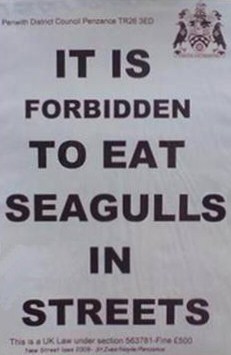 More Funny Seagull Pictures
Not a Seagull - But a Raven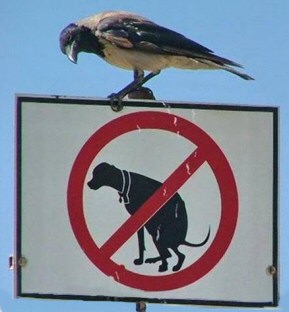 Well, He Had Been Warned!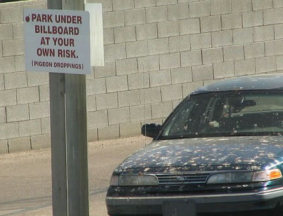 Park under the
billboard at you own risk!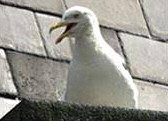 Dangerous Seagulls Spoil Playtime
Some schools in the town of Porec in Croatia are having to cancel outside
playtimes because of aggressive seagulls. City officials have informed Will and
Guy that several children had had their sandwiches stolen by these 'dangerous'
birds.
'It is too dangerous for school kids to go outside. We have to do something
about the situation before it gets any worse,' commented a spokesperson.
Treacherous Seagulls in
England
Shoppers Warned about Seagulls Fish and chip shops in the seaside resort
of Bridlington, Yorkshire, England have put up signs warning customers about
being attacked by seagulls. Seafront chip shop owner Justin Carpenter
told us he was now losing money because of the number of chip thefts.
He said he was giving out more free bags of chips in compensation for the
ones stolen by the birds.
Yorkshire Council said they were aware of the situation and warned
tourists not to encourage the attacks by feeding the birds. Will and Guy
emphasise that this is not a new phenomenon as can be seen by studying this
page. For further information
see more on
annoying seagulls.
Another Dangerous Seagull Eats Man's Ice Cream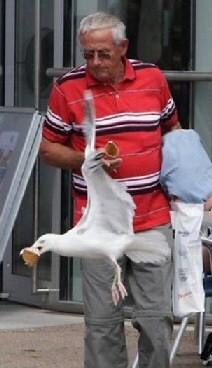 The Scottish Government Declares
War on Seagulls
The councillors of Dumfries, Scotland are determined to do something
about the seagull problem. Even though Dumfries is not on the coast
they are plagued by seagulls, for example, 'dive-bombing' people and even
disrupting paper boys delivering their daily newspapers. Enough is enough
and next spring when the gulls breed, a special anti-gull 'task force' will
seek and destroy the gulls nests and smash any eggs. The result should
be a reduced seagull population in Dumfries.
"Seagulls are a menace to Scottish towns and cities," said Environment
Minister Michael Russell. "They thrive on litter and their aggressive
behaviour towards other birds, pets and even people is increasing."
Dumfries town councillor Jack Groom said the time for talk was over,
adding that it was time for action before a human was seriously hurt by the
gulls. Will and Guy hope that other towns will take
similar action to curb the seagull menace in as humane a way as possible.
Seagulls Start a Take-away
Business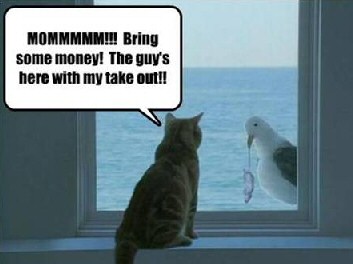 Funny Seagull Thinks He's a Cat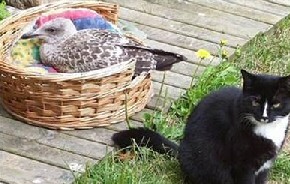 The seagull thinks it is a cat and often sleeps in its bed Will and Guy
can reveal. [See photo]
After falling down a chimney and into a seaside
home, "Mr Pooh", the seagull, became a very confused young bird. The herring
gull was adopted by June and Steve Grimwood, who found him as a soot-covered
baby in their fireplace - and now appears to believe he is actually a cat.
The couple brought him up with their cats, providing a basket from which
he acquired a taste for Whiskas. Three years later, Mr Pooh has left the
family home, but only as far as a nest on the roof with a female partner. He
can't resist returning-three times a day for his favourite food, announcing
his arrival by tapping on the door.
The bird eats the cats' food with them out of a bowl
'At first the cats were quite wary of him but after a week they were
eating out a bowl together. He'll also often wander in and help himself to
cat food. He also knows the sound of the fridge door opening and he'll come
in for that as well. He's just like another pet in the family and even comes
when he is called.'
Dangerous Seagull Spoils -
Love Scene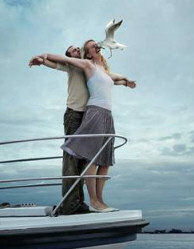 Original Scene with Kate Winslett and Leonardo DiCaprio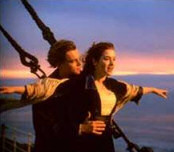 Interesting Facts About Seagulls
While seagulls can be irritating to we humans, they are model parents
where both the male and female take turns at incubating the eggs and feeding
the chicks. Moreover, if one parent is killed the other takes over and
raises the chicks single-handed. Curiously, seagulls always lay two or
three eggs in their nest. Finding four eggs in a seagull nest is as
rare as hen's teeth.
What makes gulls so successful, and so annoying is their ability to eat
a wide range of food. Thus they follow fishing boats, hover around
rubbish tips, they even steal food from other birds. If you ever get
close to a gull, they always seem bigger than anticipated. Even the
'Little Gull' has a wingspan of about 2ft, where as the largest Great
Black-headed gull can have a wingspan of 5ft.
Gulls are also successful in the sense that there about 50 different
species. Locals use the generic word 'Seagull' to describe any gull in
their area. It is for this reason that scientists starting with
Linnaeus defined a Latin name to describe each type of animal and plant, for
example Larus argentatus (Herring Gull), or Larus ichthyaetus (Great
Black-headed Gull).
A seagull can drink both fresh and saltwater. To overcome problems
of salt building up in their bodies, seagulls have a special pair of glands
above their eyes, which flush salt from bodies through openings in the bill.
How to make your fortune: invent a seagull scarer. Many have
tried, but nobody has succeeded in frightening away seagulls. On a
related matter some councils in the UK are reducing their town's seagull
population by sterilising their eggs in boiling oil, then returning the
infertile eggs to the nests.
See more seagull pictures
-->
Footnote:
Please send us your dangerous seagull story
and funny seagull pictures
See more bird jokes, funny pictures, stories and videos
•
Funny short bird stories •
Birds on wire •
Budgie story •
Funny parrot stories •
Birds PPT
•
Hummingbirds •
White Peacock •
White Stork •
Flamingo •
Funny Owls •
Robin - Bird of Pray
•
Bird flu •
Swine flu jokes •
Funny penguin pictures •
Kitten and Budgerigar •
More animals