Dangerous Golf Courses
Dangerous Golf Courses
If you're caught on a golf course during a storm and are afraid of lightning, hold up a 1-iron. Not even God can hit a 1-iron:
Lee Trevino
The World's Most
Dangerous Golf Course
Play with Care!
Will and Guy feel that we have found the world's most dangerous and
frightening golf course. It can be found in the demilitarized zone between
North and South Korea at Panmunjom.
The course is in Camp Bonifas and sadly only offers one hole: a 192-yard
par 3. We can add that it provides the US soldiers, some 50 strong, with fun
activity. We ought to include the fact that it has live landmines
scattered throughout the rough!
"Danger! Do not retrieve balls from the rough; live mine fields" greets
visitors before they step onto the course, which contains an AstroTurf
putting green and, for some reason, a gun tower. The minefields surround the
hole, and at least one mine is said to have exploded due to an errant slice.
The course was named after the late U.S. Army Captain Arthur Bonifas.
Risky Golf Shot
Two Mexican detectives were investigating the murder of Juan Gonzalez.

'How was he killed?' asked one detective.
'With a golf gun,' the other detective replied.
'A golf gun? What's a golf gun?'
'I don't know, but it sure made a hole in Juan.'
See more clean Golf Jokes
A Wild and Dangerous Course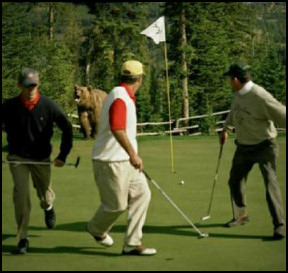 A Hazardous Golf Shot
After a
particularly bad round of golf, Lee decided not to go to the nineteenth
hole [the clubhouse bar] and started to go straight home.
As he was
walking to the golf car park to get his Range Rover, a policeman stopped him
and asked', Did you tee off on the seventeenth hole about twenty minutes
ago?'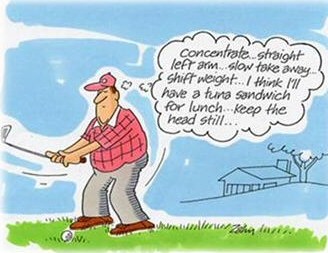 'Yes',
Lee answered
'Did you happen to slice your ball so that it went over the trees and out of
bounds and completely off the golf course?'
'Yes, I did. How did you know?' Lee questioned.
'Well', said the
policeman gravely', Your golf ball flew out onto the main road and crashed
through the windscreen of a BMW. The car driver lost control and crashed
into six other cars and a fire engine. The fire engine was unable to reach
the fire in time and the building burned down. Now, what do you intend to do
about it?'
Lee thought it over very carefully and responded', I think I'll close
my stance a little bit, tighten my grip and lower my right thumb.'
A Perilous Sand Trap?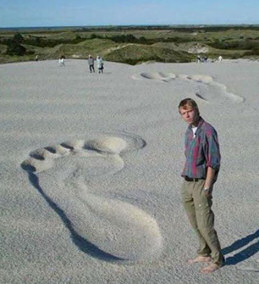 Dangerous Golfers to Caddy For

Golfer: I'd move heaven and earth to break 100 on this
course.
Caddy: Try heaven, you've already moved most of the earth.
Golfer: This is the worst course I've ever played on.
Caddy: This isn't the golf course. We left that an hour ago.
Golfer: That can't be my ball, it's too old.
Caddy:
It's been a long time since we teed off, sir.
Tricky Golf Players
I'm hitting the woods just great, but I'm
having a terrible time getting out of them - Harry Tofcano
The best wood in most amateurs' bags is the pencil - Unknown
Golf is a game
whose aim is to hit a very small ball into a even smaller hole, with weapons
singularly ill-designed for the purpose - Winston Churchill
If you think it's hard to meet new people, try picking up the wrong golf ball: Jack Lemmon
If you're caught on a golf course during a storm and are afraid of lightning, hold up a 1-iron. Not even God can hit a 1-iron: Lee Trevino
The only thing a golfer needs is more daylight. -
Ben Hogan
The difference in golf and government is that in golf
you can't improve your lie. - George Deukmejian
Husband Returns from Golf
I came home from the golf course today.
The wife had left a note on
the fridge:
"IT'S NOT WORKING, I can't take it anymore!
Gone to stay with my
Mother."
I opened the fridge, the light came on and the beer was cold.
What the hell is she talking about?
Please send Will and Guy your dangerous golf jokes.