Cute Christmas Tree
Selection of Wonderful Christmas Trees
Here is Will and Guy's round-up of interesting, unusual and cute
Christmas trees.
Sublime Christmas Tree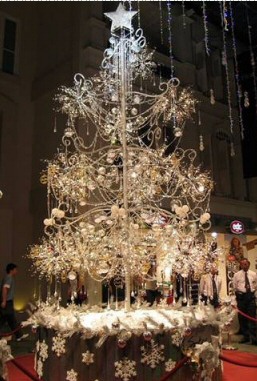 In 2006, Soo Kee, a jeweller from
Singapore, built this Christmas tree. It has nearly 22,000 diamonds and almost 4000 crystal beads and has been valued at $1 million USD.[£490,000GBP]
Back to funny Christmas Trees
The World's Oldest Christmas Tree
Janet Parker of Chippenham, Wiltshire, England, probably has the world's oldest artificial Christmas tree, it has been in her family since 1886. The miniature tree originally cost
6d (2½p), and is 12in high. (See picture to the right)
Because Mrs Parker can establish its provenance through family letters and photos, representatives of the Guinness Book of World
Records, have agreed that it's the world's oldest artificial Christmas tree.
It was her great aunt, Lou Hicks, who gave the tree to Mrs Parker. The present owner said: 'It amazes me
to think it's been appearing every Christmas since Victorian times. It's still such a lovely decoration.'
See our Christmas tree stories.
Upside-down Christmas Tree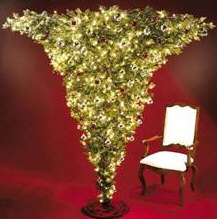 The idea behind the upside-down Christmas tree is
so that you can get more presents under the tree. Note the size of the chair so that you can get an idea of the scale.
Will's Upside-down Christmas Tree!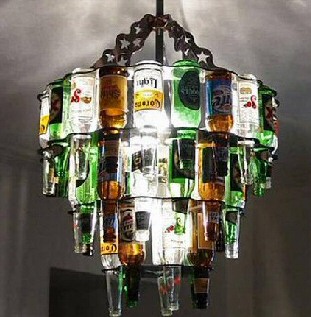 More Cute Christmas Trees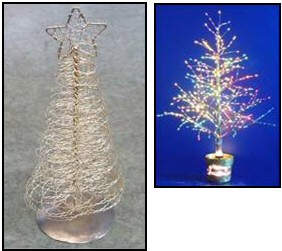 Tasty and Cute Christmas Tree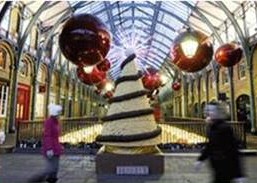 The UK's largest edible Christmas tree is now on show at Covent Garden,
London. The tree was created by food artist Prudence Staite using
10,000 individually wrapped Ferrero chocolates and stands 11 feet tall.
Will and Guy think that if you wish to see it then you had better get
there quickly before it is eaten.
Giant Chocolate Christmas Tree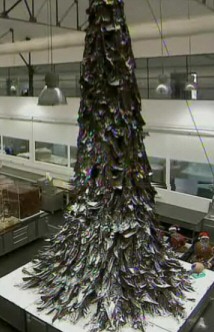 A French chocolatier has created a ten-metre-high chocolate Christmas
tree in his laboratory in Paris. Patrick Roger is one of France's most famous chocolatiers. He was named "Meilleur Ouvrier de France Chocolatier" [best
French artisan-chocolatier] in 2000, an award for professionals combining
art and taste and proving to be worthy representatives of French gastronomy.
His creation will be used to raise funds for a television charity event
to support research into neuromuscular diseases. The tree, which is
currently towering inside the chocolatier's factory in Sceaux, France,
weighs four tonnes and according to Mr Roger's is a piece of "architecture".
He informed Will and Guy, 'To achieve this kind of architecture - because
this really is a piece of architecture - we used a sort of cavity inside to
make the chocolate solid enough, because there is very strong vertical
pressure.'
The cute Christmas tree will be shown on France's Telethon, a nationwide
charity appeal show, and viewers will receive part of the sugary sculpture
in exchange for a donation. Mr Roger's laboratory apparently also
features a wide range of other chocolate sculptures, including reindeers and
other figurines. See Santa below.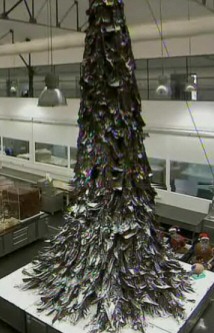 Giant Christmas Tree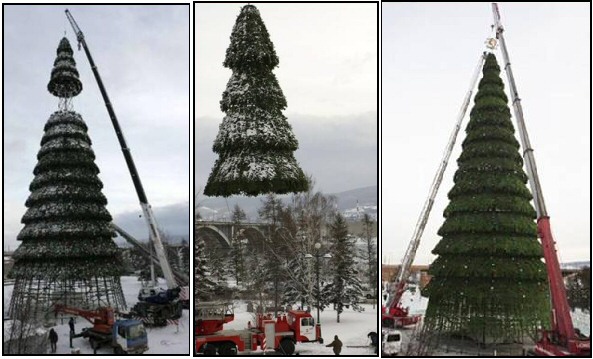 Will and Guy have discovered that in Russia's Siberian city of
Krasnoyarsk there has been erected a 46 metre high [151 feet] artificial
Christmas tree.
This may not be a cute Christmas tree, but it is certainly one of the
highest in Russia this year.
Christmas Tree Gospel
There once was a shining Christmas tree
Standing out where all could
see.
Its brilliance captured very eye
And seemed to cheer each
passer-by.
"The lights are so bright", they would say
And hesitate to walk away.
The tree stood proud ablaze with light
For every light was burning
bright.
Then one bulb was heard to say
"I'm tired of burning night and day;
I think I'11 just go out and rest
For I'm too tired to do my best;
Besides, I am so very small
I doubt if I'd be missed at all."
Then a child lovingly touched the light
"Look, mother, this one shines so very bright.
I think of all the
lights upon the tree
This one looks the best to me."
"Oh my goodness," said the light
"I almost dimmed right out of sight.
I thought perhaps no one would care
If I failed to shine my share."
With that a glorious brilliance came
For every light had felt-the same.
Our Gospel, like this Christmas tree
With little lights which are you and me
We each have a space that we must fill
With love, and lessons and good
will.
Let's keep our tree ablaze with light
With testimonies burning
bright.
For our Gospel is a living tree
That lights the way to eternity.
Footnote:
Please send us your pictures of cute
Christmas trees.
See more funny Christmas pictures of trees and snow: