Credit Crunch Humour
Credit Crunch Humour
These credit crunch humour may seem callous. However, in times of hardship, humour is the best medicine.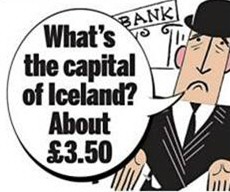 Sponsored Links ∇
The credit crunch has helped me get back on my feet. The car's been repossessed.
Latest news: The Isle of Dogs* Bank has collapsed. They've called in the retrievers.
I went to buy a toaster and it came with a bank.
A man went to his bank manager and said, 'I'd like to start a small business. How do I go about it?' 'Simple,' said the bank manager. 'Buy a big one and wait.'
A director decided to award a prize of £50 for the best idea of saving the company money during the credit crunch. It was won by a young executive who suggested reducing the prize money to £10.
* The Isle of Dogs is part of the East End of London, think of one of the loops in the river Thames.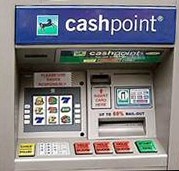 This is one of those slow burning funnies. It took me a while before I spotted the slot machine inside the cashpoint.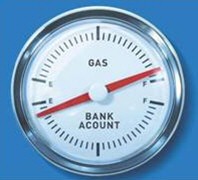 Heard on a BBC radio 5 live 'phone in programme' discussing the world economic recession: Caller:- 'Thanks to my financial adviser I now have a small fortune. Presenter: That's very interesting, tell me more. Pause.................

Mind you, I started off with a large fortune.'
Big Issue in the Credit Crunch
Last week Guy talked to his bank manager. The manager, Mr Evans said 'Guy from now on, I am going to concentrate on the big issues*.

Today I saw Mr Evans outside Wal-Mart, and he sold me a copy!
Footnote*
The Big Issue is a UK magazine sold by the homeless
One feature of human hardship is that we use humour as a safety valve, hence the appeal of 'funny money jokes' in times of crisis.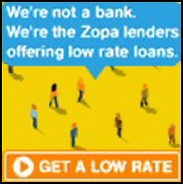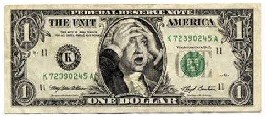 Old Edition of Monopoly

New Credit Crunch Edition of Monopoly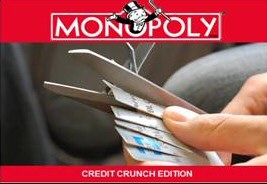 Footnote: Please send us your funny credit crunch humour
See more bank jokes, bungled robberies and funny money stories:
$
Home
$ Bungled burglaries $ Stupid criminals $ Funny bank robberies $ Stupid lawyer jokes $ Funny crime stories $ Police humour $ Funny lawyer jokes $ Great swindles $ Funny money $ Credit crunch jokes $ Ways of making money $ Funny identity theft $ Funny court transcripts