True cranks are regarded part with suspicion, part with awe.
Perhaps everyone has an idea which others regard as madcap or screwball.
Will and Guy are building a dossier of cranky, zany and madcap people.
Cranky People In England
Busker* Charlie Cavey singer plays his guitar whilst squeezed
inside a tiny metal litter bin. The 30-year-old singer plays his guitar
whilst squeezed inside the tiny metal litter bin in Cambridge, city
centre, England - An archetypal Eccentric Englishman.
Cambridge is a city used to street performers; buskers often play
songs but have to add funny and entertaining elements to grab people's
attention and earn more money from passersby.
At 5ft 9 inches tall he finds his job cramped and smelly but his
singing style is proving a huge hit with passers-by. Every 5 songs or so
Charlie has to get out of the bin to stretch himself.
It strikes Will and Guy that another problem could be that people
passing by may well deposit their litter in his bin. Not at all
pleasant.
*A busker is a person who entertains by dancing, singing, or reciting
on the street or in a public place. [It is a word of British origin]
Buskers may also do: acrobatics, animal tricks, balloon twisting, card
tricks, clowning, comedy, contortions and escapes, dance, fire eating,
fortune-telling, juggling, magic, mime and a mime variation where the
artist performs as a living statue, musical performance, puppeteering,
snake charming, storytelling or recite poetry; street art [sketching and
painting], street theatre, sword swallowing, or even present a flea
circus.
Will particularly remembers fondly the street performers when he
visited New Orleans some years ago.
See more eccentric English people
Amazing how one cranky bin story reminds me of another:
Bin Craze Catches On
Fire-fighters were called out to rescue a man whose head was stuck in a
public litter bin in Aberdeen, Scotland. Now why would anyone want to put
their head in a garbage bin?
Will and Guy have been able to ascertain as to why the man got into the
predicament, which happened on the city's Justice Street. He was cut free by
fire-fighters after the alarm was raised on Sunday.
Willie Middleton told us, 'I was looking for my hat. I was stuck for
about 20 minutes.' Another bystander told us, 'Me and my pals tried to pull
him out but his ears were stuck.'
Mr Middleton, 53,later explained, 'I couldn't get my head out. It was
shocking. It was stinking. I'm now known as bucket *heid.'
Emergency services were alerted to the man stuck with his head in the
opening of the 4ft-high bin early on Sunday evening. A spokesman for
Grampian Fire and Rescue Service told us that the man was uninjured.
We really find this a funny story.
*heid = Scottish for head
People with Their Zany Inventions

Easyglider
A figure skater, Stephan Soder, has designed a new way to commute:12mph
electric tricycle.
Stephan Soder came up with the zany idea as a way to pull himself along while wearing
rollerblades. He built the first one in his garage with a small petrol motor.
The commercial version is called the Easyglider X6 which riders can use with a
skateboard or roller-blades or stand on a two-wheeled rear platform.
It features an electric-powered front wheel, a handbrake, a headlight, and
three power levels. Optional extras include a music system, complete with a pair
of mini speakers. To use the Easyglider, you simply turn it on, stand on the
platform and twist the throttle.
The price may prove too much for some. It sells
at £699,[$1400USD] with a children's version available for £399.[$816USD]
The Human Scarecrow
A Funny Tale of Eccentricity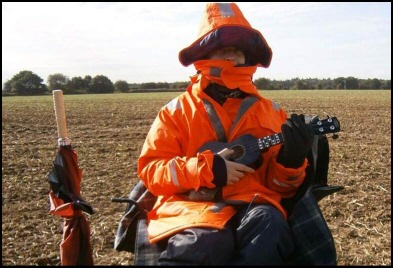 When Will and Guy were students it was, as it is today, normal to find a
job in the holidays so as to earn a bit of pocket money for the next term.
We both experienced some odd jobs like "Daisy Dampwash" [a laundry which
washed your clothes and returned them to you damp, for ironing] and raking
grass behind a mower; none was as unusual as the work gained by James Fox
who recently graduated from Bangor University; he has got employment as a
human scarecrow.
He will use a ukulele, accordion and cowbell to frighten away troublesome
partridges in a farmer's field earning him, in the process, some £250 a
week. [USD400]
Wearing a bright orange coat, he will play the musical instruments in a
bid to finally scare off the hardy birds, which were unperturbed by ordinary
scarecrows.
His employer, a farmer from Aylsham, Norfolk, even warned him to "bring a
deckchair and a good book" for his days in the oilseed rape field, where he
will also practice his ukulele in the hopes of getting a full-time job in
music.
He informed us, 'I get to sit and read for a lot of the time but whenever
I see the partridges, I have to get up and scare them off.'
Farmer William Youngs told Will and Guy that he resorted to his human
scarecrow after partridges were not put off by more ordinary methods of
frightening them away.
The
World's Smallest Road-going Car
It looks like a circus trick, but this tiny set of wheels could be the
world's smallest roadworthy car. The mini motor, only 39 inches high and 26
inches wide, started life as a Postman Pat children's ride.
Car fanatic
Perry Watkins has transformed it into the most compact, if not most
comfortable, car in the country. Perry, 47, reinforced the fibreglass shell
with a steel frame and mounted it on a mini quad bike.
Here bottom right is a side on view of the same zany little car.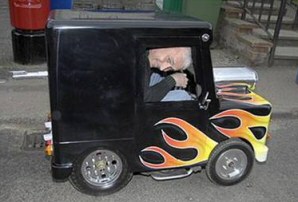 "Mad"
But
Funny Scottish Nurse Breaks World Record

A nurse set himself on fire and ran 100 yards engulfed in a ball of
flames.
Keith Malcolm, from Aberdeen, Scotland, was doused in petrol before
sprinting 259 feet ablaze to beat the previous fire-run record of 227ft. To
claim the record the amateur stuntman wore eight layers of protective
clothing, including four layers of fireproof undergarments, a Formula One
fireproof jacket and three overalls. He also wore three fire hoods and a
helmet and coated himself in special protective "stunt gel" so he would not
be harmed by the flames, which are believed to have reached 1,000C.
Here we can show you a photograph of eccentric Mr Malcolm, who now lives in Widley,
near Portsmouth, Hants, England, who set the new record at the Alton and
North East Hampshire Agricultural Show. He had a team of experts from
Hampshire Fire and Rescue on hand for the event which was aimed at raising
money for Cancer Research. Afterwards Mr Malcolm told Will and Guy, 'It was
absolutely awesome. I managed it in 17 seconds and was running flat-out. I
really did not want to hang around. There wasn't much left of the jacket at
the end. To be honest, the heat I felt was what you would expect if you were
wearing all those clothes and a helmet in hot weather and trying to run.
Once again, we are astounded at the eccentricity and quirkiness of our
fellow man and strongly advise readers not to try this at home.
In Britain in 1993, three people needed hospital treatment as a result of
accidents with their tea-cosies.
Cranky Entrepreneurs
Fresh air has now been bottled by Britain's National Trust so that it can
be given to stressed city workers, Will and Guy have discovered.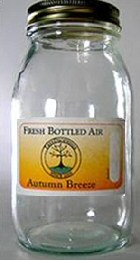 The bottled air is from some of the country's favourite spots and each
glass jar should relieve stress for up to 10 minutes we have heard.
The air comes from different locations, including Townend on the shores of
Lake Windermere in Cumbria, Stourhead in Wiltshire and Box Hill, Surrey.
The trust hit upon the fresh-air-in-bottle idea after a survey showed
that 60% of people found a breath of fresh air helped reduce stress.
Founded in 1895, the National Trust's main goal is to protect open spaces
and preserve historic buildings and ruins. It's first purchase was a 14th
century Clergy House for £10 [$15 USD]. The trust has since received
numerous donations and owns and cares for nearly 1,000 square miles of
Britain.
Not to be outdone: the people of Wales also bottle and sell their sand,
slate, water and air.
Quotes About Cranky People
Do not fear to be eccentric in opinion, for
every opinion now accepted was once eccentric. - Bertrand Russell
If you're poor and you do something stupid,
you're nuts. If you're rich and do something stupid, you're eccentric. -
Bobby Heenan
Money, like vodka, turns a person into an
eccentric. - Anton Chekhov
A civilized society is one which tolerates
eccentricity to the point of doubtful sanity. - Robert Frost
The English like eccentrics. They just don't like
them living next door. - Julian Clary
Learner Hypnotist Puts Himself into a Trance
A newly trained hypnotist accidentally put himself into a trance for five
hours while practising in front of a mirror. 'You just couldn't make it up,'
say Will and Guy.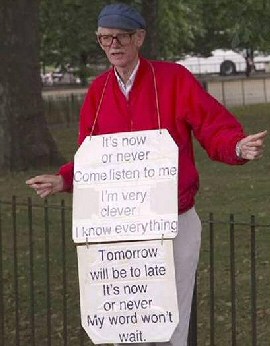 Apparently Helmut Kichmeier, 27, was found by his wife, Joanna, staring
into thin air in their north London home, we have learned. Mr Kichmeier had
learned to put himself into a trance to help him swallow swords on stage. He
had been taught the skill by hypnotherapist Dr Ray Roberts to assist in a
new act for the Circus of Horrors show.
However, as he practiced the
skill in front of the mirror at 10am he set himself into a deep sleep until
3pm, when he was found by his wife. It was only after she phoned Dr Roberts
and put the receiver to Mr Kichmeier's head that he was able to be talked
out of the trance.
His wife reported, 'I tried to ask him what was wrong but he didn't
answer and it was then I looked at the sofa behind him and saw a book named
"Hypnosis Medicine of the Mind." It was opened on page 45 and a chapter
named hypnotic anaesthesia and I realised there was something wrong. It was
only then I noticed a letter next to the book a letter from his mentor, Dr
Roberts, and I knew what I had to do.'
Alfred Mehran - The
Cranky Person Who Lives in an Airport
Alfred is an Italian refugee who presently resides in the Charles De
Gaulle Airport Terminal, and has done so since 8th August,1988.
The story apparently begins when he was expelled from his home country of
Italy and decided to move to the United Kingdom. There was just one problem.
Alfred lacked identification.
So, doing what he could, he claimed that his bag was stolen and that he'd
lost all of his forms of ID and important documents. Surprisingly, he
managed to fly out but failed to seal the deal all the way through. When he
arrived, officials sent him right back to Charles De Gaulle. Since Alfred
didn't have any papers when he arrived back in Paris, he couldn't prove who
he was.
Alfred lived in the Airport Terminal at Charles De Gaulle until June 2006
when he was taken into hospital with a medical problem. Since then Will and
Guy heard no more until ....
Follow-up: Information kindly supplied by Pradeep Bhaskar

Mehran Karimi Nasseri also known as Sir, Alfred Mehran, is an
Iranian refugee who lived in the departure lounge of Terminal One in Charles
de Gaulle Airport from 8 August 1988 until July 2006, when he was
hospitalized for an unspecified ailment. Nasseri's life at the airport ended
in July 2006 when he was hospitalized and his sitting place dismantled.
Towards the end of January 2007, he left the hospital and was looked
after by the airport's branch of the French Red Cross; he was lodged for a
few weeks in a hotel close to the airport. On March 6, 2007, he transferred
to an Emmaus charity reception centre in Paris's twentieth arrondissement.
As of 2008, he continues to live in a Paris shelter.
Lifeboat Crew
Rescues Man and Wheelie Bin
Lifeboat crews have made an unusual rescue off the coast of Isle of
Anglesey, Wales, UK: an 81-year-old man and a wheelie bin write Will and
Guy.
The man had gone out in a small inflatable dinghy to recover his
neighbour's garbage bin which had swept out to sea in strong winds, in a
high tide. He was blown about a mile off Red Wharf Bay until Moelfre
inshore lifeboat was launched to rescue him.
He was picked up suffering from mild hypothermia and taken to hospital in
Bangor by ambulance. The crew said the man was not wearing a life jacket or
waterproof clothing. His dinghy was also half full of water because of
the sea conditions.
The Moelfre crew then went back out to tow in the dingy and wheelie bin,
which was still half full of rubbish. Moelfre lifeboat station spokesman
Dave Massey said, 'Everyone at the Moelfre lifeboat station wishes the
gentleman a speedy recovery. The volunteer lifeboat crews at Moelfre have
dealt with a wide variety of emergency calls over the years but I am sure
that this is the first time we have been involved in towing in a wheelie
bin,' he told Will and Guy.
Footnote:
Please send us your example of cranky people.