Will and Guy have built up a good collection of funny losers' pictures,
stories and videos.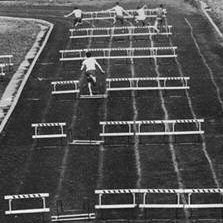 The
First runner in our 'Loser of the Month' competition -->
Will and
Guy's Selection of Losers Pictures
July's
Winner of 'Loser of the Month' Competition
Man Survives an
Incredibly Silly Act
Unlucky Swimmer
Stories and Pictures of Losers (Links to other pages)
Funny loser of the week
Loser of the Month - Pictures
Loser week
Coolest Losers in July
Heroic failure
Prison or work - What's the difference?
Jobsworth
Plodsworth
Stupid boy
Murphy's Law
Bad luck
Jerry Builders
Funny Swindles
Will and Guy's Selection of Cool Losers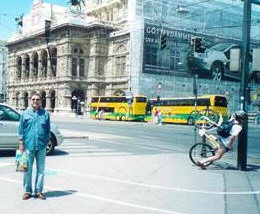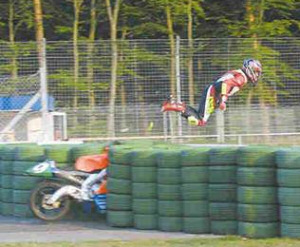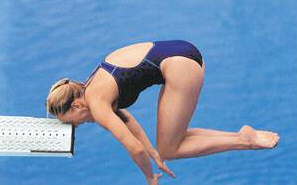 Satellite navigation systems are, no doubt, a marvellous advance in driving technology. However, we read weekly of what happens when they go wrong.
Will and Guy found this particular report amusing:
A German motorist followed the command, 'Turn right now', from his navigation system and crashed into a small toilet hut by the side of the road approximately 30 metres before the crossing he was meant to
take. The overly obedient 53-year-old from Freiburg drove his sport utility vehicle off the road onto into a building site, up a stairway and into the small toilet shack, police in the eastern town of Rudolstadt reported last Sunday.
In court he was fined €30 [£23.50].
July's Winner
of 'Loser of the Month' Competition
This month's best loser has to be Mr Joshua Mullen from Mobile, Alabama, USA.
Finding that his shed had a nest of bees living in it you will find it hard to
believe how he attempted to get rid of them.
Mr Mullen soaked some towels in gasoline [petrol] and placed them carefully
in the shed in order to remove the bees. However, the shed erupted in flames
with a loud 'whoosh'. It appears that the fire started when the pilot light of a
hot-water heater in the shed ignited fumes from the petrol.
This picture is not of the actual blaze in Mobile:
The fire caused some $80,000 [almost £41,000] worth of damage but luckily nobody
was hurt in the conflagration. We have heard that Mr Mullen told reporters,
'Looking at all this, there might have been a better way. It was a mistake. I
wish I hadn't done it, but I did.'
However, we can report that it did rid the shed of the bees!
Picture of a Loser?
Or a Lucky Boy?

Man Survives an Incredibly Silly Act
The expressions, 'I don't believe it,' and 'You cannot be serious,' came to
mind when Will and Guy discovered this story about an elderly Polish gentleman.
We think it has to be runner up in the loser of the month competition.
Having been driven quite mad by an invasion of ants into his apartment which
is in a block of flats in Lublin, eastern Poland, Mr Marcin Bartosz, aged 74,
poured gallons of insecticide into a ventilation shaft in order to rid the
condominium of the pests. When this had no effect whatsoever on the ants, the
senior citizen decided to throw a burning towel after them and into the shaft.
The explosion that followed left Mr Bartosz with third degree burns and a
stay in the local hospital. Incredibly, we have found out that none of his
neighbours was in any way hurt.
Army Goat Busted
In the UK goats are often paraded by Army regiments and they appear on
official occasions. The goat is always a billy-goat and is not a mascot but a
member of the regiment. Honorary Lance Corporal William Windsor,1st Battalion
Royal Welch Fusiliers, is such a goat. However, he has been demoted since he
misbehaved whilst on parade in Episkopi garrison, Cyprus, last month.
This regimental goat attempted to poke his horns into the drummer's bottom
while on parade; he then refused to march or stay in line and has suffered
the consequences: he has been busted down to Private. See also the
Year of the
Goat.
Goat promoted -
update October 2006
A disgraced British army goat has been reinstated
to his rank of lance-corporal after shining on parade last week. Billy
Windsor, mascot of the 1st Battalion The Royal Welsh, was demoted to
fusilier - equivalent of private soldier - last June after ruining a parade
for the Queen's birthday at a military base in Cyprus, when he ran amok.
In his first public appearance since his demotion, Billy, seven, performed
exceptionally and he was reinstated by his commanding officer.
Army Goat Retires May 2009
1st Battalion Royal Welsh regimental goat William Windsor retires at
Dale Barracks, Chester, England.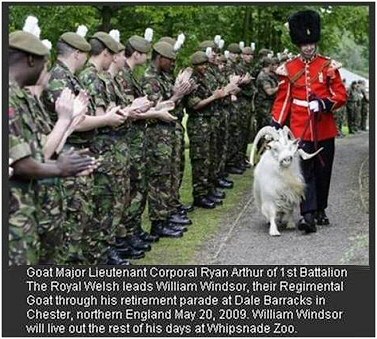 Funny Goat Joke
In Warsaw, Poland, Solly visits his rabbi and complains, 'Life is
unbearable. There are nine of us living in one room. What can I do?'
The rabbi answers, 'Take your goat into the room with you.'
Solly is incredulous, 'What?' but the rabbi insists, 'Do as I say and
come back in a week.'
A week later Solly comes back looking even more
distraught than before, 'We cannot stand it,' Solly explains to the rabbi,
'the goat is filthy.'
The rabbi then tells Solly, 'Go home and let the goat out. Come back in
a week.'
Solly, now radiant, returns to the rabbi a week later, exclaiming,
'Life is beautiful. We enjoy every minute of it now that there's no goat;
only the nine of us.'

Coolest Loser -
Unlucky Swimmer
Response to a woodland fire in the south of France's Cote d' Azur was billed
as a marvel of modern fire-fighting technology in the newspaper Le Monde. Two
specially-built flying boats zoomed in, skimmed the waters of the Mediterranean,
scooping vast amounts of water into their belly tanks, and then dropped the
water on the hillside fire extinguishing all the flames.
All was jolly and the wine flowed freely until a body was found in the
ashes of the fire.' The coroner found that the gentleman had apparently
fallen from a great height, suffering serious injuries before being burned
to death. The report further noted that the victim was wearing a bathing
suit, snorkel, and flippers.'
Footnote
Please send us your coolest loser
pictures and funny stories