Old, new, funny and beautiful cards. Also a selection of Valentine card quotes.
Valentine Card Quotes
Will and Guy invite visitors to write one of these quotations in the Valentine card they send this year: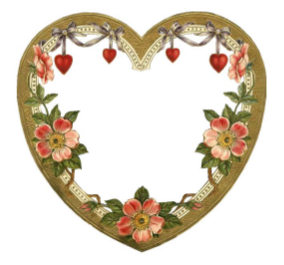 Neither a lofty degree of intelligence nor imagination nor both together go to the making of genius. Love, love, love, that is the soul of genius. Mozart
Love is indescribable and unconditional. I could tell you a thousand things that it is not, but not one that it is. Duke Ellington
To love someone is to see a miracle invisible to others. Francois Mauriac
Love is not blind, it simply enables one to see things others fail to see. Anonymous
'I love being married. It's so great to find that one special person you want to annoy for the rest of your life.' Rita Rudner
Never close your lips to those whom you have opened your heart. Charles Dickens
Love is an irresistible desire to be irresistibly desired. Robert Frost
More Unusual and Funny Valentine Cards - Be My Valentine?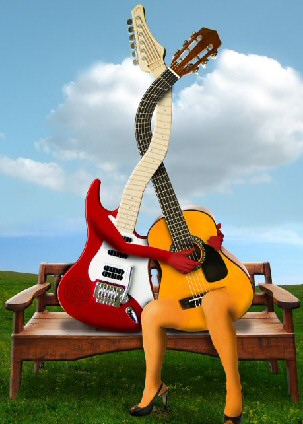 This Guitar Design Won a PhotoShop Contest
Valentine Love Letters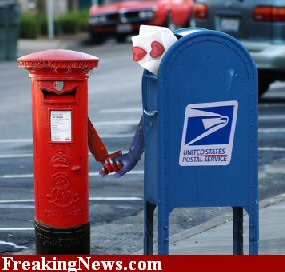 Above pictures by Sassydeb.
What did the valentine card say to the stamp?
Stick with me and we'll go places!
500 Valentine Cards Sent by Desperate Man
Mike walked into a post office just before Valentine's day, he couldn't help noticing a middle-aged, balding man standing in a corner sticking "Love" stamps on bright pink envelopes with hearts all over them.
Then the man got out a bottle of Channel perfume from his pocket and started spraying scent over the envelopes.
By now Mike's curiosity had got the better of him, and so I asked the man why he was sending all those cards. The man replied, "I'm
sending out 500 Valentine cards signed, 'Guess who?'"
"But why?" asked Mike.
"I'm a divorce lawyer," the man replied.

Glamorgan Archive Uncovers Victorian Valentine Cards

The cards describe the trials Victorian lovers faced A collection of Valentine cards and letters describing the trials and tribulations of
Victorian lovers has been uncovered by an historian. The cards, which feature lace, cherubs and declarations such as "my heart is yours
forever", were found at the Glamorgan Archives. One series of letters sees a young man announce his engagement in one only to retract
it, citing "money matters".
The archive is opening its new home to the public in the spring of 2010. Archivist Heather Mountjoy said the cards were all hand-made
and in a very different style to modern cards, lacking hearts or much red decoration. Her search also unearthed some letters describing
the trials and tribulations of young love.
In a series of letters in a collection from the Edmondes family of Cowbridge, Vale of Glamorgan, a friend of Miss Charlotte Edmondes writes
to tell her of his engagement. However Thomas Deere Salmon was not successful in his attempt to marry on this occasion.
Letters reveal how one man called off his engagement Ms Mountjoy said, 'In the letters sent in 1865, Thomas announces his engagement to a Miss Adelaide Gorton, but unfortunately for Thomas, in his next letter he gives Charlotte the news that the engagement is off, citing "money matters", as the reason.'
The account was written sometime before 1886.
Ms Mountjoy added, 'The cards and letters give a great insight into love in the Victorian age and shows how our ancestors had the same
troubles as us when it comes to finding romance.'
Glamorgan Archive opened its new base in the Leckwith area of Cardiff, Wales in spring 2010.
An Optometrist's* Funny Valentine Card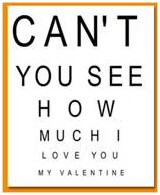 * Optometrists are trained professionals who examine eyes, test sight, give advice on visual problems, and prescribe and dispense spectacles or contact lenses. They were known as ophthalmic opticians.
World's Oldest Valentine Card

The Royal Mail has revealed images of what is thought to be the world's most expensive Valentine's day card.
Dating back to 1790, the intricately designed Valentine filled with heartfelt messaging would fetch up to £4,000 if auctioned today. It is currently housed at the British Postal Museum and Archive - and they have no plans of selling the card. The card is a handmade puzzle which unfolds to reveal poetic messages - a far cry from the short notes written in today's Valentine's cards.
On the outside of the card,
the inscription reads:
"My dear the Heart which you behold,
Will break when you the same unfold,
Even so my heart with lovesick pain,
Sure wounded is and breaks in twain."
Patrick O'Neill, from Royal Mail, commented, "This year Royal Mail will be delivering over 12 million Valentine's cards but probably none as romantic as the verse written inside here. Although the Valentine card is a valuable
piece - we would never dream of selling it as can you really put a price on true love?"
The Perfect St Valentine's Day Card
Aidan, a young man, was looking for a greeting card just before February 14th. He searching unhurriedly for just the right card and he found one that impressed him greatly. It read,
'To my one true love, the most beautiful woman in all the world.'
'This is truly heartfelt,' Aidan commented to the shopkeeper. 'It is the message that any woman would love to receive. ... I'll take five.'
Incidentally, salesmen say that Valentine's Day cards are second only to Christmas cards, moreover 1 billion cards are bought every year, 80% by women.
Question: What did the Valentine card say to the stamp?
Answer: Stick with me and we'll go places!
Lovely Valentine True Story
Doting Couple Have Used the Same Valentine's Day Card for 70 years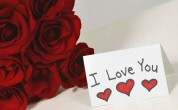 There's no danger of 88-year-old Harry Ward forgetting his wife Doris's Valentine's Day card - the couple still use the same one he bought her 70 years ago.
When 17-year-old Harry Ward presented his sweetheart Doris with a Valentine's Day card as he boarded a train to join the wartime effort on 14th February, 1941, he must have been fairly confident his affections would be requited. After all the couple had been dating since they met in a Bristol café three months earlier. Little can he have imagined that 70 years on, not only would he still be happily married to Doris, but that every year she would present him with the very same card he gave her at the railway station that Valentine's day.
Now the card is set to make another appearance on the couple's mantelpiece as Mrs Ward, 87, dusts it off in time the celebrations.
'I bring it out of the cupboard and put it on our mantelpiece every Valentine's Day,' she said. 'It's as special to me now as it was
70-years-ago. Harry has never bought me one since, because I have this one every year.'
The couple married in 1942 so Will and Guy have discovered; and they went on to have two daughters, two granddaughters and four great
grandchildren. They had met in a café in November 1940 after Mrs Ward, who was in domestic service, had missed her bus home.
Mr Ward, now 88, told us, 'I knew Doris was the one for me the moment I met her. It was a heck of a night during the Blitz, but at least it
meant we met each other. I gave her the Valentine's card then and she is still my Valentine now.'
Mrs Ward's card which reads, "Two hearts entwine this Valentine. True love makes it sincere"
In addition we were told, 'The secret to our happy marriage is that we never go to bed without a kiss goodnight. We are as still in love as
the day he first gave me this card.'
Tesco Reject Funny Valentine Card

From the sublime (above) to the ridiculous (right). Just to complete the effect I left the naff chipboard background
on the Tesco 'value' Valentine Card.
Tesco Reject
Way back when Will and Guy were teachers, circa 1978, Tesco's quality control went through a bad patch. As ever, children are the first to invent a new insults. When our pupils' friends or should I say, their enemies had a nice new present, they would label it a 'Tesco reject'.
Pupil A : Hey look at my flashy new iPod
Pupil B: Not bad for a Tesco reject.
Not being good enough for Tesco was the ultimate insult back in 1970's, interestingly, Tesco have turned their image and now they are perceived as the best for value. However, the above funny Valentine's day card reminds us of that era.
On an Allied Topic: Christmas Card Trivia
This is the very first commercially produced Christmas card. It was drawn in 1843 by John Calcott Horsley of Torquay, England, at
the request of Sir Henry Cole
.
The first Christmas greeting by SMS was a simple 'Merry Christmas'.
The most expensive Christmas card was sold at an auction in England in 2001 for £20,000, approximately $40,000 USD. The card was from 1843.
President Eisenhower issued the first official White House Christmas card in 1953. By the year 1961, the White House was sending out 2000 cards. By 2008, that number will have risen to over 1.6 million.
Only one in 100 Christmas cards sold in Britain in 2006 contained any religious imagery or message, a recent survey has shown.
'Merry Christmas' is the greeting preferred by 53% of Americans; 21% of people like 'Happy Holidays' and only
12% like 'Season's Greetings'.
In 2004, the German post office gave away 20 million scented stickers free to make Christmas cards smell like a fir
Christmas tree, cinnamon, gingerbread, or a honey-wax candle.
As early as 1822, the postmaster in Washington, D.C. was worried by the amount of extra mail at Christmas time.
His preferred solution to the problem was to limit by law the number of cards a person could send. Even though commercial cards were not available at that time, people were already sending so many home-made cards that sixteen extra postmen had to be hired in the city.
The first Christmas stamp was released in Canada in 1898 and not Austria in 1937 as some claim.
The twelve days of Christmas are the days between Christmas Day and Epiphany [6th of January] and represent the length of time it took for the wise men from the East to visit the manger of Jesus after his birth.
English Puritan leader Oliver Cromwell banned Christmas between 1647 and 1660 because he believed such celebrations were immoral for the holiest day of the year.
Snippets for Valentine's Day
How to stop people from bugging you about getting married

Old aunts used to come up to me at weddings, poking me in the ribs and cackling, telling me, 'you're next.'
They stopped after I started doing the same thing to them at funerals.
Happiness in Marriage
To be happy with your husband, you must understand him a lot and love him a little.
To be happy with a wife, you must love her a lot and not try to understand her at all.
My Funny Valentine
My funny Valentine
Sweet comic Valentine
You make me smile with my heart
Your looks are laughable, unphotographable
Yet you're my favourite work of art
Is your figure less than Greek?
Is your mouth a little weak?
When you open it to speak, are you smart?
But don't change a hair for me
Not if you care for me
Stay little Valentine, stay
Each day is Valentine's Day
Is your figure less than Greek?
Is your mouth a little weak?
When you open it to speak, are you smart?
But don't change a hair for me
Not if you care for me
Stay little Valentine, stay
Each day is Valentine's Day
By Richard Rodgers and Lorenz Hart
Footnote: Please send us your Valentine card quotes and pictures of funny Valentine cards.