Here we have an assortment of vehicles chosen for their unusual design
and radical transport concept.
The Clever - Compact Low Emission Vehicle
Note this not a joke - well not yet! The Compact Low Emission Vehicle cost £1.5 million to design and build. Will it be
too Clever for it's
own good, like Sir Clive Sinclair's
C5? Alternatively could it be from the long
line of great British invention that is improved by other nationalities, for example the Hover Craft.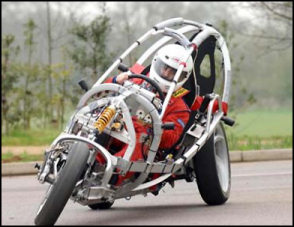 Compact Low Emission Vehicle for Urban Transport
British scientists have developed what could be a congestion-busting answer to city traffic. The Clever - Compact Low Emission Vehicle for Urban Transport - is a cross between a car and a motorbike.
This interesting vehicle
has a top speed of 60mph, runs on compressed gas and will do the equivalent of 108 miles per gallon of petrol. The two-seater uses a novel tilting chassis and is the result of a 40-month project by researchers
in nine European countries. The three-year, £1.5m EU-funded research project aimed to produce a totally different class of private motor vehicle specifically designed for the urban environment.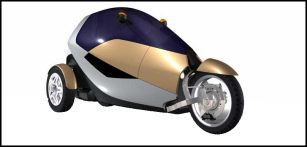 'The only
solutions at the moment are motorbikes or cars, 'said Ben Drew, a research officer at the University of Bath, one of the institutions involved in the project.'
The idea is to try to marry the small size and
efficiency of a motorcycle with the comfort and safety of a standard car, 'he said.
Unlike the prototype, the finished version will have a roof and at just over a metre wide will be even narrower than a
Smart car.
Compact Low Emission Vehicle for Urban Transport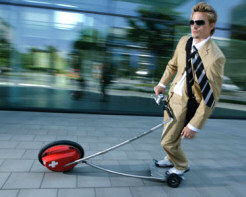 Easyglider
A figure skater, Stephan Soder, has designed a new way to commute:12mph
electric tricycle.
Stephan Soder came up with the idea as a way to pull himself along while wearing
rollerblades. He built the first one in his garage with a small petrol motor.
The commercial version is called the Easyglider X6 which riders can use with a
skateboard or roller-blades or stand on a two-wheeled rear platform.
It features an electric-powered front wheel, a handbrake, a headlight, and
three power levels. Optional extras include a music system, complete with a pair
of mini speakers. To use the Easyglider, you simply turn it on, stand on the
platform and twist the throttle.
The price may prove too much for some. It sells
at £699,[$1400USD] with a children's version available for £399.[$816USD]
Not So Easyglider - Two Wheel Pogo Stick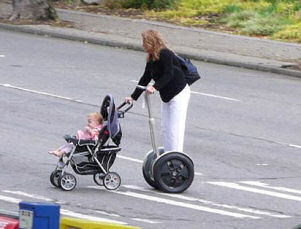 This gismo reminds us of the Segway.
More Interesting Vehicles
Terrafugia - Escape from the earth
The dream of combining a car and plane has been floating around for 100 years. Perhaps fantasy will be turned into reality in the wide-open spaces of mid-America, or even Australia. If the price is
beyond farmers, then perhaps executive who live out of town, and frequently travel long distances will be tempted by the Terrafugia.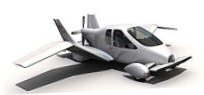 At the touch of a button the Transition from Terrafugia four-wheeled car extends a pair of wings either side of its main body. Chief operating officer, Anna Mracek Dietrich, said, 'It will take just a few
seconds to transform and will be fully automated after the command is given in the cockpit. We're currently sold out for at least the first year, approaching the first two of production.'
The Transition will use low-cost electronics and feature GPS and auto-pilot weather radar. The prototype, which runs on super unleaded petrol, cruises at 120mph and lands at 65mph. The estimated hourly fuel
burn of four gallons equates to 30mpg in flight. Terrafugia - which means escape from the earth - are selling for $150,000. See more
about the Terrafugia
Is this the future of high-speed, low-emission transport we ask? Will and Guy
investigate.
Terrafugia Flying Car Update
On March 5 2009 the Terrafugia celebrated its maiden voyage at the
Plattsburgh International Airport in New York. The company
expects to make the first customer delivery in 2011. Will and Guy are
thinking about getting on the waiting list.
See also the Skycar.
Stunning, Amazing and
Amusing Revelation To Bring A Smile To Your Face
Racing Car Will Be Powered By Your Favourite Food...................Yes,
Chocolate..............Chocolate?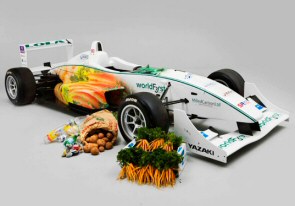 Will and Guy can reveal an amazing invention which has arrived on the
British motor racing scene. The world's first environmentally-friendly
racing car, made from vegetables and powered by chocolate, is to be launched
in May 2009.
The 145mph ecoF3 has a steering wheel made of carrots, a body made of
potatoes and a seat made of soybeans. It is the first Formula 3 racing car
designed and made from sustainable and renewable materials and we are very
excited about it.
Designers hope the technology used in their car will be adopted by
Formula 1 teams such as McLaren and Ferrari. It uses plant-oil based
lubricants and a biodiesel engine capable of running on chocolate and
vegetable oil. Vegetable fibres are mixed with resins to produce the car
parts and the oils in the chocolate are refined to produce fuel. The "WorldFirst"
team, from Warwick University, Warwick, England, hope racing chiefs will
change the rules so they can compete in races next season. The engine fails
to meet current regulations because of its unusual fuel.
A team spokesman has informed us that, 'We hope the Formula 1 teams will
see that an environmentally friendly car is not necessarily a slow car. We
expect our new materials to be used by the Formula 1 cars of the future.'
Will and Guy will watch this space with particular interest.

Here is a more food for thought - a car made of chocolate.
Clever Family Transport
...(vidFL2)
Dean and Rachel Mullin from Irvington, Portland, Oregon, USA, are towing a Burley trailer with their second youngest child in the back. Rachel is carrying her baby in a sling. Their two older children are
pedalling in front. Apparently when they travel up hill, Dean activates the small electrical motor to that he installed. The children don't always want to pedal. Dean told reporters that his motto is, 'Burn fat
not oil.'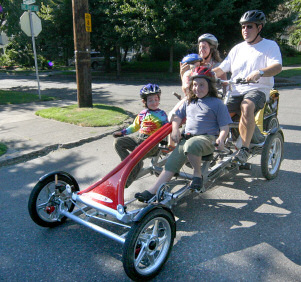 Will and Guy wonder if this contraption will catch on in the UK.
The Worlds Oldest Car - La Marquise
The world's oldest working car is set to go under the hammer - and it is
expected to fetch up to £1 million.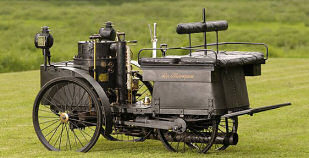 La Marquise can reach a top speed of 38 mph The four-wheeled car, called La
Marquise, was built in 1884 for the Count De Dion, one of the founders of the
automobile manufacturers De Dion-Bouton et Trepardoux. It has only had two other
owners since, according to Gooding & Company, the auction house selling it in
August 2007.
The four-seater, fuelled by coal, wood and paper, takes about half an hour to
work up enough steam to go. In an 1887 race, La Marquise hit an average speed of
26 miles per hour on a 19-mile course. The following year it won the world's
first motor race, beating out its three-wheeled competition, another De
Dion-Bouton. This interesting vehicle was built in France in 1884 by De
Dion-Bouton et Trepardoux, one year before Gottlieb Daimler and Karl Benz each
independently built their first gasoline-powered cars in German. Twelve years
later, Henry Ford built his first automobile in the US.
La Marquise is being sold by Gooding & Company, the California-based auction
house, in August in Pebble Beach.

Contenders for the World's Smallest Car?
Peel 50
Postman Pat's Mobile
The Car You Deserve?
The World's Fastest Milk Float
A 'souped-up' milk float is to be used in an attempt to smash a land speed record to become the fastest milk float in the west. The 'Electric Blue' has been specially adapted with an extra motor fitted, it
has a fin on its roof, to combat turbulence, and has its suspension lowered for the attempt. And owner Kevin Bourne hopes to beat the current record of 71.4mph next year, reports the Metro newspaper.
'Everyone has a stock impression of milk floats travelling at 10mph, so you don't expect to see one accelerate to 80mph,'commented Mr Bourne.
This
interesting vehicle has been on display at the Museum of Science and
Industry in Manchester, UK.
Taiki Concept Car
- Also the Shanghai 'Yez' or Leaf Car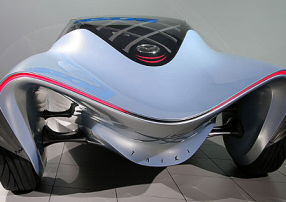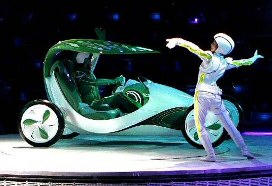 Mazda Motors introduces a new concept vehicle, Taiki, during at the 40th Tokyo Motor Show, 2007.
See left.
The concept car "Yez"" (leaf) made by Shanghai Automotive Industry
Corporation (SAIC), is unveiled at the SAIC and GM pavilion of the 2010
Shanghai World Expo in Shanghai - See right
Giant Motorbike - Interesting Vehicle
A giant motorbike powered by a Russian tank engine has been recognised as the
heaviest in the world. It's been dubbed the Led Zeppelin by creator Tilo Nieber,
39, who commented, 'You don't get much more heavy metal than this.'
The four-and-a-half tonne machine has driven into the Guinness Book of
Records as the heaviest motorbike in the world. It is 17ft 4ins long and 7ft
6ins tall and the engine alone weighs 1.8 tonnes after the armour plating tank
cover has been stripped off. The bike, which took a team of welders and
mechanics almost a year to build at the Harzer Bike Schmiede in Zilly, Germany,
is now hoping for a licence to travel on the road.
New Airbag for Mopeds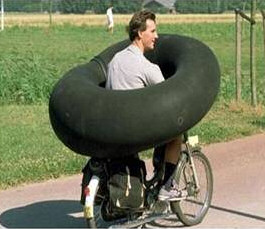 Footnote:
The world is full of interesting vehicles,
please send us pictures of your favorite.
Protect Your Pride and Joy with the best value
motorbike insurance available on the
internet
See more funny pictures of strange and unusual cars
and buses:
•
Home •
Interesting vehicles •
Wooden cars & funny vehicles •
Funny tractors
• Unusual Vehicles •
Anti-smoking cartoons
•
Funny bus pictures •
Gimme car
•
Spiderman car •
Snow mobile •
Limo
• Interesting Cars •
Waterskiing