Printing instructions: Press the printer button on your browser.  If all else fails, press Ctrl + p
Only in America
A man from Charlotte, North Carolina, having purchased a case of very expensive cigars, insured them against, among other things, fire. Within a month, having smoked his entire stockpile, the man filed a claim against the insurance company, stating that the cigars were lost ' in a series of small fires' . The insurance company refused to pay, citing the obvious reason that the man had consumed the cigars in the normal fashion. The man sued - and won. In delivering the ruling the judge, agreeing that the claim was frivolous, stated nevertheless that the man held a policy

from the company in which it had warranted that the cigars were insurable and also guaranteed that it would insure against fire, without defining what it considered to be ' unacceptable fire' , and was obliged to pay the claim. Rather than endure a lengthy and costly appeal the insurance company accepted the ruling and paid the man $15,000 for the rare cigars he had lost ' in the fires' . After he cashed the cheque, however, the company had him arrested on 24 counts of arson. With his own insurance claim and testimony from the previous case being used against him, the man was convicted of intentionally burning his insured property and sentenced to 24 months in jail and a $24,000 fine. Just in case you think Will and I make up this stuff, here is the source.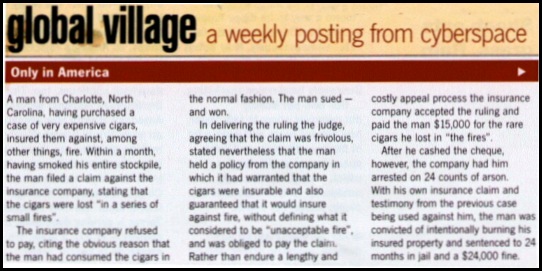 Another Strange Smoking Story
Smoker tried to open plane door
The woman was arrested when the plane landed in Australia A French woman has admitted attempting to open an aeroplane door mid-flight so that she could smoke a cigarette.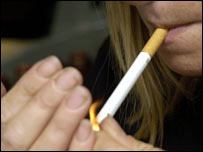 Sandrine Helene Sellies, 34, who has a fear of flying, had drunk alcohol and taken sleeping tablets ahead of the flight from Hong Kong to Brisbane.  She was seen on the Cathay Pacific plane walking towards a door with an unlit cigarette and a lighter.  She then began tampering with the emergency exit until she was stopped by a flight attendant. Defence lawyer Helen Shilton said her client had no memory of what had happened on the flight on Saturday, and that she had a history of sleepwalking.  She pleaded guilty to endangering the safety of an aircraft at Brisbane Magistrates Court and was given a 12-month A$1,000 (£429) good behaviour bond - she will forfeit the money if she commits another offence.  The French tourist was at the start of a three-week holiday in Australia with her husband.  As reported by the BBC
3) Chinese convert cigarettes to medicine
Xian in China, is crushing fake cigarettes to make medicine, Xinhua news agency said on Sunday. The north-western city of Xian is using the counterfeit cigarettes to extract solanesol, a compound found in tobacco which is used to treat cardiovascular disease, it said. 'We used to incinerate the fake cigarettes, which is wasteful and causes air pollution, 'Xinhua quoted Zhou Yaqing, vice director of the provincial tobacco monopoly, as saying. A kilo of solanesol is worth about $200, and 30 tons of tobacco leaf can produce up to 120 kilos, Xinhua added. China is the world's largest cigarette producer, with a growing market of about 320 million. Chinese cigarettes are also among the cheapest in the world -- a packet can cost as little as 8 U.S. cents -- and smoking kills 1.2 million people a year in China, according to the World Health Organisation. Fake cigarettes, made of poor quality tobacco and often topped up with wood chips, are commonly sold on Chinese streets. As reported by Reuters