Here is a selection of funny snow scenes, some are interesting vistas, while others are funny snowmen
pictures. As usual we provide variety in our snowy pictures.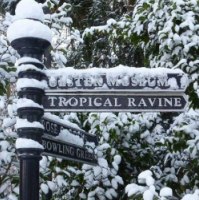 Two Feet Of Snow!
Crazy British Drivers in the Snow
Funny Snow Scene with the Simpsons
I'm Dreaming of a White Christmas
Facts and Trivia about Snow
More Funny Snow Scenes
Ever Seen Hot Snow?
Driving in Christmas Snow
Two Feet Of Snow! Time to Walk?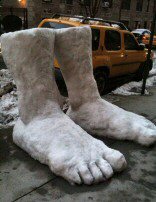 Snowman As Big As House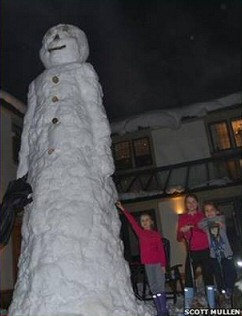 Karl Broadbent and his two friends have built a giant 16 feet snowman in a Doncaster, Yorkshire, England, garden. Will and Guy learned that he decided to make the snowman after his daughters challenged him to build one as high as their house
Funny Snow Scene - Ultimate Snow Hat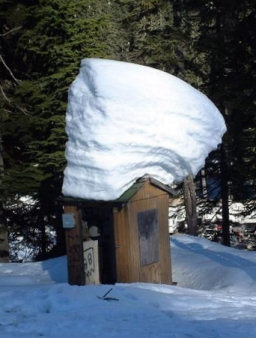 More Funny Snow Scenes
Ever Seen Hot Snow?
Classic Christmas Snowball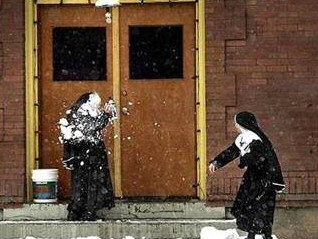 Gotcha!
Facts and Trivia About Snow
Every snowflake has its own unique shape and is different than all other snowflakes.
All snowflakes have six sides.
Snowflakes aren't always white. Years ago, when coal was used in factories and homes, snow was often grey because the coal dust entered the air and was absorbed by the clouds.
The largest snowflakes ever recorded fell in the state of Montana in the United States of America. The snowflakes were 15 inches in diameter.
The snow capital of the United States is Stampede Pass in Washington State. Each year, the average snowfall is 430 inches.
The average snowflake falls at a speed of 3.1 miles per hour. [5kph]
It is a blizzard when you can't see for ¼ mile; the winds are always 35 miles an hour or more, and the storm must last at least 3 hours to be classed as a blizzard. If any of these conditions are less, it is only a snowstorm.

Billions of snowflakes fall during one short snowstorm.
Did you know that snowflakes are made up of ice crystals. This is a close up photograph (below) of a snowflake forming out of ice crystals and was taken by JJ Schad.
Picture Postcard Scene
Beautiful Christmas scene photographed in December 2010 by Clare Read of Alresford, Hampshire, England.
More Funny Christmas Snow Scenes
Snowmen Busking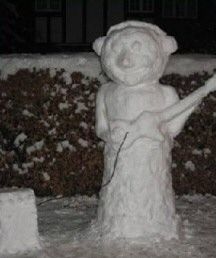 The Snowman Paid a Price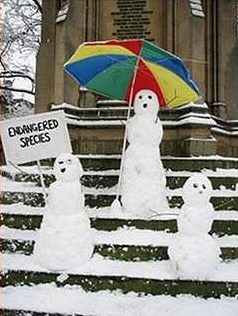 Guy thought that snow picture showed a headless snowman. Will pointed out the snowman has his head in his hands.
Driving in Christmas Snow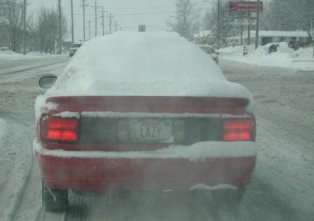 Why did Will send me this funny picture, I asked myself. OK, snow pictures are always interesting because we don't get much snow fall in the UK. What is special about this picture - I looked again. Do you see it?
Here is a driver who clearly practices what he preaches. Lazy by registration plate, lazy by nature.
World's Biggest Santa Snow Sculpture

The freezing northern city of Harbin is building what organizers say is the world's largest Santa ice carving. The giant Father Christmas,
160 metres long and 24 metres high. It centres on an enormous face of Father Christmas, complete with flowing beard and hat.
Its huge size and unseasonably warm temperatures have made the job especially challenging, Tang Guangjun, one of the sculptors, informed Will and Guy. 'It is even bigger and higher than last year's, and more difficult. The weather swings between warm and cold, so it becomes very wet and slippery on the ice. It is very dangerous for us,' he said.
Harbin, the capital of Heilongjiang province, China is one of the country's coldest places. Winter temperatures can drop to below -35 C. Every year the city plays host to a world-renowned ice festival. But the effects of global warming are taking a toll as the snow and ice now melt more rapidly than in the past. Organizers reported that they had to artificially make snow for their Santa Claus sculpture.
Snow Cat Opens the Way for Shopper
Anne left work early because of the awful weather. It was the worst blizzard seen in Kidderminster for many decades. Visibility was almost zero as she began her drive home. As the car warmed up she wondered whether, in fact, she would make it home at all. Annie remembered that her father always had advice for problem situations and she smiled to herself as she remembered the sage old man.' If caught in a blizzard, 'he would say, 'follow the snowplough.'
As luck would have it a snowplough drove by at that instant and Annie began to follow. She offered up a prayer of thanks to her late, wise father.
It was some time later when the snowplough parked and the driver came back to Annie and commented on the fact that she had been following him for several miles. Annie smiled and told the driver about her father's advice of how to act in a blizzard.
The driver, too, smiled back at Annie and told her she could follow him for as long as she liked, but that he had now finished the Waitrose car park and was moving on to Tesco's next.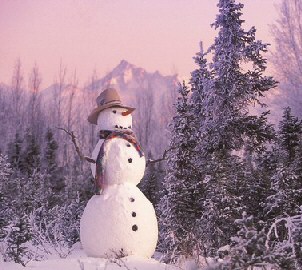 Another Snow Cat!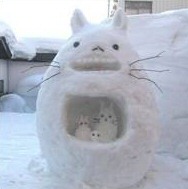 Footnote: Please send us your funny snow scene.