Here is a selection of
amusing pictures featuring snowy scenes.
Driving in Christmas Snow
Crazy British Drivers in the Snow
Funny Snow Scene with the
Simpsons
I'm Dreaming of a White Christmas
Facts and Trivia about Snow
Two Idiotic reactions to freezing weather
More Christmas Snow Scenes
Ever Seen Hot
Snow?
Ice and Snow Pictures from the Arctic
Classic Christmas Snowball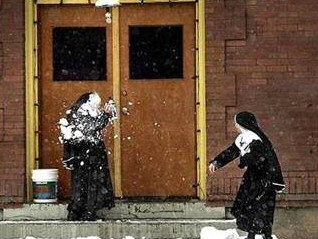 Gotcha!
Snowman Ransom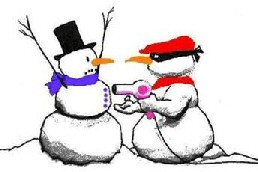 The
Snowman Paid a Price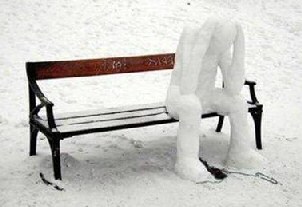 Guy thought that snow picture showed a headless snowman.
Will
pointed out the snowman in the above photo has his head in his hands.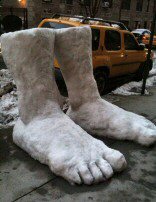 Two Feet Of Snow!
Funny Snow Scene with the Simpsons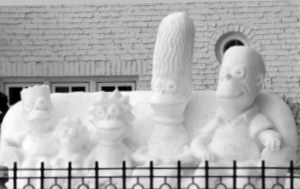 "Since the snow came all the wife has done is look through the window. If
it gets any worse, I'll have to let her in."
See Funny Homer Video Clip
Driving in Christmas Snow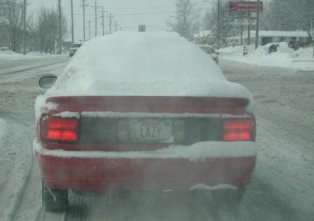 Why did Will send me this funny picture, I asked myself. OK, snow pictures are always interesting because we don't
get much snow fall in the UK. What is special about this picture - I looked again.
Do you see it?
Here is a driver who clearly practices what he preaches.
Lazy by registration plate, lazy by nature.
Crazy British Drivers In the Snow

On the rare occasions that we do get snow in the UK all the drivers go cwrazy. You will see cars sliding here, slewing there, not even the pavements are safe.
I was talking with Sven, a Norwegian, and asking why Scandinavian drivers are so safe and so good and rally driving in the ice. He told me, 'Guy, we are all just as crazy as you Brits for a week, then we
get used to the snowy conditions and drive with soft feet and gentle hands'.
Snow Cat
Opens the Way for Shopper
Anne left work early because of the awful weather. It was the worst blizzard seen in Kidderminster for many decades. Visibility was almost zero as she began her drive home. As the car warmed up she
wondered whether, in fact, she would make it home at all. Annie remembered that her father always had advice for problem situations and she smiled to herself as she remembered the sage old man.'
If caught in a
blizzard, 'he would say, 'follow the
snowplow.'
As luck would have it a snowplow drove by at that instant and Annie began to follow. She offered up a prayer of thanks to her late, wise father.
It was some time later when the snowplow parked and the driver came back to Annie and commented on the fact that she had been following him for several miles. Annie smiled and told the driver about her
father's
advice of how to act in a blizzard.
The driver, too, smiled back at Annie and told her she could follow him for as long as she liked, but that he had now finished
the Waitrose car park and was
moving on to Tesco's next.
Time to Walk?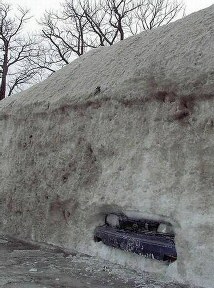 Can God Help?
I saw this on two church billboard signs, the first from a small
church here in Port Townsend, WA the other from one in Irondale, WA.
"Whoever is praying for snow, please stop!"
"God loves you, wether
you like it or not!"
[Kindly sent in by Brigid]
I'm Dreaming of a White Christmas
A British company is offering a white Christmas on eBay to raise
money for charity. The winner of the auction will receive a 10-tonne lorry load of snow on Christmas Eve. The offer also includes a decorated Christmas tree, a front door wreath and Christmas lights, reports
the Mirror. The SNO! zone company, which runs three indoor ski slopes, is behind the auction. It promises to deliver the snow in refrigerated trucks to any property in England and Wales with reasonable access
and enough outdoor space. It will be placed outside the buyer's home by 'trained staff', the eBay listing says.
Will and Guy had to smile at the company's warning:
'There is no guarantee attached to how long the snow will last and there is
no provision for the snow to be removed.'
Good news: Proceeds from the auction will go to the NSPCC children's charity. The online auction ends on December 18.
Facts and Trivia About Snow
Every snowflake has its own unique shape and is different than all
other snowflakes.
All snowflakes have six sides.
Snowflakes aren't always white. Years ago, when coal was used in
factories and homes, snow was often grey because the coal dust entered
the air and was absorbed by the clouds.
The largest snowflakes ever recorded fell in the state of Montana in
the United States of America. The snowflakes were 15 inches in diameter.
The snow capital of the United States is Stampede Pass in Washington
State. Each year, the average snowfall is 430 inches.
The average snowflake falls at a speed of 3.1 miles per hour. [5kph]
It is a blizzard when you can't see for ¼ mile; the winds are always
35 miles an hour or more, and the storm must last at least 3 hours to be
classed as a blizzard. If any of these conditions are less, it is only a
snowstorm.

Billions of snowflakes fall during one short snowstorm.
Did you know that snowflakes are made up of ice crystals. This is a
close up photograph (below) of a snowflake forming out of ice crystals
and was taken by JJ Schad.
Niagara Fall Freeze 1911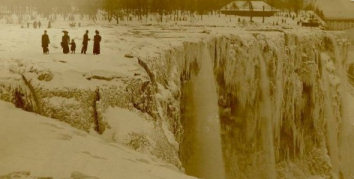 Situated on the America / Canada border, the Niagara Falls often get snow, but it's
extremely rare for it to be cold enough for the falls to freeze. Sadly the phenomenon is never likely to happen again, partly because of global warming and partly due to man-made dam to control the flow.
To be accurate, it was the American falls that froze and not the larger Horseshoe falls, also at Niagara.
Nevertheless, we are impressed by these frozen snow pictures with their giant icicles.
Click on the picture to see an enlargement of the snow scene. Incidentally the Niagara is an American Indian word meaning 'Strait'.
Two Idiotic Reactions to
Freezing Weather:
[Don't
try these at home]
1) This is a true story about John Porter, from New York State, USA, whose pipes in his home froze one winter. Anxious to unfreeze them, Mr Porter backed his car up to an open
window so that the exhaust would warm up the house.
A little while later and Porter, his wife and their three children had to be rushed to hospital suffering from carbon monoxide poisoning.
2) George Gibbs, 23, suffered second and third-degree burns on his head in Columbus, Ohio one freezing cold winter. Unable to start his car, he diagnosed the problem as a frozen fuel line which he thought he
could correct by running warm petrol through it. He then tried to heat a two-gallon can of petrol on his gas stove in the kitchen.
See more of our Loser stories.
Funny Snow
Scene -
Ultimate Snow Hat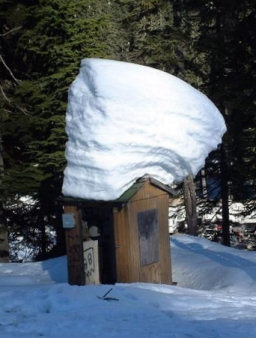 Dealing with Snow
One winter morning a couple was listening to the radio over breakfast. They hear the announcer say, 'We are going to have 8 to 10 inches of snow today You must park your car on the even-numbered
side of the street, so the snowplows can get through.'
Norman's wife goes out and moves her car.
A week later while they are eating breakfast again, the radio announcer says, 'We are
expecting 10 to 12 inches of snow today. You must park your car on the odd-numbered side of the street, so the
snowplows can get through.'
Norman's wife goes out and moves her car again.
The
next week they are again having breakfast, when the radio announcer says, 'We are expecting 12 to 14 inches of snow today. You must park ..........................'
Then the power dies.
Norman's wife is very upset, and with a worried look on her face she says, 'Norm, I don't know what to do. Which side of the street do I need to park on so the
snowplows can get through?'
With the
love and understanding in his voice that some men who have been married for years exhibit, Norman says, 'Why don't you just leave it in the garage this time?'
More Funny Snow Scenes
Snow
Settling in the UK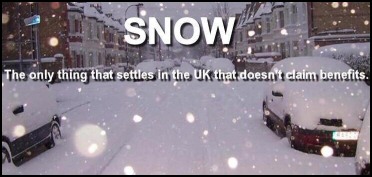 Snow: the only thing that settles in the UK that doesn't claim benefits.
Did You Know?
The latest cold spell which has brought chaos to parts of the UK has
its funny side also. Heard on BBC Radio was an announcement which said,
'The Open Air Winter Wonderland Show in Cardiff, Wales, has been closed
because of the snow.'
[You couldn't make it up!]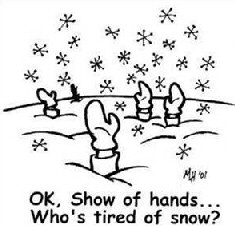 See more funny signs
Fishing - Eskimo style
An ice fishing competition was organised, in Canada, between a team
of ladies from Calgary and a team of ladies from Edmonton. The winners would be the team which caught the most fish.
It became obvious, once the competition had begun, that the team from Calgary were
winning. They were hooking out fish after fish.
The Edmonton ladies sent one of their team over to see how they were doing it. Seconds later she sprinted back shouting, 'A hole! We need to put a hole in
the ice!'
Sunshine State - Snowy Minnesota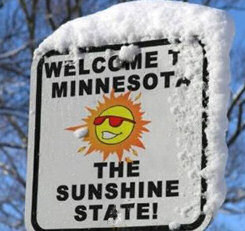 Beautiful Iceberg - (Click to see larger
picture of Iceberg)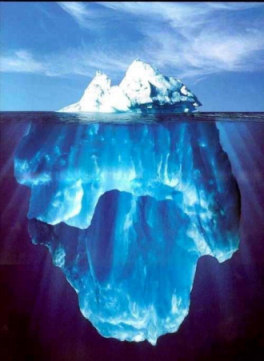 See more snow
Footnote:
Please send us your funny snow scene.
See more funny snowman jokes and funny snow pictures.