We have collected funny pictures of Santa Claus in variety costumes at different locations.
Santa Claus Shot
Poor Santa Hunted Down
Santa's Footprints on the Carpet
The Shooting of Santa Claus
Poor Santa Hunted Down
Bad news, Killjoy strikes.
Santa's Footprints on the Carpet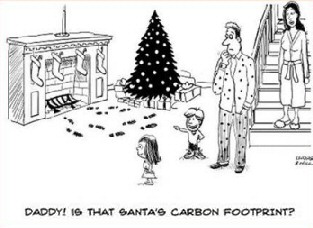 (One of the funniest, most apt sketches that Will and Guy have seen this Christmas.)
Santa's Visit - What Really Happened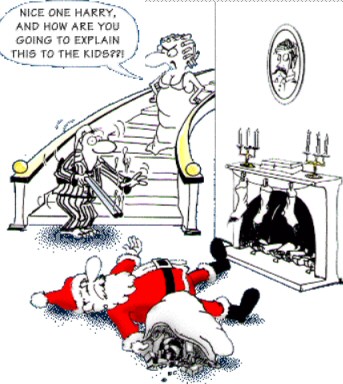 Nice one Harry, how are you going to explain this to the kids??!
The Shooting of Santa Claus
It was early December, Christmas was on the horizon.  My grandfather had been playing father Christmas at the Lions party. When he got home that night, he carried the rented Santa suit in one arm and his gun in the other. When his 7-year old grandson Eddie saw his grandfather he was devastated. Bursting in tears and running to his Mother, he cried, "Grandpa shot Santa Claus!"
Santa Sacked for Smacking Boy
A Santa Claus is facing the sack from a Dutch shopping centre after he smacked a young boy for pulling his beard. Peter Hendriks hit the boy on the backside in front of dozens of shoppers in the town of Rijswijk. Defending his actions, he said: 'If I hadn't done that, he would have pulled off my beard and dozens of children would have been traumatised.'
Santa Claus Shot Down In Rio de Janeiro
A helicopter ferrying Santa Claus was shot down over the Nova Mare slum in Rio  according to a reputable Reuters report.  Santa was going to perform at a children's party when his chopper was fired on from below. Fortunately nobody was injured. Rio's Nova Mare section, one of the city's 700-plus slums, is an area know for drug trafficking. Police do not patrol these areas regularly but rather raid them from time-to-time with armored vehicles or helicopters. Brazilian authorities say the shooting was likely a case of mistaken identity. Later the brave Santa later returned to Nova Mare by car to distribute the gifts to the deserving children
Santa Stretchered Off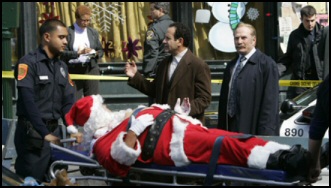 Santa Shot-down Over Korea
24 December 2013 South Korean military photo of Santa's sled engulfed in a fireball after being shot down by the North Koreans. Pyongyang, North Korea - Santa Claus, the jolly old elf loved by billions of children worldwide, has died. He was shot down early this morning while on his way to South Korea to deliver presents to the country's few thousand Christian children. While flying near the Korean DMZ, Claus was struck and killed by a surface-to-air missile thought to have been launched by the North Koreans. The missile exploded on impact, obliterating Santa and his sleigh. His remains and those of his nine flying reindeer landed on the South Korean side of the border and were quickly recovered by the South Korean military. "We've recovered most of the remains but there isn't much left. There are bits of human remains and some of the red fabric of Santa's suit but there isn't much left of the big guy. All that is left of the reindeer are bits of skin and reindeer fur although Rudolph's head was actually mostly intact" said South Korean General Cho Seung Hui. The devastating news comes as millions of children across Europe and North America wake up to no Christmas presents. Because Santa starts his journey in the eastern hemisphere, he had just started his run when he was shot down and killed. He had just finished delivering to eastern Russia and was headed down to Korea and Japan when he was killed. He even stopped off in North Korea to give food to the millions of starving North Koreans before he was killed crossing over in to the South. Children in Australia were also left without presents this Christmas.
Santa Shot in the Wood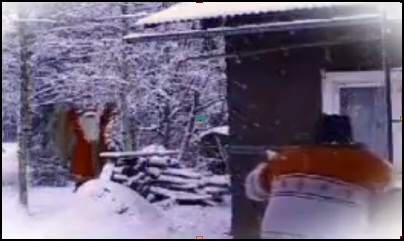 This Santa's Head Shot Off?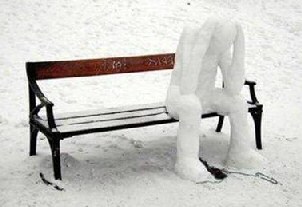 Guy thought that snow picture showed a headless snowman. Will pointed out that the snowman in the above photo has his head in his hands.
Jesus Shoot Santa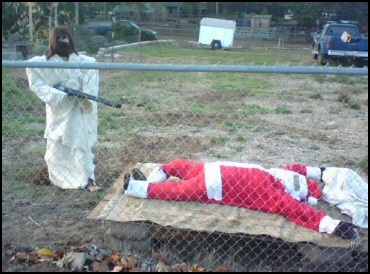 Footnote:
Please send us your Santa Claus shot pictures.
See more funny Santa jokes and funny pictures. Also snowman pics
∗ Funny Santa Claus pictures ∗ Father Christmas ∗ Funny Santa cartoons ∗ Funny Santa sleigh ∗ Children with Santa   ∗ Santa Shot ∗ Snowman jokes ∗ Santa Claus history ∗ Kids jokes ∗ Santa pictures kids   ∗ Santa Banta jokes ∗ Funny snowmen ∗ Santa sculpture ∗ Santa quotes