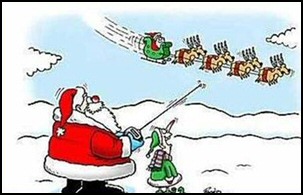 How many of Santa's reindeer can you name? 8, 9, or 10?
Did you know that 'Rein' is a the Scandinavian for the beast (Rangifer
tarandus), and nothing to do with Santa's bridle.
The Names of Santa's Reindeers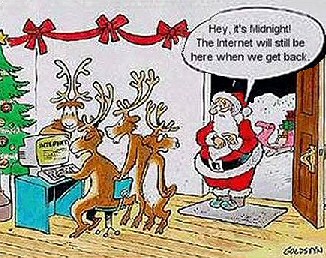 In addition to Rudolph, Santa has eight more reindeer who haul the sleigh the other
names of Santa's reindeer are: Dasher, Dancer, Prancer, Vixen, Comet, Cupid, Donner (Dunder) and Blitzen (Blixhem).
The Christmas Reindeers' names can be traced to 'A Visit From St. Nicholas'
by Clement Clarke Moore in 1822.

In recent years there have been attempts to introduce new names for
Santa's Reindeer, however, Olive and Fireball have not really caught
children's imagination in the way that they love the rhythm of the names,
Dasher and Dancer, Prancer and Vixen, Comet and Cupid, with Donner and
Blitzen bringing up the rear.
What is the Name of Santa's 10th Reindeer?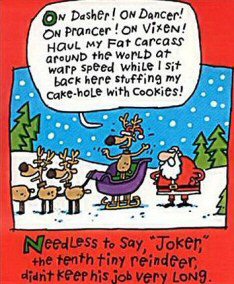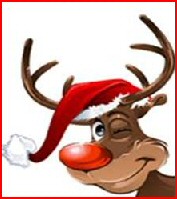 Joker did not keep his job very long. Wrong name, wrong place.
More Funny Xmas
Reindeer Pictures
Christmas
Reindeer
Story
According to the Alaska Department of Fish and Game, while both male and female deer
(Rangifer tarandus) grow antlers in the summer each year, male reindeer drop their antlers at the beginning of winter, usually late November
to mid-December.
Female reindeer retain their antlers till after they give birth in the spring. Therefore, according to EVERY historical rendition depicting Santa's
reindeer, EVERY single one of them, from
Rudolph to Blitzen, had to be a girl.
We should have known... ONLY women would be able to drag a fat man in a red velvet suit all around the world in one night and not get lost. Above and to the
right is our favourite
reindeer picture.
See more about Rudolph the red nosed reindeer
Are The Days Numbered
for Santa's Reindeer?
The Good Old Days - Christmas Reindeer Doing Their Job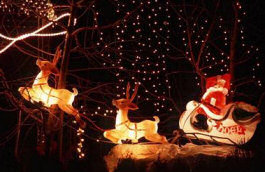 The above pair of deer seem more Bambi than reindeer, however this
funny reindeer picture captures the magic of
Christmas.
Santa's Reindeer Not Up To Pulling Sleigh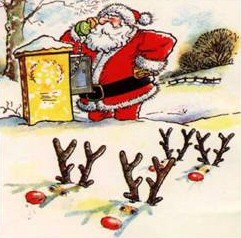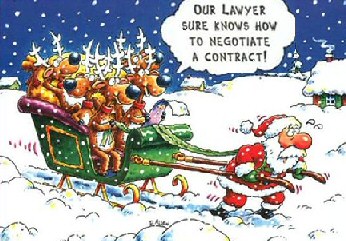 What do reindeer always say before telling you a joke?
This one will
'sleigh' you!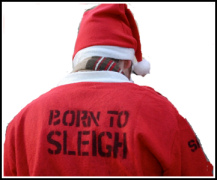 The Answer to Santa's Prayers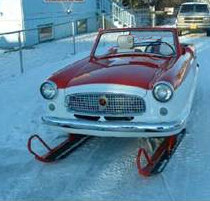 Drunken Reindeer Frightens School Pupils

Pupils at a school in Sweden are being terrorised by a drunken deer (Rangifer
tarandus). Police say the animal has probably been eating fermented apples in a garden, reports Sky News.
Jan Caiman, a police officer in
Molndal, said, 'That could be the problem. We could be dealing with a boozy Reindeer'. Reindeer can weigh as much as 1,100 lb and personnel at the school described the erratic male as 'completely mad'. The
receptionist at the school, near Molndal, in the south of the country, told the Gothenburg Post, 'The children are really scared'. Police have contacted hunters and said that if the animal does not sober up and
calm down, it could be shot.
Addendum
Juho Kyntäjä from Finland points out the
deer in this otherwise true story are not reindeer but elk. Reindeer
being smaller than the size reported here, and more importantly, reindeer
don't venture this far south.
Footnote:
We know some places where they call these
beasts Raindeer
Rudolph The Red Nosed Reindeer
A Russian couple were strolling down the street in Moscow, when the
husband felt a drop hit his nose. 'I think it's starting to rain,' he said
to his wife.
'I don't think so, it felt more like snow to me,' she replied.
'No, I'm sure it was just rain, he said.' Well, as these things go, they
were about to have a major argument about whether it was raining or snowing.
Just then they saw a minor communist party official walking toward them.
'Let's not fight about it,' the man said, 'let's ask Comrade Rudolph whether
it's officially raining or snowing.'
As the official approached, the husband stopped him and asked, 'Tell us,
Comrade Rudolph, is it officially raining or snowing?'
'It's raining, of course,' he answered and walked on. But the woman
insisted: 'I know that felt like snow!' To which the man quietly replied:
'Rudolph the Red knows rain, dear!'
See more on Rudolph the Red Nosed Reindeer
Footnote:
Please send us your funny Christmas reindeer pictures.
See more funny reindeer pictures. Also Santa jokes and
amusing cartoons