Problems for Christmas Lights in the UK
There is a gloomy Christmas ahead for high streets in the UK. The reason is that traditional illuminations are being snuffed out by 'Jobsworths' waving health and safety rules. Another aspect is that extra constraints and provisions make insurance premiums too expensive for councils.
Scrooge like insurance companies want strict compliance with health and safety guidelines. This means expensive equipment to test the safety of lights and their fittings. For example, workmen can no longer use ladders to erect the lights, them must hire hydraulic
platforms instead. For centauries Christmas lights have been strung from lampposts - no more, they have been deemed unsafe for hanging illuminations.
Stephen Alambritis, of the Federation of Small Businesses, said: 'The festive period is looking darker and bleaker year on year - Britain is facing a Christmas blackout this year. The sense of pride a good festive display can instil on a town centre is immeasurable. Spiralling costs and exhaustive safety concerns are ruining the festive spirit.'
See some real Christmas lights here
Green 'Dormat' Christmas Tree - Red Tape in Poole Dorest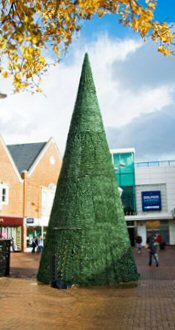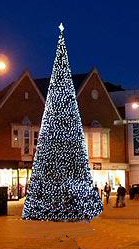 Has the above structure been abandoned by a green doormat salesman? Sadly, it's the work of the Health (elf?) and Safety committee in Poole, Dorset, England.
Official speak says this green 'Dormat' is wonderful because, it has no trunk therefore it won't blow over on street traders. There are no branches to break off and land on someone's head, no pine needles to poke a passer-by in the eye, no decorations for drunken teenagers to steal and no angel, presumably because it would need a dangerously long ladder to place it at the top.
For as long as people in Poole could remember they had a lovely genuine Norwegian fir, which was tastefully decorated in coloured lights at a cost of about £500. In contrast the green doormat tree cost not £1,400 as we first thought but a whopping £14,000.
After dark it displays fairy lights and has built-in speakers to play Christmas carols, but 95% of the Poole residents preferred the traditional
tree.
More Examples of Red Tape Curtailing Christmas Lights
Shops in Clevedon, Bristol, UK, have abandoned their plans for illuminations because North Somerset Council told them that lights can no longer be attached to lampposts or buildings. Bob Hughes, of local traders' association, said: 'We have also been told that we cannot attach lights or motifs to the lampposts along the street as we have done in previous years.'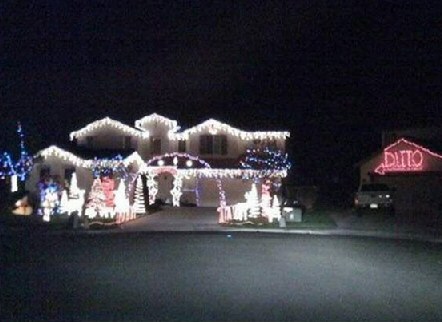 The council Jobsworth says: 'There is a code of practice which has to be followed regarding the installation of Christmas lights. The lighting columns are concrete and it is not possible to attach lights to them.'
In another case from Bodmin, Cornwall, the council has been ordered to use a pressure gauge to test all 150 bolts which hold Christmas lights. This would cost the authority £1,200 in training fees, plus their wages and the cost of the equipment.
Also, to test the bolts the roads have to be closed for a day during testing and for another day while the lights are actually fitted.
The lights cost £7,000 last year but the chamber of commerce has ruled that the increased cash cannot be found. Kim Roscoe, council spokesman, said: 'Health and safety requirements have greatly increased the costs. Bodmin will not be the same without its Christmas lights, and it is particularly galling as last year was the best ever.'
In Sandwell, Worcestershire, traders have been told that lights cannot be hung across the widths of roads, because of fears that cables may break.
Scarborough Council has planned an 'electric parade' with a pantomime theme to make up for the disappointment of last year's celebrity switch-on, which was cancelled because of police objections on various health and safety issues.
The Underlying Reason for Red Tape - Litigation
A spokesperson for the Association of British Insurers said that because of an increasingly litigious culture the cost of the liability cover was increasing. They said: 'Insurance is a risk-based product and a high proportion of that risk is liability. Councils are protecting themselves from being sued by a private parties.' See more instances of 'Jobsworths'.
Hull City Council Bans Santa Hats
Waste disposal operatives [binmen] have been banned from wearing Santa Claus hats this Christmas period apparently on health grounds.
The refuse collectors in Kingston upon Hull, UK, have worn the traditional red hats for several years. City council scrooges think that it does not create a professional impression of the council.
Angry refuse collectors have told the newspapers that, 'It doesn't look like anyone can escape the PC brigade this year. Our Santa hats have always brought a bit of festive cheer to local households. We loved seeing the faces of excited kids watching us from the window
and laughing at our hats. It's been a Christmas tradition for years but not anymore.'
A spokesman for the East Yorkshire city reportedly has said, 'Employees can wear Christmas hats in their own time. Wearing them during work time does not create a professional impression. Further, there can be health and safety implications should hats get in the way of dangerous machinery operation.'
French Parents Seek Ban on Father Christmas Advert
French parents have sought to ban a television commercial in which a father tells his adult son that Father Christmas does not exist, claiming it has traumatised their children Will and Guy have discovered.
The 20-second clip was aired last week during a commercial break on TF1, which was broadcasting the family film, "Ratatouille".
'Son, I've got some bad news for you,' says the father in the advert for Crédit Mutuel, a high street bank. 'Father Christmas doesn't exist,' he
says, making a parallel with financial advisers whose prime motivation for selling products, he claims, is their commission.
The commercial sparked outrage among parents who are calling on the advertising watchdog to ban the clip.
Red Tape in Other Countries
Grinch Handcuffs Santa's Writing Hand

Zillions of children worldwide will be crestfallen this year because Santa does not reply to their Christmas present letters. In another
case of officialdom getting above itself, of Jobsworths ruling the roost, the US Postal Service have abandoned the time honoured tradition of replying to children's letters to Santa. What happened in 2008 was a registered sex offender, infiltrated Operation Santa. Why not weed out the guilty, praise the innocent, and keep the letters coming to the children? But don't let the evil

Grinch handcuff Santa's writing hand.
Background: Santa's reply service began in 1954 in the Alaskan village of North Pole, where volunteers open and respond to stacks of mail addressed to Santa. All their reply letters come with the famous North Pole postmark.
North Pole mayor Doug Isaacson is outraged that the scheme is affected by a sex offender's actions on the east coast. The postal service began tightening its policies in 2006, and now prohibits its volunteers from accessing children's surnames and addresses. Instead, it blanks out the last name and address on each letter and replaces them with codes that match computerised addresses known only to the post office.
Philippines Declares War on Carol Singers


Red tape does not occur just in the UK. There will be many silent nights this Christmas [2007] in the Philippines capital Manila, as officials are rounding up anyone found singing carols in the streets. The music ban has been introduced to stop children risking their lives by performing at busy junctions before knocking on drivers' windows and asking for money. Those found breaking the law will be handed over to welfare officers reports the Metro newspaper.
Infamous Conker Ban - Cumbria, England 2004
There were two parts to this conker debacle. Firstly, South Tyneside council chopped down six healthy horse chestnut trees, merely because children threw sticks and stones into the tree in the hope of dislodging a conker or two.
Secondly the Department for Education and Skills sent a memo saying that conkers should be banned because they could hit pupils in the eye. One head teacher, Mr Halfpenny even bought goggles for his pupils to play conkers within safety guidelines.
In the cold light of day banning the age old tradition on safety grounds seemed absurd, and the debate that the case raised made people think twice before using red tape to stop children having harmless fun.
Other Cases of Red Tape
...(vidFL2)
Midlothian council left the lights on at a disused school in case unauthorised intruders tripped over in the dark.
Firemen in Essex, England were warned that they faced disciplinary action after sleeping on their fire station floor because it was 'an unauthorised rest facility.'
A charity Easter duck race at Lymm, Warrington, England was cancelled for health and safety reasons. The alternative would have been to pay the council £3,000 to close the roads. This would have been more than the charity duck race would have raised.Chairman James Phipps said: 'We're disappointed that this has had to happen after 15 incident-free years. I don't hold the council
responsible - it comes down to a wider paranoia about litigation.

The local comedian said that they weren't using red tape but duct tape! (duck tape).

From the other side of the fence. In December 2005, the U.S. Attorney's Office for the Middle District of Tennessee announced that two officials had been arrested for for taking bribes for the purchase of - red tape. In this true story, the officials were found to be taking kickbacks of $1 per roll. The worst part of the affair to our thinking was that one small department could buy 100,000 rolls of red tape!
In Tajikistan (ex region of USSR ), visitors require 11 permits to gain admittance.
Silly Bans Spread to Pancake Day

A traditional pancake race has been scrapped because of fears over health and safety.
The event was revived 11 years ago and since then crowds have gathered in the centre of Ripon, North Yorkshire, UK, on Shrove Tuesday, reports the Daily Mail. Schoolchildren run down a cobbled street flipping pancakes after the start is signalled by the ringing of the cathedral's ancient 'pancake bell' at 11 am. Organisers reluctantly scrapped the popular event this year because of mounting costs and bureaucracy linked to health and safety rules.
Organiser Councillor Bernard Bateman added, 'Health and safety has just gone too far. It makes you think twice about even trying to hold events like this, even though they are extremely popular, especially amongst children. The main issue with health and safety is the cobbled street people could slip on, but it causes us so much trouble just for a little issue. This stupidity never happened previously. It's a shame that these issues stop the children enjoying such a traditional event.'
Will and Guy can't help but agree with Mr Bateman.
Footnote: Please send us your stories about 'Red Tape' for Christmas.