Here are Christmas jokes especially selected for their appeal to teachers.
The Golden Rule - Know Your Pupils
A head teacher is making his rounds of the school when he hears a terrible commotion coming from one of the classrooms. He rushes in and spots one boy, taller than the others, who seems to be making the most noise.
He seizes the lad, drags him to the hall, and tells him to wait there until he is excused. Returning to the classroom, the head teacher restores order and lectures the class for half an hour about the importance of good behaviour.
'Now,' he says, 'are there any questions?'
One girl stands up timidly. 'Please sir,' she asks, 'may we have our teacher back?'
Child Says a Prayer for the Christmas Meal
Lee, A seven-year-old boy, was asked to say thanks for the Christmas dinner. The family members bowed their heads in expectation. Lee
began his prayer, thanking God for his Mommy, Daddy, brothers, sister, Grandma, and all his aunts and uncles. Then he began to thank God for the food.
He gave thanks for the turkey, the stuffing, the Christmas pudding, even the cranberry sauce. Then lee paused, and everyone waited ... and waited. After a long silence, the young fellow looked up at his mother and asked, "If I thank God for the Brussels sprouts, won't he know that I'm lying?"
What A Boy Wants For Christmas
Darren remembers accompanying his father out shopping in the toy department of Hamleys one Christmas Eve.
Dad said, 'What a marvellous train set. I'll buy it.'
The girl behind the counter looked pleased and murmured, 'Great, I'm sure your son will really love it.'
Dad replied with a glint in his eye, 'Maybe you're right. In that case I'll take two.'
Santa Claus Conundrum
The 3 stages of man:
1) He believes in Santa Claus.
2) He doesn't believe in Santa Claus.
3) He IS Santa Claus!
Here Are More Jokes From Our Christmas Website for Children

Out of the Mouths... Christmas Story
Daniel aged 4, returned from Sunday school with a new perspective on the Christmas story.
He had learned all about the wise men from the east who brought gifts to the baby Jesus.
Daniel was so excited he just had to tell his parents, 'I learned in Sunday School today all about the very first Christmas. There wasn't
a Santa Claus way back then, so these three blokes on camels had to deliver all the toys. And Rudolph the Red-nosed Reindeer with his nose so bright wasn't there yet, so they had to have this big light in the sky to find their way around'.
Christmas For Teacher Bob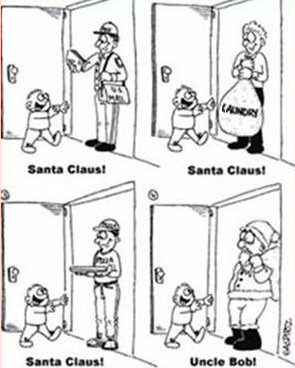 Santa Claus Problem

Santa Claus received a parking ticket from an official in Brooklyn.
Word has reached Will and Guy that a New York parking official has penalised Santa Claus for a parking offence while delivering his presents to needy children. Santa Claus [aka Chip Cafiero, a retired schoolteacher] received the $115 USD ticket in Brooklyn. Apparently he shouted to the official, 'Ho! Ho! Ho!' but he was completely ignored.
Santa claims that his horse-drawn carriage and a SUV carrying the toys was not causing an obstruction. We are not able to raise a comment from the police but a local politician has said the parking ticket is 'ridiculous.'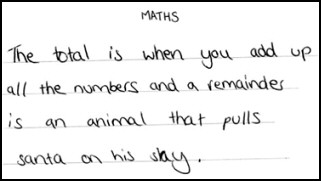 End of Term Answer
In midevil times most people were alliterate. The greatest writer of the futile ages was Chaucer, who wrote many poems
and verses and also wrote literature.
The greatest writer of the Renaissance was William Shakespeare. He was born in the year 1564, supposedly on his birthday. He never made much money and is famous only because of his plays. He wrote tragedies, comedies, and hysterectomies, all in Islamic pentameter. Romeo and Juliet are an example of a heroic couplet.
Writing at the same time as Shakespeare was Miguel Cervantes. He wrote Donkey Hote. The next great author was John Milton. Milton wrote Paradise Lost. Then his wife died and he wrote Paradise Regained.
Julius Caesar extinguished himself on the battlefields of Gaul. The Ids of March murdered him because they thought he was going to be made king. Dying, he gasped out: 'Tee hee, Brutus'
Footnote: Please send us your Christmas jokes for teachers.