Traditionally Advent Calendars contain chocolates, but we have some
interesting variations that you may prefer!
Funny Advent Calendar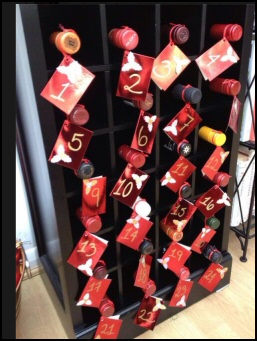 The above our sort of advent calendar, treat yourself to one of these pre-Christmas presents.
Coming soon to an off-licenses
/ liqueur stores near you.
Christmas Off-License Problem
It was the day of the big pre-Christmas Sale. Rumours of the sale of cheap booze, with some advertising in the local paper, were the main reason for the long line that formed by
8:30am, the store's opening time, in the store car park.
A small man pushed his way to the front of the line, only to be pushed back, amid loud and colourful and bawdy curses. On the man's second attempt, he
was punched square in the jaw, knocked around a bit, and then thrown to the end of the line again. As he got up the second time, he shouted to the people at the end of the line.
'That does it! If
they hit me one more time, I won't open the store!'
Woolworths' Xmas Special
I've just received a Woolworths' Advent calendar. It's all
boarded up and there's nothing inside.
What To Do with a Large Snowfall
Uses of snow #37. Keeping your beer and wine chilled. What to do when you cannot get out because of a show drift. See close-up picture of can and bottle
embedded in the snow. This is one way to spend a memorable Christmas!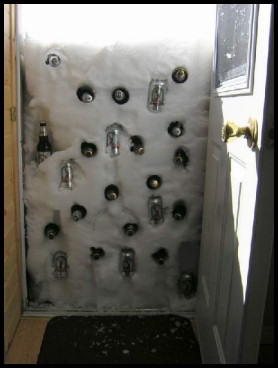 Will's Christmas Carol
I wish you a Merry Christmas
And a Happy New Year,
A stocking full
of presents
And a fridge full of beer.
See more funny Christmas carols
More About Amusing Cocktail Cabinets
Do you have a pet name for your cocktail cabinet? Will's own cocktail cabinet is called a 'Foley'. The reason being it's short, fat and always full of booze - just like our old friend Dave Foley.
These days Guy's drinks cabinet is more of a 'Barker', long thin, but rarely contains any booze these days - just like another of our friends Dave Barker.
Cat Advent Calendar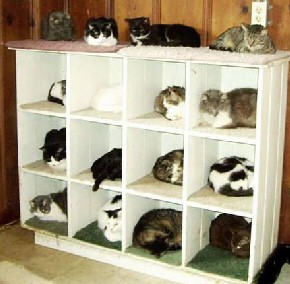 Our cat Advent calendar is a work in progress, so far we are only up to
the 16th of December. Goodness knows who we will choose for the 25th
of December! See more funny
Christmas cats
Funny Advent Calendar Story - You Couldn't Make it Up
Inspired by these calendars, Guy ordered a normal religious advent
calendar to be delivered on to a relative on the 1st of December. It
arrived in time, however it had plastered on the outside. 'Do not open
until Christmas'. Fortunately, Guy was in contact with the relative on
November 29th, to was able to explain persuade them to open the calendar on
the 1st December. When Guy queried it, nobody in dispatch knew
realized that advent started 25 days before Christmas.
Trafalgar Square, London, England
Each year the people of Norway donate an enormous Christmas tree which is
decorated and displayed in Trafalgar Square in central London.
What is less well known is that illuminated by the tree every evening
between 5pm and 9pm choirs sing Christmas carols through Advent beneath
Nelson's column.
Donations go to charity and anyone can join
in more information.
Advent Season - A Celebration Near You?
Will and Guy are always on the look out for interesting items to add to
the Advent page, so, if your town, city or village are doing anything special for Advent
please let us know.
Meanwhile, Another
Funny Christmas Ad-Vent Calendar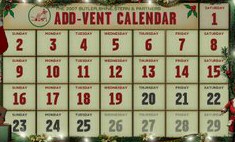 Add Vent Calendar, sponsored by the
Engrish Company!
New Advent Calendar for
2012 (Prototype)
The Working Man's Christmas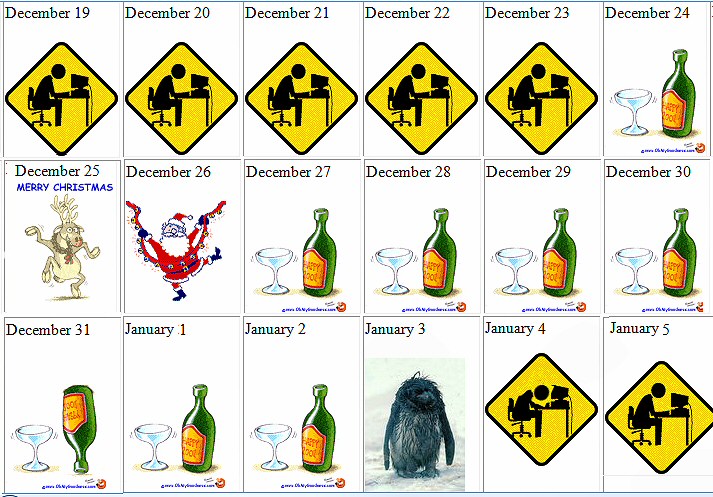 Drink Alarm
You can protect you pint with this Beer Burglar Alarm System.
Attach the 'sucker' to the side of your beer glass or bottle, set the
proximity alert and walk away. Whenever someone comes within 30cm (12
inches) of your beer the mafia style voice alert sounds: 'Keepa Da Hands off
ma BEER!'
History of the
Christmas Advent Calendar
From the point of view of the Christian faith, Advent starts 4 Sundays before
Christmas. Thus Advent in the religious sense could begin as early as
28th of November or as late as the 3rd of December. It was probably
the German Protestants or Lutherans who invented the idea of Advent Calendar
as running from December 1 - 25.
As a child, Gerhard Lang's mother had made him a basic advent calendar so
that he could count down the days until Christmas. She placed 24 sweets onto
a piece of cardboard and each day the young Gerhard would take and eat a
sweet. When he grew up Gerhard Lang made the first printed advent calendar
in 1908.
Later, in 1946, we see Richard Sellmer producing almanacs in
Germany. The US authorities had to grant him a license in the now post war
Germany which led to his advent calendars becoming known and indeed very
popular in the USA.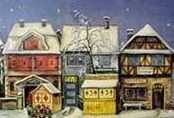 Sellmer's first advent calendar was called 'The Little Town'. The
calendar had pictures of many buildings in the town and you would open the
windows and the doors to find nice things underneath for each day of advent.
Although these are not funny advent calendars, they are interesting, in
particular Sellmer produced a very popular lamp shade advent calendar that would fit
any lamp and would revolve under heat with 24 windows to open. These
calendars can still be purchased from the Sellmer organisation today.
By
the end of the 1950s, chocolate advent calendars had appeared, and by the
following decade they had become widespread. People still make or buy advent
calendars nowadays, with hundreds of different varieties appearing across
the globe. A Carols' Calendar was created with a carol for each day of
advent. In 1954 they produced the 'White House calendar' with the scenery of
the White House in Washington. They then produced many varieties of pull out
advent calendars.
Today, the most typical advent calendar is printed on cardboard with
twenty four small doors. These calendars have many themes from religious
ones with Mary and Joseph travelling to the stable, nativity scenes, church
scenes, Bethlehem, winter wonderland and many more. A Santa stocking advent
calendar offers a different idea. The stocking has a picture of a Christmas
tree on it and you hang an ornament on the tree on each day of Advent.
Celebrating advent with an advent calendar is an ideal way to prepare for
Christmas especially with children. The tradition of the advent calendars
adds more meaning to Christmas for families everywhere.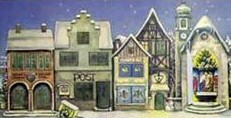 See Christmas Traditions Around
the World
An Advent Calendar to Avoid?
In Hanover, Germany the tourist office had to withdraw a funny Advent calendar, showing a serial killer brandishing a meat cleaver. The man in question is Fritz Haarman, known as the Butcher of Hanover, he
killed 24 young men then chopped up their corpses and dumped their remains in the river Leine. Haarman is depicted on the calendar lurking behind a tree on the river bank.
A jobsworth admitted that the
advent calendar was: 'perhaps a little off-colour'. Another official tried to defend the calendar by saying, 'He is part of our city's history. Even on guided tours the serial killer's story is
told.'
It's hard to work out why you cannot buy this Haarman advent calendar,
is it because Hanover have withdrawn it, or has it sold out?
See our adult Christmas
jokes.
Advent Definition:
Incidentally, Advent means 'Coming' as in Jesus will be born soon.
An Advent
Games Calendar
Will and Guy don't know what to make of this calendar. It
could be a neat idea, or else it could be getting away from the
principles of the traditional Christmas Advent Calendar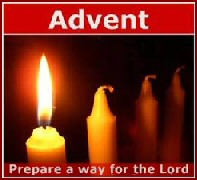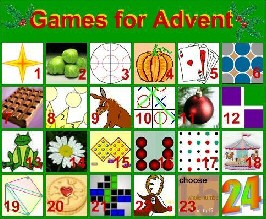 See also Hanukkah
Finally, Two Classic Advent Calendars
Lovely Snowman Advent Calendar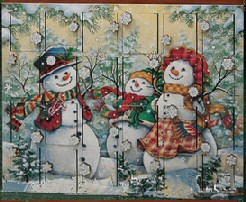 Interesting Christmas Advent Almanac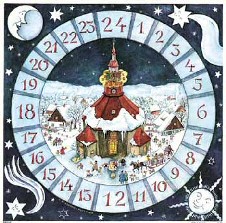 Advent - The Church's Perspective
Remember that Christians calculate the start of Advent not from the 1st of December,
but from the 4th Sunday before Christmas. Some Eastern churches begin
advert in mid-November. For many true Christians this is a time
of prayer, fasting, and penitence.
See our Christmas carols »
Footnote:
Please send us your funny Advent calendar.
See more clean Christmas jokes, yarns and funny gags: