Unlike Ash Wednesday, Thanksgiving Thursday or even Shrove Tuesday, Christmas Day can fall on any day of the week.
Christmas Day 2010 was on a Saturday
Christmas Day 2011 was on a Sunday
Christmas Day 2012 was on a Tuesday
Christmas Day 2013 was on a Wednesday
Christmas Day 2014 was be on a Thursday
Christmas Day 2015 will be on a Friday
Christmas Day 2020 will be on a Friday
The last time that Christmas Day fell on a Friday was 2009.
As you probably know, Boxing Day always follows Christmas Day; what's more, New Year's Day
is always the same day of the week as Christmas Day, only one week later.
Which Day of the Week is Best for Christmas Day?
Monday - Has a certain logic, start the week with Christmas!
Tuesday - Start the week with Christmas Eve.
Wednesday - OK.
Thursday - Middling time of the week, Boxing Day on a Friday is good.
Friday - End of the week, Boxing Day falls on a Saturday.
Saturday - Not my favourite day, does not seem quite right.
Sunday - A natural, religious feel to Christmas on a Sunday.
Christmas Day
Christmas Day: Jesus' official birth day is 25th December. Church leaders decided this date in the 4th Century. Historians and theologians now believe that Jesus was born at some time between 4 and 6 BC or Before the common era, BCE as it is now called.
Classic Christmas Picture - Star in the East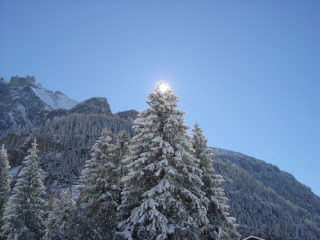 Photo by Harry Heidelberg, Kandersteg, Switzerland.
Dear Santa
If you leave a new bike under the tree, I will give you the antidote to the poison I put in the milk.
Timmy.
Service?
It was a cold and misty Christmas morning in the very depth of winter after a heavy fall of snow and only Farmer Evans and the Reverend Joseph Lancaster managed to arrive at the church for the morning service.
'Well,' said the Vicar laconically, 'I guess there's no point in having a service today.'
'Well that's not how I see it.' said Farmer Evans smartly. 'If only one cow turns up at feeding time, I still feed it.'
Christmas Riddles
What do you get if Santa comes down your chimney when the fire is a alight?
Crisp Kringle
Why does rain drop, but snow fall?
(Nobody can answer this conundrum)
What do you call people who are frightened of Santa?
Will's Answer: Claustraphopic. (Guy's answer: Non-existent)
Sterling silver charms to bring good fortune.
Notice on the back: Potential choking hazard: do not use with food.
How to Say "Merry Christmas" in 75 Other Languages
Language

Merry




Christmas

Afrikaans
Gesëende Kersfees
Albanian
Gezur Krislinjden
Arabic
Idah Saidan Wa
Sanah Jadidah
Argentine
Feliz Navidad
Armenian
Shenoraavor Nor
Dari yev Pari Gaghand
Basque
Zorionak eta Urte
Berri On!
Bengali
Shuvo Naba Barsha
Bohemian
Vesele Vanoce
Brazilian
Boas Festas e
Feliz Ano Novo
Breton
Nedeleg laouen na
bloavezh mat
Bulgarian
Tchestita Koleda;
Tchestito Rojdestvo Hristovo
Catalan
Bon Nadal i un
Bon Any Nou!
Chile
Feliz Navidad
Chinese
(Cantonese) Gun
Tso Sun Tan'Gung Haw Sun
Chinese
(Mandarin) Kung
His Hsin Nien bing Chu Shen Tan
Cornish
Nadelik looan na
looan blethen noweth
Corsian
Pace e salute
Croatian
Sretan Bozic
Czech
Prejeme Vam
Vesele Vanoce a stastny Novy Rok
Danish
Glædelig Jul
Dutch
Vrolijk
Kerstfeest en een Gelukkig Nieuwjaar!
English
Merry Christmas
Eskimo
(inupik) Jutdlime
pivdluarit ukiortame pivdluaritlo!
Esperanto
Gajan Kristnaskon
Estonian
Ruumsaid
juulup|hi
Finnish
Hyvaa joulua
Flemish
Zalig Kerstfeest
en Gelukkig nieuw jaar
French
Joyeux Noel
Frisian
Noflike
Krystdagen en in protte Lok en Seine yn it Nije Jier!
Gaelic
Nollaig chridheil
agus Bliadhna mhath ùr!
German
Froehliche
Weihnachten
Greek
Kala
Christouyenna!
Hawaiian
Mele Kalikimaka
Hebrew
Mo'adim Lesimkha.
Chena tova
Hindi
Shub Naya Baras
Hawaiian
Mele Kalikimaka
ame Hauoli Makahiki Hou!
Hungarian
Kellemes
Karacsonyi unnepeket
Icelandic
Gledileg Jol
Indonesian
Selamat Hari
Natal
Iraqi
Idah Saidan Wa
Sanah Jadidah
Irish
Nollaig Shona
Dhuit, or Nodlaig mhaith chugnat
Italian
Buone Feste
Natalizie
Japanese
Shinnen omedeto.
Kurisumasu Omedeto
Korean
Sung Tan Chuk Ha
Latin
Natale hilare et
Annum Faustum!
Latvian
Prieci'gus
Ziemsve'tkus un Laimi'gu Jauno Gadu!
Lithuanian
Linksmu Kaledu
Maltese
LL Milied
Lt-tajjeb
Manx
Nollick ghennal
as blein vie noa
Maori
Meri Kirihimete
Norwegian
God Jul, or
Gledelig Jul
Papua New Guinea
Bikpela hamamas
blong dispela Krismas na Nupela yia i go long yu
Peru
Feliz Navidad y un Venturoso
Philippines
Maligayan Pasko!
Polish
Wesolych Swiat
Bozego Narodzenia or Boze Narodzenie
Portuguese
Feliz Natal
Romanian
Sarbatori
fericite & La multi ani
Russian
S RazhdеstvOm!
(New Year S Novim Godom!)
Samoan
La Maunia Le
Kilisimasi Ma Le Tausaga Fou
Serbian
Hristos se rodi
Slovakian
Sretan Bozic or
Vesele vianoce
Samoan
La Maunia Le
Kilisimasi Ma Le Tausaga Fou
Scots Gaelic
Nollaig chridheil
huibh
Serbian
Hristos se rodi.
Slovak
Vesele Vianoce. A
stastlivy Novy Rok
Spanish
Feliz Navidad
Swedish
God Jul and (Och)
Ett Gott Nytt Ã...r
Thai
Sawadee Pee Mai
Tongan
Mele Kalisimasi
Turkish
Noeliniz Ve Yeni
Yiliniz Kutlu Olsun
Ukrainian
Христос Родився (Hrustos Roduvsya)
Urdu
Naya Saal Mubarak
Ho
Vietnamese
Chung Mung Giang
Sinh
Welsh
Nadolig Llawen
Yugoslavian
Cestitamo Bozic
Will and Guy
Funny Merry Christmas
Following Christmas 2014, the next time Christmas Day falls on a Thursday will be 2020.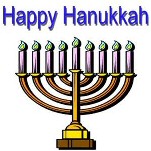 Hanukkah - A Jewish Special Occasion
Hanukkah is a Jewish holiday celebrated for eight days and nights. It starts on the 25th of the Jewish month of Kislev, which coincides with late November - late December on the secular calendar.
Footnote: Please send us your funny items for Christmas 2013.