Here is Will and Guy's collection of Chinese wedding pictures in general, and brides' dresses in particular.
Beautiful Chinese Wedding Dress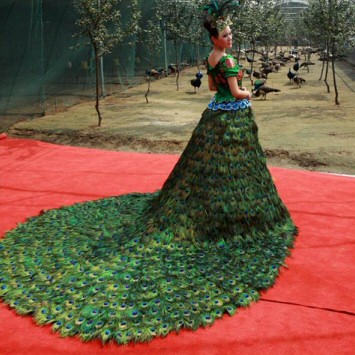 Will and Guy would be interested in details of the where and the how behind this incredible peacock wedding dress.
200 Metres of Chinese Wedding Dress
A Ken says he originally planned to make the dress 2008 metres long, in tribute to the 2008 Beijing Olympic Games. 'But it would have been too hard to make and to handle.  So I changed the length to 200.8, and I hope the long train will bind us together forever,' he said.  Ken, of Guangzhou city, China, placed the order with a local factory who took nearly three months to complete the dress, reports the Guangzhou Daily.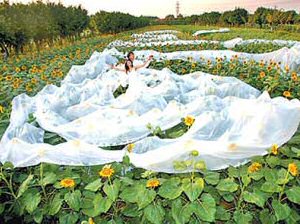 Another Lovely, Even Longer Dress for The Chinese Bride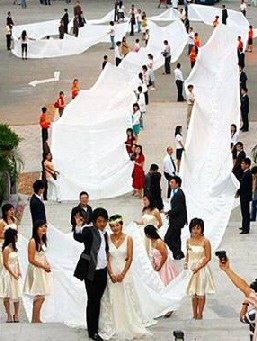 The bride from Guangzhou, China set the world's longest bridal train record at 219 yards A Chinese bride accented her gown with a train that was over 600 ft long and weighed over 220 lbs. Xie Qiyun had this photos taken in front of a hotel in Guangzhou, the capital of Guangdong Province on her special day. According to Guinness, the longest wedding dress train measured 1362 m [4468 ft 5.94 in] and was created by Andreas Evstratiou in Paphos, Cyprus, in February 2007

The Wedding MC Joke Book
How even a nervous, first-time Wedding MC with no comedy experience can entertain and dazzle the wedding guests with 101 funny, clean, and 'field-tested' wedding jokes.
Buy Here! Only $19.99
And To Top That - Another Chinese Wedding
 
Stunning one-and-a-half mile wedding dress A Chinese bride is hoping to get her name in the record books after getting married in a 1.4 mile-long wedding dress. More than 200 guests took over three hours to unroll Lin Rong's wedding train and pin on 9,999 red silk roses for her wedding Will and Guy have learned . Groom Zhao Peng, aged 28, a railway worker from northeast Jilin province, China, said he wanted to challenge the current world record of 1,579 metres. His family was initially not too impressed at the £3,500 cost. Lin Rong, the bride, reportedly laughed and cried at the romantic gesture. Zhao bought the materials and asked his relatives for help in making the wedding dress by hand, which took three months to finish.
The Bride Is Always White Cindy was just 9 years old, this was the third wedding she had been
to that summer.  She turned to her mother and asked:-
"Mom, why does the bride always wear a beautiful white dress?"
Oh, that Cindy, is because it's the happiest day of her life.
"In that case why is the groom wearing a black suit?"
Kindly sent in by Jean
Chinese Carrot Wedding Proposal
'Marry Him' Shout Crowd
Here is a true, funny wedding Proposal.  Zhao Xinyu received a massive shock when her boyfriend proposed to her - while dressed as a carrot Will and Guy can reveal.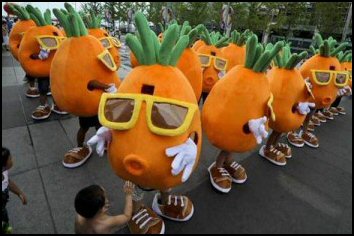 Pang Kun and his girlfriend Zhao Xinyu were at a local shopping centre in Qingdao, northern China's Shandong Province, when he announced that he needed to go to the toilet. While Xinyu was waiting for him to return, 49 people dressed as carrots outfits appeared in the area and began to dance. While this was happening a man's voice could be heard, 'Six months ago I met you. I still remember your shyness at our first date, my longing for the next date and my excitement when the first time I held your hand at the movie theatre.' At the end of the dance one of the carrots approached Xinyu and pulled off his costume to reveal that it was Kun. He then got down on one knee and asked Xinyu to marry him. To chants of "marry him" from the crowd Xinyu nodded her head.
Humorous Chinese Wedding Picture - The Romance of 99,999 Red Roses
Definitely one of the most wonderfully romantic weddings ever, say Will and Guy, as groom Xiao Wang spent a year's salary on buying 99,999 red roses for his bride, Xiao Liu, for their wedding conducted in Chongqing, central China, where the number 999 is considered to be a good luck omen.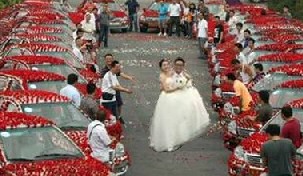 The couple, both 24 years old, and shown in the photo, needed 30 cars to take the flowers to the service. They advertised on the internet for car owners and for helpers to stick the flowers on the vehicles. The flowers themselves were flown in from the other side of the country. 'I remembered that Liu loved these special roses and the idea just grew and grew. It was worth it all just to see the look on her face when she saw the cars,' said groom Wang. Liu who met Wang while they were at University together added, 'I mentioned a year ago I would like a romantic wedding; I can't believe he remembered, but it was amazing.' The groom also donated 20% of the cost of the roses to charity to get even more good luck. Definitely a fairy tale wedding we think.
(Not a Chinese Bride) Bride Wears Dress Made of Wool
Shepherdess Louise Fairburn loves her sheep - so got married in a woollen wedding dress made entirely from shearing some of her own flock. Louise also carried a Bo-beep style crook instead of a bouquet, guests were given chocolate sheep-shaped favours and the ring bearer's cushion was made from a fleece. Mrs Fairburn, amazed guests with the unique gown she designed herself made with wool from one of her Lincoln Longwools called 'Olivia'. She extended the woolly theme to the rest of her big day with groom Ian, 42, also wearing a woollen waistcoat made from one of the couple's flock. Photo: Raymonds
Footnote:
Please send us your Chinese wedding pictures. Get your MC Wedding Joke book
only $19.99