(羊)
The date for the Chinese New Year in 2015 is February 19th. Incidentally, February 19th is about the latest possible date for the Chinese New Year.
2015 is the year of the Sheep, but is also know as the year of the Goat, or even the Ram. It is the
yĭ-wèi
(乙未) year of the Wooden Sheep. Yĭ is the second of the ten celestial stems and wèi (Sheep) is the eighth of the twelve terrestrial branches. Unlike western calendars, the Chinese calendar has names that are repeated every 60 years.  Within the 'Stem-Branch' system is shorter cycle of 12 years denoted by animals:
Calculating 'When is the Chinese New Year in 2015'
The fact that the date of Chinese New Year varies within about a month is a clue that it's linked to the new moon.  A rough, and almost infallible guide is that the Chinese New Year follows the second new moon after the winter solstice.  The winter solstice always falls on December 21st, the next new moon is on January 20th 2015, and the second new moon is on February 18th 2015.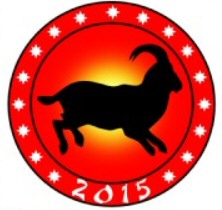 Please note that there is a new moon on December 21st, but this does not count for calculation purposes.  However, this does mean that February 19th is about the latest day in the year for the Chinese New Year.  As the new year ends on February 7th 2016 this late begining it makes 2015 slightly shorter than most Chinese 'years'.
The Chinese New Year Calendar - With Its Associated 12 Animals
The lunar Chinese New Year (CNY) calendar below shows which of 12 animals you are!  Naturally the animal depends on the year in which you were born.  Note: if you were born in January or February you need to check if your birthday was before or after the date of that Chinese New Year. (If it was before this day your animal is the one shown for the previous year).
| | | | | | | | | |
| --- | --- | --- | --- | --- | --- | --- | --- | --- |
| Rat | 1924 | 1936 | 1948 | 1960 | 1972 | 1984 | 1996 | 2008 |
| Ox | 1925 | 1937 | 1949 | 1961 | 1973 | 1985 | 1997 | 2009 |
| Tiger | 1926 | 1938 | 1950 | 1962 | 1974 | 1986 | 1998 | 2010 |
| Rabbit | 1927 | 1939 | 1951 | 1963 | 1975 | 1987 | 1999 | 2011 |
| Dragon | 1928 | 1940 | 1952 | 1964 | 1976 | 1988 | 2000 | 2012 |
| Snake | 1929 | 1941 | 1953 | 1965 | 1977 | 1989 | 2001 | 2013 |
| Horse | 1930 | 1942 | 1954 | 1966 | 1978 | 1990 | 2002 | 2014 |
| Sheep | 1931 | 1943 | 1955 | 1967 | 1979 | 1991 | 2003 | 2015 |
| Monkey | 1932 | 1944 | 1956 | 1968 | 1980 | 1992 | 2004 | 2016 |
| Rooster | 1933 | 1945 | 1957 | 1969 | 1981 | 1993 | 2005 | 2017 |
| Dog | 1934 | 1946 | 1958 | 1970 | 1982 | 1994 | 2006 | 2018 |
| Pig | 1935 | 1947 | 1959 | 1971 | 1983 | 1995 | 2007 | 2019 |
60 Year Cycle of the Chinese New Year Calendar
Unlike western calendars, the Chinese calendar has names that are repeated every 60 years.  Within the 'Stem-Branch' system is shorter 'Celestial' cycle of 12 years denoted by animals.  Furthermore, the Chinese believe that people born in a particular year take on the characteristics of the animal associated with that year. Another dimension of the Chinese zodiac is the 5 'Terrestrial' elements of metal, water, wood, fire and earth. If the year ends in 0 it is Yang Metal. If the year ends in 1 it is Yin Metal. If the year ends in 2 it is Yang Water. If the year ends in 3 it is Yin Water. If the year ends in 4 it is Yang Wood.
If the year ends in 5 it is Yin Wood.
If the year ends in 6 it is Yang Fire. If the year ends in 7 it is Yin Fire. If the year ends in 8 it is Yang Earth. If the year ends in 9 it is Yin Earth.
Chinese Idiom Story

There was a Chinese boy called Lěi, who had a large flock of sheep. But one day, Lěi lost a goat and didn't take care of his fence. Gradually more goats escaped until, at last, there was only one goat left.  Only then did Lěi realise the seriousness of his situation, and belatedly repaired the fence.  From that moment, none of his sheep were ever lost. Lěi's story tells us that we must deal with matters in time, or we would lose a lot.
What Lěi Needed for His Sheep - Baa Codes!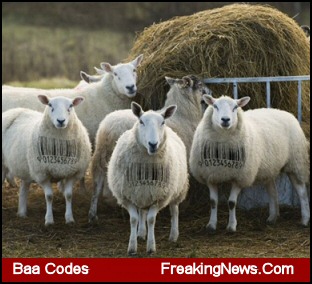 Chinese Folk Tale: - Sòng Dìng Bó Sells a Ghost
The hero of the story, the redoubtable Sòng Dìng Bó, a guy with a love of learning and the martial arts, goes to visit a friend who lives outside his city wall. He enjoys himself and stays late. The friend advises him to stay over, because the road home has a reputation for being haunted by ghosts, but of course Sòng Dìng Bó will have none of this, and starts for home in the dark night. Of course it's not long before our hero does encounter a ghost, but not a clever one, because he thinks he might be a ghost. Sòng Dìng Bó has fun pretending to be a ghost, and even learns what ghosts are most afraid of: having people spit in their faces! Now you know why Chinese people love doing that so much! Finally, with dawn breaking, the ghost is keen to be off, (seems like Chinese ghosts, just like their western cousins, prefer the dark night to the light of day.) But Sòng Dìng Bó holds on to it and won't let it go, and then... *roll of drums*... the ghost turns into... a sheep!! Sòng Dìng Bó is no fool, he knows it might turn back into a ghost, so he spits in its face and takes it to market and sells it.
Characteristics of Sheep People
Sheep people simply seek peace. They are quiet and calm men and women
They enjoy carrying on with life in their own individual way; they are happy to be in the middle of the actions rather than being leaders.
Though shy by nature, they like to be in the company of others watching from the side-lines, allowing others to dazzle.
They are highly creative, enjoying cultural activities, and focus their energy on artistic hobbies.
Sheep often appear easy-going and relaxed, happy to be going with the flow, but inwardly can they can be anxious.
Sheep are nurturers, this is one of the few feminine signs. They enjoy taking care of other people. Their personalities are quiet, reserved and soothing.
Those born under the Sheep sign will do better than they realize, partly because they are so good at keeping the peace and partly because they are good at accomplishing the tasks at hand.
The characteristics of the Sheep are modified by one, or more, of these Chinese elements: Wood, Metal, Water, Fire and Earth.
Qualities of "Wood Sheep" People
Sheep enjoy being in the middle of a group, consequently, other flock to these Sheep, possibly because they are so compassionate and helpful. Their sincerity can be taken advantage of and Wood Sheep may get their feelings hurt by undeserving sympathy seekers. Sometimes, Wood Sheep need to suppress their caring ways and take care of themselves.
Likely Vocations for Sheep
Their caring and artistic qualities, means that Sheep make excellent actors, designers, florists, paediatricians, hairdressers, musicians and teachers.
Sheep Show These Likes and Aversions
Colour Preference: Cerise, mauve and pink.
Gems and Stones: Jade, Moonstone and Sapphire.
Leisure Activities: Reading, swimming, going to the theatre, eating and drinking.
Sheep Dislike: Being away from their family and friends. They dislike arguments or conflict.
People Born in the Year of the Sheep
Michelangelo, King George VI, Jane Austen, Boris Becker, Jamie Foxx, Mel Gibson, Franz Liszt, Michelangelo, Mark Twain, Barbara Walters, Orville Wright and Rudolph Valentino.
Dates for Chinese Valentine's Day
'When is the Chinese Valentine's Day in 2015?', is sure to be a question in quiz.  So be prepared, know the date, and remember the golden rule, 7th day of the 7th month of the Chinese calendar.
Chinese Phrases

搞笑清洁笑话
in Chinese roughly translates into clean funny jokes.
干净免费笑话,故事图片、视频剪辑
means clean free jokes, stories pictures and video-clips.
Will and Guy's Amusing and Funny Chinese Fishing Story
Wang Chien-Ming, (王建 in Mandarin), having settled down to fish at the edge of the river in Guangdong province, soon realized that he had forgotten to bring any bait. Slightly annoyed with himself, Wang noticed a little snake passing by who had caught a worm.  Knowing it was the year of the snake, Wang grabbed the snake and robbed him of his worm.  Then later, feeling sorry for the little snake with no lunch, he snatched him up again and poured a little beer down his throat.  Then he continued happily with his fishing. An hour or so later Wang felt a tug at his trouser leg. Looking down, he saw the same snake with three more worms in his mouth..................
Footnote:
Please write to us if you have any interesting stories about the Chinese New Year 2015.