Chad on the walls, and Kilroy everywhere, two old favourites.
1) Kilroy Was Here
There are numerous legends surrounding the origin of the catch phrase: 'Kilroy was here'.
What happened was that during the 1940's a plague of graffiti appeared on walls all over Europe. If you have a Grandfather or Uncle who lived through World War, ask them for their version of the origin of the legendary graffiti: 'Kilroy Was Here'.
Perhaps the best way to research the history is to go back close to the time when Kilroy emerged. Soon after the war was won, The American Transit Association sponsored a competition to find the original Kilroy. They declared James J. Kilroy of Halifax, Massachusetts as the source of the legend. A useful corroboration comes from the New York Times of December 24th 1946. The paper reports thus:
'During the war he was employed at the Bethlehem Steel Company's Quincy shipyard, inspecting tanks, double bottoms and other parts of warships under construction.
To satisfy superiors that he was performing his duties, Mr. Kilroy scribbled in yellow crayon ' Kilroy was here' on inspected work.'
2) Chad on Wall (or Off the Wall?)
Chad on the wall was the figure with long nose, the hands and above all, the eyes peering over the wall. Chad was probably a British phenomenon. My reasoning is that American's did not suffer from rationing and Chad was always moaning (in English not French or German):
Wot no tea?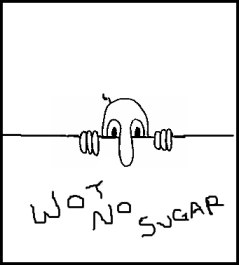 Wot no sugar?
The evidence points to the British cartoonist George Chatterton, inventing Chad in 1937. What happened next was that during the war Chad and Kilroy combined and in the hands of Millions of servicemen, they cocked-a-snook at authority.
With 'Rosy tinted spectacles', legend now has it that Chads on walls and 'Kilroy was here', slogans helped the war effort to undermine the enemy. The problem with such views is that I cannot imagine how the average Japanese soldier could read Chad's comments. To me it is more likely that Chads and Kilroy irritated our Great Grand Parents as much as modern graffiti irritates our present Grand Parents. But our Grand Parents try and put a positive spin on their own misdeeds.