For a man to truly understand rejection, he must first be ignored by a cat.
Ode to Tyrone By Charlene Wexler

Tyrone, you are the greatest contortionist I've ever met.
I can watch you change positions in your feline sleep for hours. Your slim, trim, muscular body stretched across the bouncy pink sofa pulls in like a tight ball one minute, only to slowly unfold legs across your soft tummy the next. This produces the most unusual positions.
Just a quiet "swoosh" of a whisper from my lips will make your ears perk up at attention, resulting in your incredible hearing waking up all your senses.
Those large, bright, glowing green eyes can easily mesmerize anyone who dares to stare into them. The slightest movement across your field of vision will cause a speedy swat from your sharp, needle-like claws.
You are a cunning hunter, almost always capturing your prey -- sometimes for food, but mostly for play now that you've been spoiled by fancy cat food and tuna.
Heaven help any other cat who invades your territory. I watch you speed out the back door in the early morning, sniffing around to make sure only the resident squirrels, birds, raccoons, and deer have been around.
So much of your day is spent using your specialized tongue to keep your soft, lustrous coat clean and shiny.
There is a gentle, loving part to you also. A gentle rubbing of your head and ears will calm you down and produce a low, constant purring sound. Then you will become my loving companion.
But true to your cat nature, it will always be you, not I, who will decide when it is time to move on.
Tyrone Is No More By Charlene Wexler
My eyes disbelieved when I looked at the time The clock on the dresser registered half past nine
Someone has told it Tyrone is no more.
No claws scratching, no high-pitch meowing The house is silent this dreary morning
Someone has told it Tyrone is no more.
Pecking at seeds I've dropped on the patio floor
The little birds are swaggering up to my door
Someone has told them Tyrone is no more.
The squirrels are swinging here and there without a care
The orange cat is frolicking in the snow, no reason for him to go
Someone has told them Tyrone is no more.
No, water bowl to change, no litter box to clean
My kitchen today is very pristine
Someone has told it Tyrone is no more.
I sat on the sofa with no fear
That my clothing would be covered with fur from there to here
Someone has told it Tyrone is no more.
I opened the door as wide as can be, for today no cat will sneak out on me
So the chipmunks and mice were dancing with glee
Someone has told them Tyrone is no more.
I reached out my hand to caress my cat
It stayed there outreached with no one to pat
My eyes filled with tears, and my heart tore
Because Tyrone is no more.
Footnotes: Charlene Wexler's book 'Milk and Oranges' is published by Amazon it's only $4.59.
We appreciate being able to publish this story from an author who knows how to craft words.
Cat Nap!
Even when asleep cats can make us smile. They start by simply sleeping on their back or on their side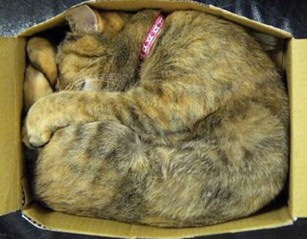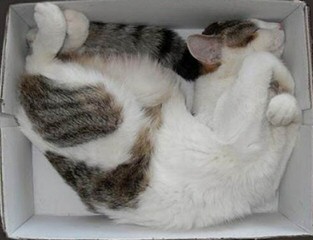 Cats Nap on Radiators
Delightful Story of A Cat Swimming

As if to confirm Will and Guy's assertion that some cats enjoy the water we have discovered that a cat in China has overcome its fear of water to become the newest and most well known member of its local winter swimming club.
The black cat apparently has no name but has become a celebrity among the 200 members of the 'Changjiang River Winter Swimming Club' in Chongqing. We have learned that it swims at least fifty metres every day in the cold, wide and, judging from the photo, rather murky river.
Club member, Sang Changjiang, commented that the cat had been swimming now with the club for four months, even though it's only six months old. It's talent for swimming was discovered one afternoon when a club member accidentally knocked the cat into the river when diving into the water from a boat.
'We knew the cat was terrified of water and thought it might drown in the swirling river; but it swam furiously to get close to the boat
and was rescued,' commented Sang.
From then on, club members always took the cat swimming with them, and after only ten days it could swim by itself without assistance.
'Each afternoon around 4 o'clock, we would take it to swim and it has become part of its daily life,' added Sang. After its daily dip, the wet cat licks itself dry then falls asleep on a sofa on the boat, owned by a club member, which is its home.
True Cat Story From Wales

The Sun newspaper reports the story of a cat named Aslan who fell asleep under a car bonnet in the East Anglian town of Ipswich in the UK. The car's owner and driver, a Mr Rob Hillier, then drove the car some 260 miles to visit his relatives in Maesteg, Mid Glamorgan, Wales.
The next day Aslan's cries [surely 'miaows' says Will] were heard and he was found unhurt and returned home. I imagine he travelled
more comfortably this time.
Footnote: Please send us your cat stories.