Cat and Mice in Heaven
A cat died and went to Heaven. God met her at the gates and said, 'You have been a good cat all these years. Anything you want is yours for the asking.'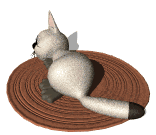 The cat thought for a minute and then said, 'All my life I lived on a farm and slept on hard wooden floors. I would like a real fluffy pillow to sleep on.' God said, 'Say no more.' Instantly the cat had a huge fluffy pillow. A few days later, six mice were killed in an accident and they all went to Heaven together. God met the mice at the gates with the same offer that He made to the cat. The mice said, 'Well, we have had to run all of our lives: from cats, dogs, and even people with brooms! If we could just have some little roller skates, we would not have to run again.' God answered, 'It is done.' All the mice had beautiful little roller skates. About a week later, God decided to check on the cat. He found her sound asleep on her fluffy pillow. God gently awakened the cat and asked, 'Is everything okay? How have you been doing? Are you happy?' The cat replied, 'Oh, it is WONDERFUL. I have never been so happy in my life. The pillow is so fluffy, and those little meals on wheels you have been sending over are delicious!'
A Very British Cat
'A Good Ratter' PM's spokesperson tells Will and Guy The four-year old tabby, called Larry, was at London's Battersea Dogs and Cats Home before moving in to the UK Prime Minister's home. The arrival follows weeks of speculation about potential pest control measures after a large black rat was seen scuttling past No 10. A Downing Street spokesman informed us that the former stray was a 'good ratter'. Former Downing Street Cats Include :
1920s - Rufus of England
1930s and 1940s - Munich Mouser
1970s - Wilberforce
1989 to 1997 - Humphrey
2007 - Sybil
2011 - Larry
Cat Get's Its Mouse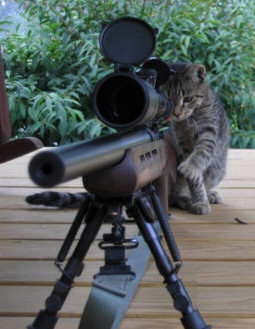 Cat Uses One of Nine Lives
Emmy, the cat, was forced to lick condensation off windows to survive after being accidentally locked in a garden shed for more than two months. The cat's owner thought she had died after spending weeks looking for her in the UK town of Torquay, in Devon, UK.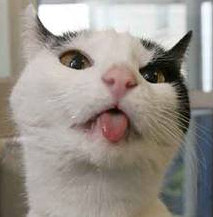 The 10-year-old feline instead spent nine weeks licking the moist windows of the garden shed that she had hidden in before her owner finally found her. Manager of the Blue Cross animal centre in nearby Watcombe, M/S Laura Valentine, told reporters that Emmy was lucky to have survived her ordeal. 'The RSPCA say she survived by licking condensation off the windows in the shed,' Ms Valentine was quoted as saying. 'It is remarkable - she must have been in torment in there... her owner really had no idea where she was. They didn't think she would survive because she was so skeletal but she's fine now. Emmy is still traumatised and has a fear of tight spaces and of being left alone,' she continued, 'She has recovered physically but mentally she is still a bit fragile. She also seems to have lost the ability or the will to jump and won't even hop on or off things.' Emmy has been placed up for adoption by Blue Cross.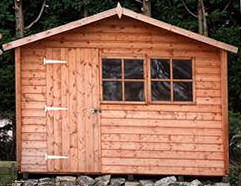 Bug-eyed Cat?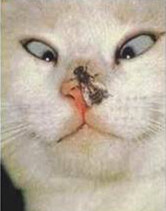 Footnote:
Please send us your funny cat and mice stories and amusing pictures.