Here we have 3 video clips showing car crashes, fortunately each has a relatively happy ending. Modern roll-over cages give the drivers great protection, therefore it is the marshals and spectators who are at greatest risk.
1) Car Crash Video Clip - Two wheels around the bend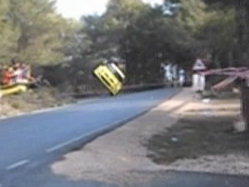 2) Car Crash Video Clip - Driver Gets Car Going Sideways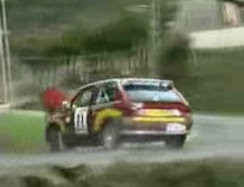 3) Car Meets Marshall
In the middle of the picture is a car spinning out of control, you can just about see a number 1 on the roof. More importantly, what is going to happen to the poor marshal?