1) Can You Believe It?
At Work: An actual tip from page 21 of the Health & Safety Handbook for Employees: 'Blink your eyelids periodically to lubricate your eyes'.
At Play: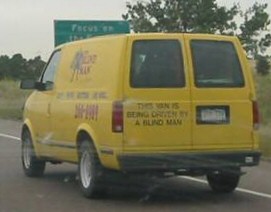 My daughter went to a local McDonalds and ordered a burger. She asked the individual behind the counter for 'minimal lettuce'.
He said he was sorry, but they only had iceberg.
On the Road
The stoplight on the corner buzzes when it is safe to cross the road. I was crossing with a friend of mine when she asked if I knew what the buzzer was for. I explained that it signals to blind people when the light is red. She responded, appalled, 'What on earth are blind people doing driving?'
On Holiday:
I was at London Gatwick airport one Thursday, checking in at the gate, when the airport employee asked, 'Has anyone put anything in your baggage without your knowledge?' I answered, 'If it was without my knowledge, how would I know?' He smiled and nodded knowingly, 'That's why we ask.'
2) Jobsworth - Can You Believe It?
Introduction: A Jobsworth is someone who says 'I can't do that, it's more than my job's worth'; it seems there is no direct equivalent
American word, it's a cross between 'That's not my department' and a 'Little Hitler'. Here is the first of several tales of jobsworths
in action:
A woman has been accused of littering, after sweeping leaves into a pile. Street sweepers refused to remove the leaves at the end of Sandra Pote's drive because some were in her garden. Sandra, 61, thought she was doing the cleaning truck crew a favour as they drove down the road in Torquay, Devon, but she was accused of fly-tipping by the council, reports BBC news.
Torbay council insisted the couple should have taken the leaves to a tip. A spokesman said, 'Householders have a responsibility to deal with leaves on their property'.
3) Jobsworth at the Supermarket - Can You Believe It!
Morrisons supermarket in Acomb, Yorkshire, England, took its rules about selling alcohol rather too seriously when they asked Jack Archer, aged 87, to prove that he was over 21. True and funny story.
When he attempted to buy a bottle of sherry reports BBC news. Former Lord Mayor of York, Mr Archer, said that he was shocked but flattered to be asked. He stated, 'I don't look my age but I certainly don't look young enough to be
in trouble for underage drinking.'
Mr Archer said he often had a small glass of sherry at bedtime to help him sleep. He said: "I was taken aback really. Afterwards I thought I should have showed them my bus pass and that would have proved how old I was.
4) Traffic Warden Jobsworths
Traffic Wardens are prime culprits of 'Jobsworth' as can be seen from these examples:
While he was being put in an ambulance after breaking his leg having crashed his scooter a man was presented with a £100 [$182USD] fine.
Having collapsed and died from a heart attack in the cab of his lorry a man was given a £60 [$109USD] ticket in Lancashire, UK.
A man who returned from a holiday in Australia found that double yellow lines had been painted up to his parked car and he had received a £80 parking fine. Later this was cancelled.
A man stopped his car in order to re-attach his false leg. Although the car displayed a disabled sticker he still received a £50 [$91USD] parking penalty.
Another man, parked on double yellow lines, was
given a £40 [$72USD] ticket as he tended to his wife who was having a heart attack. This, too, was later rescinded.
A hearse received a ticket when it parked outside a house where it was collecting a coffin in Kent, UK. This, also was later cancelled.
As a variation from traffic wardens, wheel clampers have to be somewhere near the top of the list of jobsworth occupations. One company even demanded a woman motorist's gold tooth as payment because she wasn't able to pay the release fee immediately.
Footnote: If you liked these 'can you credit it' tales, here are more Jobsworths
5) Can You Believe It - Telegraph Pole In the Road

In Ireland the authorities planted a telegraph pole in the middle of the road, in fact right in the middle of a junction. John Morris heard a
snippet on the radio which explained that the pole had been there for two years, then a Jobsworth from the local council said: 'These things take time.'
We are unsure to interpret this statement as, it took a while to plant it there, or it's going to take two years to get around to moving the offending pole. Can you believe it!
If you can identify this town / road in Ireland, please let us know where it is and we will update this article.
6) Political Bloopers: Can You Imagine Important People Saying This?
'China is a big country, inhabited by many Chinese.' Charles de Gaulle, ex-French President
'This is a great day for France!' President Richard Nixon while attending Charles De Gaulle's funeral.
'Things are more like they are now than they have ever been'. President Gerald Ford
'Capital punishment is our society's recognition of the sanctity of human life.' Orrin Hatch, Senator from Utah, explaining his support of the death penalty.
'The chairs in the cabin are for the ladies. Gentlemen are not to make use of them till the ladies are seated.'
Instructions posted in a river cruise ship, Suir River, Ireland.
'Outside of the killings, Washington D.C. has one of the lowest crime rates in the country.' Mayor Marion Barry,
Washington D.C.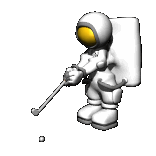 'My fellow astronauts...' Vice-President Dan Quayle, beginning a speech at an Apollo 11 anniversary celebration.
'We found the term 'killing' too broad. 'State Department spokesperson on why the word 'killing' was replaced with, 'unlawful or arbitrary deprivation of life' in its human rights reports for 1984-5
'The exports include thumbscrews and cattle prods, just routine items for the police'. U.S. Commerce Department spokesman
on a regulation allowing the export of various products abroad.
7) Woman Given £50 Fine for Taking a Nap in a Car Park

Will and Guy have always understood that it is never a good idea to drive when tired. In fact it is recommended that drivers should regularly take a break on long journeys. However, some jobsworth appears to disagree with this point of view. Another true, but not so funny story.
M/S Emma Faulkner believed she was doing the right thing when she pulled into a motorway services at midnight on the way home from London to Preston. After dozing off in the car park, she woke at 4.30am and drove the remaining 35 miles of her journey: only to be sent a £50 [$90 USD]fine a few days later.
The 24-year-old had been caught by cameras which snapped her number plate for overstaying the two-hour parking limit at Lymm Services on the M6, near Warrington, England. Can you believe it?
When questioned, Emma told reporters, 'I didn't see any sign saying only two hours. I'm genuinely horrified. They are always on about safe driving.'
Apparently, we have discovered, motorists who wish to stay longer than the free period have to pay a flat rate of £15 for up to 24 hours.
Will and Guy have also heard that M/S Faulkner is refusing to pay the fine so watch this space for further developments.
Footnote: Please send us your 'Can you believe it' items.