They don't call him 'King' Fisher for nothing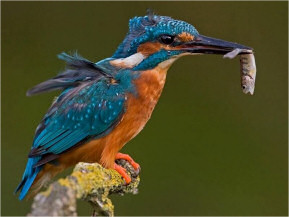 There are over 80 types of kingfisher, and this species looks one of the most colourful of these fishing birds.  If you are lucky enough to see a group of 3 or 4 kingfishers, then you have seen a 'clique' of kingfishers.
Another Clever Fisherman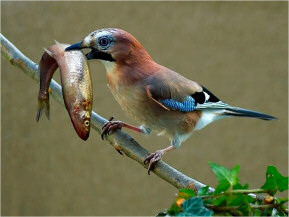 Once again, superb photography.  Will and Guy admire whoever had the skill and patience to capture this bird with his supper.
Which Yellow Bird?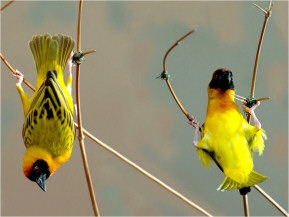 Will and Guy are not quite sure which species of bird is captured in the photograph below.  Could it be a Yellow hammer?  A Gold finch? or a Yellow Finch.  We are not convinced by any of these suggestions, if you recognise this species of bird, please write and let us know.
Ugly Vulture, Beautiful Picture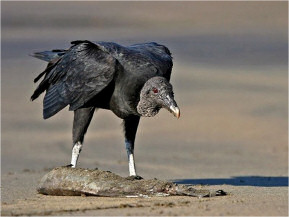 Check out our Bird PowerPoint Presentation
Here is a free PowerPoint presentation of the bird collection
Fantastic Bird PowerPoint Presentation (Right click Save Target As)
How to Create a PowerPoint Presentation
Making presentations in PowerPoint is satisfying, moreover, it's easy to get started. The PowerPoint program is intuitive to learn and easy to create your own PPT slides and build them into a slide show.  If you have Microsoft Office you may find that you already have PowerPoint along with Word and Excel. One way to begin is simply to open any example presentation.  Just download one of our free PPT files and open it with PowerPoint.  As you examine the slides, so it will become obvious how to add pictures and titles, if you do get stuck, ask the wonderful built-in 'Help'.  To make an amazing slide show requires these skills;
Imagination - Think an idea, then build a themed slide set
Artistic - An eye for a good picture
Wordsmith - Choose a catchy title for each slide
Humour - Your viewers will appreciate a funny PowerPoint Presentation
PowerPoint mechanics - Actually, this is the easiest skill of them all, the program is so intuitive.
Good luck with creating your PowerPoint Presentation