This is one of the videos that Will and Guy thought long and hard before publishing. Our justification is that we want to warn budding gunmen to take care. Two of our close friends have shot themselves in the foot - each of those events had a funny side.
But this shooting self video is just chilling.
Here is Our Crack-shot. Lining up the Target with is his Armalite AR-50 Rifle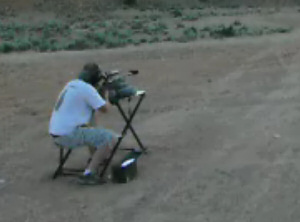 Look here - The ricochet has knocked off his headphones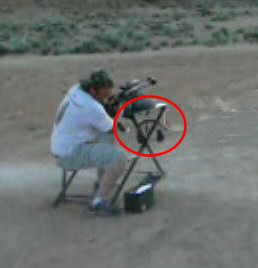 The ear-muffs probably saved his life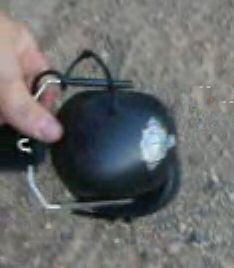 What happened was the crack-shot hit the target about 100 yards away, but the bullet ricocheted back and hit his helmet. He was lucky. What we want to emphasis is if you don't learn from accidents such of these, then you are destined to repeat them.
Our friends who shot themselves in the foot were only using air rifles, whereas rifles such as the Armalite AR-50 fire a much more deadly round.
N.B. With some browsers you need to click twice on the Play arrow

to start the video. N.B. Help for Mozilla browsers
How to shoot yourself with an AR-50 rifle
Free Download of Shooting self (Right click, Save Target As)
Man Shoots Himself in Foot

A man from the USA has injured himself in both legs after attempting to loosen a stiff wheel-nut by blasting it with his gun; the 66-year-old man from Washington state was repairing his car outside his home when the accident took place.
The man, from South Kitsap, 10 miles southwest of Seattle, had been repairing his Lincoln Continental for two weeks, according to BBC news and had removed all but one of the nuts on the right rear wheel. Frustrated by the one remaining nut which refused to budge, he resorted to fire power in an effort to shift it.

He opened fire at the wheel from arm's length with his 12-gauge shotgun and he was peppered with buckshot and debris. Police say the man was not inebriated when he shot himself, and he was taken to hospital with severe, but not life-threatening injuries.
Couple Injured Shooting at Mice: You Couldn't Make It Up
The Hilariously Funny and True Story of This Month's Losers

A woman living in a small travel trailer in Potter Valley, Mendocino County, California, USA, shot herself and her male companion in an almost fatal accident Will and Guy have recently learned.

The woman, aged 43 years had spotted several mice running around in her trailer home. As you do when this happens, she drew her .44-caliber Magnum revolver from its holster to fire at the invading rodents. Unfortunately, she dropped the pistol which went off as it landed on the floor. The bullet went through the woman's right kneecap, then hit keys hanging on the belt
loop of a 42-year-old man who happened to be in the trailer.
The bullet glanced off the keys and tore a hole in the man's trousers and grazed his groin before stopping in his pocket, where it was recovered for evidence.
As yet we have been unable to find out the names of the people involved and there is no further news regarding the mice.
Army Baseball!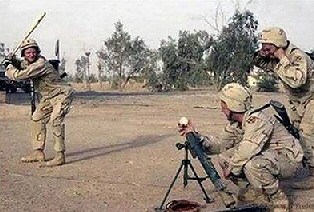 Dog Accidentally Shoots Hunter
Houston Texas January 2008
Chambers County sheriff's investigators have concluded a teacher, Perry Alvin Price III, was fatally shot by his own dog in a freak hunting accident. Just after shooting a goose, Mr Price, set the gun down in the back of his truck and was about to open the tailgate to release his tracking dog when the shotgun fired, investigators said. The blast penetrated the truck's tailgate before hitting Price
"I've been in law enforcement 20 years and this is probably the strangest one I've had," said Chambers County Sheriff Joe LaRive.
Pellets from the shotgun went through the back of Price's tailgate, striking him in the pelvic area of his right thigh. Investigators found paw prints and mud from the dog, a chocolate Labrador retriever named Arthur, on the shotgun, LaRive said. Price was taken to a local hospital by Mr Gronberg, but died from a loss of blood after doctors were unable to revive him. Price taught at Robert E. Lee High School in Baytown.
Other accidents of this type:
In October 2007, a 37-year-old man from Tama, Iowa was also shot in the leg at close range by his dog. Once again it appeared that the dog stepped on his shotgun and tripped the trigger.
James Harris was hit in the calf on the opening day of pheasant season. In that case, the wound was not life-threatening.
Not So Quick Off the Draw

Will and Guy never cease to be totally amazed at the antics of some people. The expression, 'you just couldn't make it up is relevant in this
case.
A man shot himself in the leg with a revolver when he was practising a 'quick draw.' The bullet entered his leg below his knee and came to rest in his foot the police from Barre, Vermont, USA have informed us.
We have learned that the 61 year old man, who should know better, is in a stable condition.
Footnote Do take heed of these 'Shooting self in foot' stories. Remember the wise words of George Santyana:
Those who cannot learn from history are doomed to repeat it.