Burglars
Lock Owner in Coffin
A report from ALMATY in Kazakhstan (Reuters) - Burglars locked
the funeral
parlour employee in a coffin and kept him there unconscious while searching for cash and valuables in the shop.
Serik Sarsenbayev said he was my himself late at night when two masked burglars burst into the
funeral parlour and
beat him until he fainted.
The thieves then stuffed him into a wooden coffin and nailed it closed. What they were after was his money safe. The unusual robbery happened in the steppe town of
Temirtau near Almaty in Kazakhstan central Asia.
Serik was only freed when the driver of the parlour's
hearse came into work.
The thieves made away with $23,000 (13,000 pounds) and have not yet
been caught.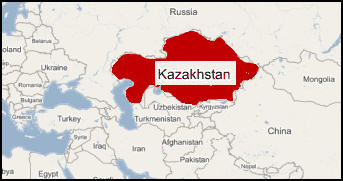 A Strange Story of the Dead Church
A new pastor in Topeka, Kansas, USA, spent the first four days making personal visits to each of his prospective congregation inviting them to come to his inaugural services.
The following Sunday the
church was all but empty. Accordingly, the pastor placed a notice in the local newspapers, stating that, because the church was dead, it was everyone's
duty to give it a decent Christian burial. The funeral
would be held the following Sunday afternoon.
Morbidly curious, a large crowd turned out for the 'funeral'.
In front of the pulpit they saw a closed coffin which was covered in flowers. After the
priest had delivered the eulogy, he opened the coffin and invited his congregation to come forward and pay their final respects to their dead church.


Filled with curiosity as to what would represent the
corpse of a 'dead church'
, all the people eagerly lined up to look in the coffin. Each 'mourner'
peeped into the coffin then quickly turned away with a guilty, sheepish look.
In the coffin, tilted at
the correct angle, was a large mirror.
Fridge for Sale?
Raymond, from Woodley, Reading, Berkshire purchased a new fridge. The local council wanted £20 to remove his old fridge in an environmentally friendly fashion, so in order to save money he put it in his
front garden with a sign that read, 'Free to a good home. You want it, please take it.'
The fridge stood untouched for 4 days.
Raymond changed his tactics. He made a sign saying, 'Fridge for sale -
£50.'
One day later the fridge disappeared: stolen.
Wash it Again
My mother had decided to trim the household budget wherever possible, so instead of having a dress dry-cleaned she washed it by hand. Proud of her savings, she boasted to my father, 'Just think, Ivor, we are
five pounds richer because I washed this dress by hand.'
'Good', my dad quickly replied. 'Wash it again.'
Pizza to go
Dai worked in a local Pizza Parlour near Swansea, Wales. A man came in and ordered a pizza to take away [pizza to go]. Dai asked the man
whether he would like the pizza cut into 4 or 6 portions. The man puzzled over this for quite a while before answering that he would prefer 4 portions because he thought he wasn't
hungry enough to eat 6.
Footnote:
Please send us your strange story
See more 'Strange but true stories'
•
Strange stories •
True stories •
Tallest man •
Round like a shot •
Coincidences •
Repel teens
•
Doreen tackles 4 •
Place not seen •
Egg tattoo •
Moral short stories •
Unusual •
Muck and brass
•
Strange but true stories •
Eat dirt •
Circus strongwoman •
Do-do •
Home •
Skimming stones