The purpose of this page is to give you ideas for your April Fool's Day pranks. We admit that these pictures were not actually taken on April the First, nevertheless, they capture the hoax theme.
Flying Penguins - One of the Best April Fool's Day Pictures from 2008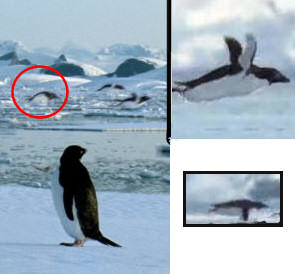 Terry Jones undertakes an epic journey. The video shows spectacular footage of Adelie Penguins flying thousands of miles from Antarctica to the Amazon Rainforest.
Daily Telegraph Reports - Ferrets Lay Broadband Cables

Ferrets are being specially trained to bring broadband cables to rural areas. Virgin Media have developed literally groundbreaking techniques to fit microchips to ferret's jackets so they can check for damage to the underground network.
Office Surprise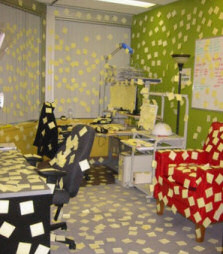 Surprise your co-workers. Here are more ideas for tricks in the office on April Fool's Day.
Google Changes Its Name Topeka

Just for April 1st 2010 the might Google changed its name Topeka. It was an all American joke as only the USA saw the change, the rest of us just saw the regular Google. Perhaps the pranksters thought that UK readers would not know of the link between Topeka and Google.
CrunchPad

We've been hard at work on a new gismo that lets anyone create an iPad like device from any laptop screen. It's called the CrunchPad Kit and it's now on sale for $49.
The key piece of technology is a transparent resizable modular touch screen overlap material that you add to the screen after removing it from the rest of the laptop. You then install the remaining electronics, as well as a power supply, and the device is ready to go. Also included in each kit is a 4G module that you can optionally activate and add to the device for always-on connectivity.
Bearskins Trimmed

Soldier magazine revealed that the fur on the bearskin helmets worn by the Irish guards while on duty at Buckingham Palace keeps growing and needs to be regularly trimmed, 'The most hair-raising fact about the bearskins has been discovered by scientists recently. The skins retain an original hormone, which lives on after the animal has been skinned. Scientists call it otiose and it is hoped it can be put to use in medical research - especially into baldness.'
Guy the Greenhorn and his Yogurt Project
I remember devising a bold project whereby the class made yogurt out of sour milk. It would be illegal now of course, but rules were lax 25 years ago. Far from giving the class reasons why the sour milk did not turn into yogurt, I spent my own money and bought a dozen real cartons of plain yogurt and claimed that their experiment was a great success.
Guy and the Cactus Seeds
Years later when I was an older and wiser teacher, I pulled an intermediate stunt. The class project for the Easter term was cactus. I invested some of the departmental budget in some nice cactus plants for the pupils to take cuttings, we even had proper pots and a greenhouse to keep them warm.
Next, I arranged for a class outing to visit a local expert and admire his collection of cacti. When they returned to the lab, the class were impressed, but they now wanted to grow their own cactus from seed. Have you ever seen cactus seeds? They look just like gravel. Today is March 31st, what shall I do for tomorrow's lesson?
Time for an April Fool's joke.
I could hardly keep a straight face as I told them that I managed to get some Cactus seed at great expense. In fact I was giving them gravel that I picked up on the way to the lesson. My pupils dutifully planted the ' seed's in their pots. Finally, we formed a crocodile and deferentially stored the 'seeds' in the greenhouse to germinate over Easter. At this point the bell went for the end of the lesson, so I dismissed them with the words, 'You know those Cactus seeds you just planted - April Fool'
.
Funny Sign for April Fool's Day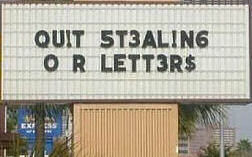 Silly Sign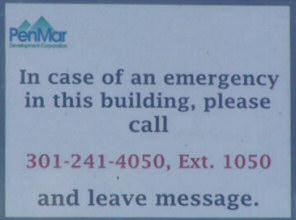 Footnote:
Please send us your funny April Fools Day pictures
See more April Fool's Day jokes, hoaxes and funny stories:
• April Fools 2012 Hoaxes