Here are a collection of hoaxes from April Fool's Day 2009. These same types of pranks will be a rich source of hoaxes for the 2011 season.
2009 April Fool's Day Hoaxes - Will and Guy Reveal All
1. An elaborate April Fool's Day hoax featuring video footage of the world's first "flying hotel" in a converted helicopter. The viral email clip appears to show a Russian-made Mil V-12 being used as the first-ever flying five star "Hotelicopter".
Will and Guy have found out that it claims to have 18 luxurious rooms; apparently the hotel guarantees a first class, unique and memorable experience. We learn that hundreds of prospective passengers fell for this trick which transpires to have been an elaborate marketing ploy.
2. The Sun newspaper has published a spoof that England fans [preparing for tonight's Wold Cup qualifier at Wembley] would have to stand through the world's longest national anthem: some at six and a half minutes, before the World Cup qualifier against Ukraine.
3. The Daily Express records that a British inventor has created an invisible car to allow motorists to beat speed cameras.
4. The Daily Mail has a photograph making it appear as if the British Home Secretary, Mrs Jacqui Smith was walking out of a branch of an Ann Summers sex shop.
5. The Guardian reports that it was to become the first newspaper in the world to abandon print and be published exclusively on the social networking site Twitter.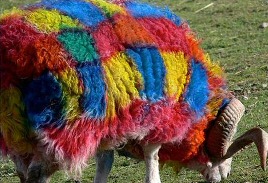 6. The Times produces a photograph of what appear to be "tartan" sheep.
7. Finally, The Daily Telegraph claims that harnessing the power of fish swimming through a river could hold the key to meeting Britain's future electricity needs.
Please let us know what April fool jokes have been played in your neck of the wood. We will publish the best and give credit to everyone who sends a story to us.
Google April Fool's Day Pranks
Google are beginning to make a name for themselves as April Fool's Day pranksters. In 2009 they offered an "autopilot" tool for Gmail.
The idea was it would send out the appropriate automated responses to messages. "As more and more everyday communication takes place over email, lots of people have complained about how hard it is to read and respond to every message. This is because they actually read and respond to all their messages," said Google.
Google introduced the CADIE artificial intelligence service, which stands for Cognitive Autoheuristic Distributed-Intelligence Entity, it had a "mind of her own" and the potential to "change the world". Its Google Brain Search tool would use CADIE technology to index web users' brains, "improving the speed and accuracy of memory retrieval" and eliminate "tip of the tongue syndrome". CADIE even had its own logo a cartoon panda with her own website.
In another development Google announced that its Chrome web browser would be available in 3D. Furthermore, Google provided printable red and blue 3D glasses in case web users don't have a pair at home.
Google has a long history of April Fools pranks. In 2000, it launched MentalPlex, a search technology that could read people's minds, eliminating the need to physically type in search queries, while in 2004, the company said it had established a research facility on the moon.
While back in 2004 the launch of Gmail in 2004 was erroneously considered an April Fools prank, potential users simple could not believe the offer's free 1 GB of online storage.
St Bernard Dogs - Saviour Now Bring Coffee
Black drink from dog saves from white death
Switzerland's St Bernard dogs used to be famous for finding avalanche victims and reviving them with a tot of brandy. Now these lovely big dogs have been forced to adapt to the harsh economic climate. From Wednesday 1st of April the barrels round the necks of the Swiss Alpine Club's 133 mountain rescue dogs will be replaced by miniature Nespresso-style coffee machines.
"It was a purely business decision," said Jörg Ettinghadt from the Swiss Alpine Club.
"The global financial crisis has meant we've got to either cut back the number of dogs or find some extra money. Using the Desperesso machines means we won't have to reduce the dogs.
Ettinghadt told us that the 3kg appliances work on the same "capsule" principle as the best-selling high-street models but with a few practical alterations.
"Every second counts when it comes to surviving an avalanche - the chances of survival have been estimated at 85 per cent within 15 minutes, 50 per cent within 30 minutes and 20 per cent within one hour. A warming drink of coffee - can make all the difference," he said.
April Fool's Day Virus - Conficker.c
The Conficker.c virus was predicted to become virulent on April 1st 2009. What seems to have happened is that thousands, possibly millions of machines have been infected, but so far the infection has not done anything malicious. However, it was predicted that on April
1st a master computer would be programmed to gain control of these infected zombie machines. In the event, nothing materialized, it
was like the false alarm with millennium bug.
Incidentally, Conficker, is also known as Downup, Downadup, and Kido. While the virus authors have not been caught, the Conficker threat
recedes day-by-day. If you are unfortunate enough to be infected search for a detection and scrubber utility from an anti-virus site such
as McAfee or Trend Micro.
Stop press: Conficker.c exploits a vulnerability that Microsoft patched in October 2008 as part of Microsoft Security Bulletin
MS08-067. However, about 20% of all Windows machines worldwide are still not protected against this vulnerability.
Irish Times April Fool Article
ELECTRONIC TAGGING for "Tax Exiles"
The Department of Finance is considering ELECTRONIC TAGGING for "tax exiles" in advance of next week's budget. The measure is aimed at monitoring the presence in the State of individuals who claim to be non-resident for tax purposes.
Last year, 5,803 people claimed non-residency for tax. The Revenue believes that 440 of those are "high net worth" individuals. "These are
the people who we'd be aiming this proposal at," a spokesman for the department said.
Foreign-based Irish millionaires can avoid Irish tax if they spend fewer than 183 days in the State. Last November, Minister for Finance Brian Lenihan abolished the so-called "Cinderella" rule, whereby an individual is not deemed to have spent a day in the country if they leave by
midnight.
"We're still concerned that there are a few fairy tales being told about where people are actually living," said the spokesman.
Electronic tagging is a form of non-surreptitious surveillance consisting of an electronic device attached to a person, usually certain criminals, allowing their whereabouts to be monitored. The devices locate themselves using GPS and report their position back to a control centre via a mobile phone network.
The devices are usually built into ankle monitors, which are designed to be tamper-resistant and will alert the authorities to tampering attempts. According to the spokesman, certain technical issues remain to be resolved before the plan is implemented.
"For example, many of these people have 'panic rooms' in their homes to protect themselves against criminals," he said. "We're not absolutely sure of the technicalities, but if these rooms are lead-lined, they might block the signal from the electronic tag. "In theory it might be possible for a high-net-worth individual to remain in a panic room for days or even weeks without us knowing."
The Office of the Revenue Commissioners is in discussions with a US-based high-technology security company, FailProof, on providing the service.
Footnote:
April Fool's Day article kindly sent in by Brian Kearney
One of the world's leading luxury cruise operators is about to announce the launch of a new credit crunch cruise liner, 40 per cent of which will be owned by its passengers on a time-share basis.
The ship concerned is an old classic which has been quietly renovated in one of Europe's biggest shipyards and expected to be re-launched from Southampton in June 2009.
Initially, time shares will be available through the national press and by applying on-line on the cruise operator's website. Time share holders can take up to six brief luxury cruises a year.
Tickets will also be available to non-time share holding customers on a strictly first-come-first-served basis for specially reduced rates that match or are well below prices for similar cruises by other operators.
All of the ship's usual facilities will be available to time-share passengers including the bargain liner's leisure suite, theatre/cinema, crèche and library; although the swimming pool will only be heated for a few hours in the morning to encourage passengers to take a swim rather than have a shower.
Other measures to keep costs down and ensure that time share holders get value for money will include passengers making up their own cabins. The cruise ship's laundry will, as usual, be self service but energy-inefficient tumble dryers will be replaced by environmentally-friendly washing lines hung from the ship's mast and funnel.
All passengers will be encouraged to make their own entertainment by participating in karaoke, amateur dramatics, and stand-up comedy.
Midnight buffets will be replaced by vending machines selling drinks and snacks at reasonable prices. Passengers will also be encouraged to bring on board their own alcoholic drinks - to keep their extras down. All meals will be served on re-usable plastic plates which, at the end of each cruise, will be burnt in the ship's furnaces with other waste to reduce fuel costs.
One cruise industry insider remarked last night that, "...there is general agreement in the industry that we must do everything we can to encourage more people to take a cruise for there has been significant investment in recent years and we must look to the future.
"No doubt many potential passengers would like to to own shares in a cruise ship for it would guarantee holidays afloat for themselves and their families and friends for many years to come, at an affordable price."
Footnote:

See more at : Virgin Holidays Cruises
At Midday on April 1st
April Fool's gone past
You're the biggest fool at last
When April Fool comes again
You'll be the biggest fool then
The origin of this ditty is Hampshire, England. The meaning is that you cannot play any more April Fool's jokes after midday, or else you become the fool.
Footnote:
Please send us your 2010 April Fool's Day hoaxes
See more April Fool's Day jokes, hoaxes and funny stories:
• April Fools Day 2012 Hoaxes