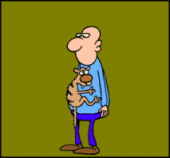 Not only do we have funny pictures of a wide variety of animals, but we
also have different types of medium, video, images, also jokes and funny
stories.
Funny Animals Pictures
Most Popular Animals - With Their Own Section
Cats
Dogs
Fishy Tales
Reptiles
All animals are equal
but some animals are more equal than others. George Orwell
Mammals
Bear Bird Feeder
Buffalo
Dogs Life
Cats Pictures
Cows
Dolphins
Don't Feed the Animals
Elephant Pictures and Jokes
Elephant Baby
Ferret Pictures
Fox
Giraffe Picture
Hedgehogs
Hippo and the Tortoise
Horse Art
Koala Bears
Lion
Moles
Monkey
Otter with ball
Panda with cub
Pig Olympics
Rabbit with Snake
Rabbit Easter Bunny Pic
Seal
Squirrel on top
Squirrel Assault Course
Squirrel Chocolate
Teddy Bear Clouds
Tiger
Whales
Animal Odyssey
Animal Save
Fish, Reptiles, Amphibians
Catfish
Crocodile Pictures
Dolphins (Mammal really)
Fishy Tales
Fish Jokes
Fish Video
Frogs
Snakes
Snake with Rabbit Video
Whales (Mammal really)
Bird Pictures and Funny Stories
Bird Gender
Bird Flu
Budgie Story
Cockatoo
Ducks and Ducklings
Ducks Indian
Ducks Banned
Eagle Rebirth
Flamingo
Hummingbirds
Ostrich Pictures
Parrot Stories
Penguins
Peacock - White
Rooster and Hens
Seagulls
Stork
(Fauna Birds)
Cat and Tortoise Even Cat and Dog
We also have funny pictures of animals of
different species co-operating,
or at least not fighting.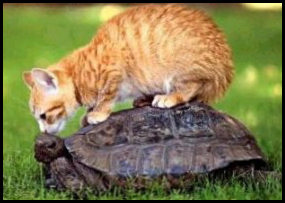 Sheep and Goat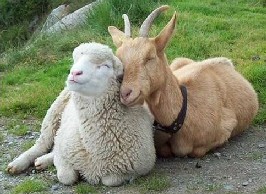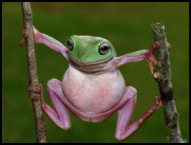 Giraffe Playing Hide-and-seek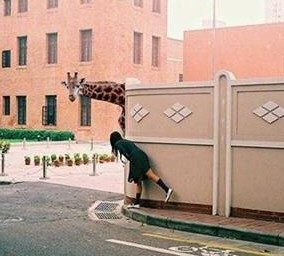 More than just funny animal pictures
Many of our pages also have jokes, interesting pictures and funny stories associated with animals. Cats and dogs are our most
popular animal pages, and we have a collection of bird pictures for example
funny parrots.
Here on these pages is our growing collection of animals in funny poses. We hope that you will find a picture of your favourite animal which make you laugh. As they say, no animals were harmed in taking these
pictures.
Quiet fishing?
Q. What is the difference between a hunter and a fisherman?
A. A hunter lies in wait and a fisherman waits
and lies.
Swan blocks road
A swan caused traffic chaos when it decided to sit in the middle of a busy road. The bird refused to move for drivers in Coventry, UK, reports the Daily Mirror.
Police who attempted to move the bird
were chased away with an angry peck. An onlooker said, 'It was hilarious. It refused to budge.'
The bird finally flew off after a few hours.
No Pets Allowed - All Pets must be on a leash?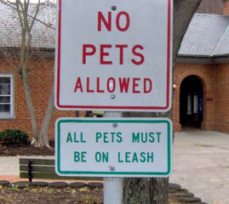 Animal Friends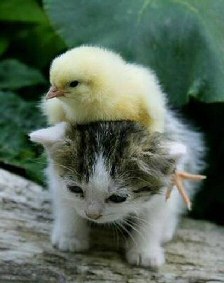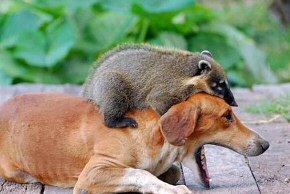 See more animal friends
Now, as I was saying ........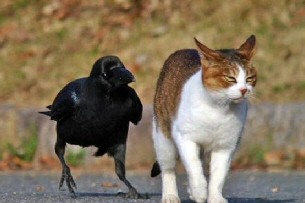 Other Funny Picture Sections
Our idea is to provide a fresh supply of funny pictures each month of the year.
Please send us any funny animals pictures that you may have.