Will and Guy present the good, the bad and the ugly of the marketing world. We leave
you to work out which is which.
Bic Razor Funny Advert
Give us a Tug
Would
This Sell
Toothpaste?
Dental Implants
Bubble Gum Advert
Switch to Sweetex
Free to a Good Home - Funny Advert
Adverts From Bygone Times
Bic Razor Funny Advert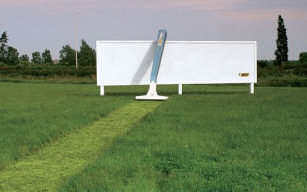 One of the cleverest billboards that we have seen
Give us a Tug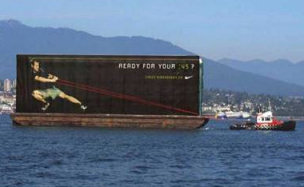 Half the money I spend on advertising is wasted; the trouble is I don't
know which half.
John Wanamaker
Would This Sell Toothpaste?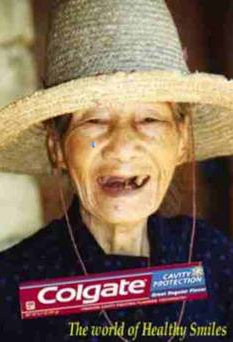 Could this funny advert be a 'plant' by Colgate's rivals? Or could it be
sponsored by the company below?
Dental Implants - Clever Advertising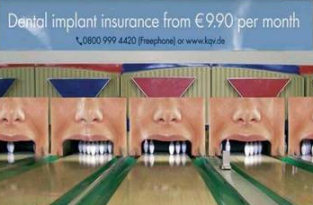 Outside the Bowling Alley was this Bubble Gum Advert: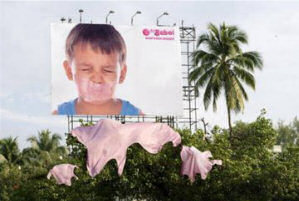 Alternatively obey this billboard and --> Switch to Sweetex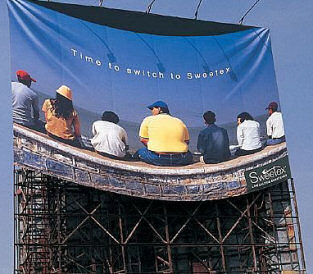 Advertising may be described as the science of arresting the human
intelligence long enough to get money from it. Stephen Leacock
Free to a good home - Take your pick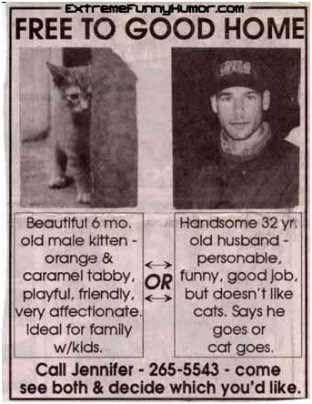 See our funny newspaper adverts
I'll just hop along for the ride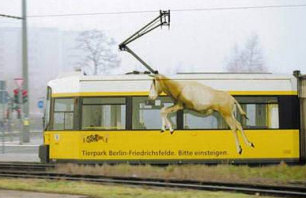 This funny ad had us taken in at first, we thought that gazelle had leapt
out of the grass.
Use Only What You Need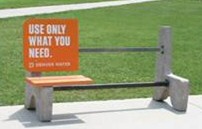 Funny Engrish Advert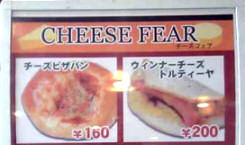 Advertising is a valuable economic factor because it is the
cheapest way of selling goods, particularly if the goods are worthless.
Sinclair Lewis
Footnote:
Please send us your funny adverts and amusing billboards.
See more funny newspaper headlines, stories and ads :
•
Funny newspaper headlines
•
Funny adverts •
Bygone times •
Amusing letters •
Silly book titles
•
Newspaper funnies •
Dear Abby letters •
Funny application •
Funny hotel notices •
Clean jokes
•
Strange but true stories •
Messages on notice boards
•
Funny newspaper ads •
Hilarious stories