Celebrated on the Friday after Thanksgiving. Maryland even have a state holiday in honor of American Indian Heritage Day.
Background to This Special Day
Native Americans are the descendants of the indigenous, people who inhabited what we call USA (and Canada) before the European settlers arrived starting with Columbus.
American Indian Heritage Day fosters the relationship between the United States government and the Native American governments. This
special day also honor the achievements of Native Americans to the United States of America.
Native Americans have made significant contributions to the United States in agriculture, medicine, music, language, and art. Furthermore, Native Americans have distinguished themselves as inventors, entrepreneurs and spiritual leaders.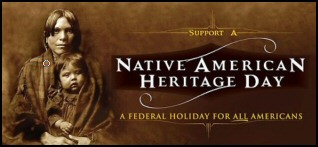 How American Indian Day is Celebrated
Schools use this Friday to educate students about the history and achievements of Native Americans by providing classroom instructions and activities. Adults commemorate this day by organizing events that celebrate the culture, traditions, and languages of Native Americans.

A Native American Myth
A Native American myth says that the sun and moon are a chieftain and his wife and that the stars are their children.
The sun loves to catch and eat his children, so they flee from the sky whenever he appears.
The moon plays happily with the stars while the sun is sleeping.
However, each month, she turns her face to one side and darkens it [as the moon wanes] to mourn the children that the sun succeeded in catching.
A Modern-day Native American Story
My freckle-faced, very Irish daughter is married to a Native American. He knows his family history very well. I on the other hand, have had to trace my family tree. Upon doing so, a bit of information about my great-great-great-great grandfather came to my attention. He and two of his brothers came to America from Germany and settled in Kentucky. The two brothers were killed by Indians; my grandfather escaped.
I told this story to my son-in-law and 'chastised' him and his people. He quickly responded, "Behave! It could happen again."
A Personal View
As a boy in the 1950's I idolised Davy Crockett - I even had the hat! At this time I thought of the American Indian's as the baddies. Thanks
to the power of education, I can see the folly of my childhood views. I now realize that the Indians were noble, and the 'frontiersmen' were the aggressive bullies, furthermore, I feel moved to read more about the customs of the many varied tribes.
Native American Heritage Day
Celebrated on the Friday after Thanksgiving. Maryland even have a state holiday in honor of American Indian Heritage Day.
See more November Thanksgiving Traditions