Statistics: The only science that enables different experts using the same figures to draw different
conclusions. Evan Esar
When you next read an academic paper, make sure you have this handy guide by your side.
What Academic Jargon Really Means
'IT HAS LONG BEEN KNOWN'
...
I didn't
look up the original reference.
'A DEFINITE TREND IS EVIDENT'
...
These data are practically meaningless.
'WHILE IT HAS NOT BEEN POSSIBLE TO PROVIDE DEFINITE ANSWERS TO THE QUESTIONS'
...
An unsuccessful experiment but I still hope to get it published.
'THREE OF THE SAMPLES WERE CHOSEN FOR DETAILED STUDY'
...
The other results didn't
make any sense.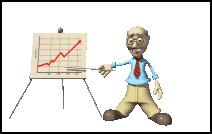 'TYPICAL RESULTS ARE SHOWN'
...
This
is the prettiest graph.
'THESE RESULTS WILL BE IN A SUBSEQUENT REPORT'
...
I might get around to this sometime, if pushed/funded.
'IN MY EXPERIENCE'
...
Once.
'IN CASE AFTER CASE'
...
Twice.
'
IN A SERIES OF CASES'
...
Thrice.
'IT IS BELIEVED THAT'
...
I think.
'IT IS GENERALLY BELIEVED THAT'
...
A couple of others think so, too.
More Attempts to Translate Academic Jargon
'CORRECT WITHIN AN ORDER OF MAGNITUDE'
...
Wrong.
Wrong. Wrong.
'ACCORDING TO STATISTICAL ANALYSIS'
...
Rumour has it.
'A STATISTICALLY-ORIENTED PROJECTION OF THE SIGNIFICANCE
OF THESE FINDINGS'
...
A really wild guess.
'A CAREFUL ANALYSIS OF
OBTAINABLE DATA'
...
Three pages of notes were obliterated when I knocked over a beer glass.
'IT IS CLEAR THAT MUCH ADDITIONAL WORK WILL BE REQUIRED BEFORE A COMPLETE UNDERSTANDING OF
THIS PHENOMENON OCCURS'
...
I don't
understand it....and I never will.
'AFTER ADDITIONAL STUDY BY MY COLLEAGUES'
...
They don't
understand it either.
'A HIGHLY SIGNIFICANT AREA FOR EXPLORATORY
STUDY'
...
A totally useless topic selected by my committee.
'IT IS HOPED THAT THIS STUDY WILL STIMULATE FURTHER INVESTIGATION IN THIS FIELD'
...
I am pleased to feed you this rubbish.
Results of Latest Acedemic Brainstorm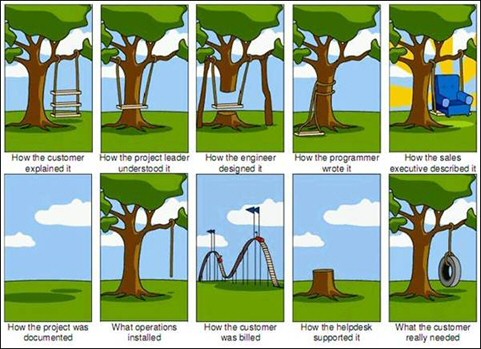 Postscript:
These special phrases are also applicable to anyone listening to an academic talk.
If you have any good examples of academic jargon, please email us.
See more funny employee evaluation, human resources
stories
• Funny appraisal •
Human resource horror stories •
Funny newspaper headlines
•
Salary review •
Evaluations •
Funny newspaper ads •
Funny application forms
•
Academic jargon •
Strange but true stories •
Amusing letter
• Home - Clean jokes