After taking an interest in horse racing for over 40 years, I thought that I had seen it all. Jump races where only one horse finished, races where horses have fallen, and yet the jockey remounted and won the race. However, on 10th January 2008 an amazing race took place in Southall, England.
Southall 2:40 January 10th 2008
What happened was five horses entered the starting stalls, then one of the horses called Jord burst out fractionally before the starter released the doors. Correctly, the starter gave the signal to his assistant that it was a false start and the horses should return to the start.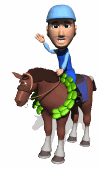 Four of the runners disregarded the recall steward's yellow flag and finished the course. Under the rules of UK racing this meant instant
disqualification. On the other hand, Rebellious Spirit's jockey Chris Catlin saw the recall flag and stopped. Thus Rebellious Sprit was the only horse allowed to take part in the re-run. Naturally, he finished the course and collected the prize money.
The way that you know this occurrence is rarer than a hen's tooth is that the on-course bookmakers, not only paid out bets made on Rebellious Spirit, but also refunded the stakes on the four losing horses.
Jockeys Mistake Finish
A number of courses have, or used to have multiple finishing posts, notably Longchamp, Paris, France, every now and then a jockey, usually an apprentice, races to the wrong post.
However, on 31st December 2007, in the 2:25 at Tramore the race was unusual in that all 14 Jockeys mistook the finishing post. One jockey got it into his head that they only needed to make two circuits of the tricky Tramore course and not three, and so rode a finish, the others copied him.
After much shouting and gesticulating, five jockeys rousted their mounts for the second circuit. The favourite Mr Aussie eventually won the Newtown Handicap Steeplechase. His jockey, Andrew J McNamara was amongst only 5 riders not to suffer a suspension as a result of the farce. Those 9 jockeys who rode a finish on the second circuit then pulled up were suspended for 5 days.
To add to the confusion the official judge called the top weight Boher Storm the winner before Mr Aussie went around again and truly won the race.
While they have been racing at Tramore, Near Wexford in Ireland for over 200 years, the course is only a one mile oval. Moreover, some of the cambers are steeper than Epsom, thus the tightness of the track is one reason why a jockey just might miscount the number of circuits.
See more amusing stories and funny tales:
• Home