Printing instructions: Press the printer button on your browser. If all else fails, press Ctrl + p
Fact is always stranger than fiction. Here is martin with his record breaking pumpkin.
Strange but True Story about 88 Stone Pumpkin
Bavarian Martin Reiss planted the pumpkin at the end of April and harvested it in September when it was 88 days old. This pumpkin set a new European record for pumpkins.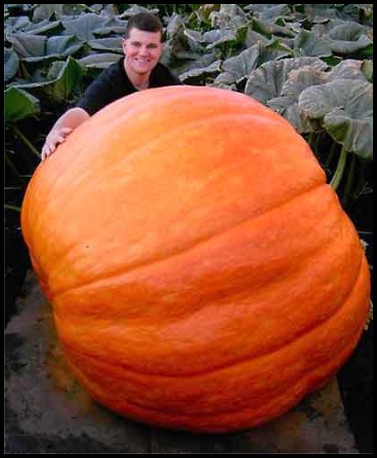 I love everything about this giant pumpkin story. For example,
the coincidence of the 88 days and the 88 stone. Also the fact that measurement is in good old fashioned stone, even though mark lives in Germany.
Guy the Botanist
Guy had a life as a Botanist, so I know how
difficult it is to grow plants. Our department had special growth chambers with zillions of tubes of artificial light to simulate sunlight. We students nicknamed them '
death chambers'
because many
plants would not grow in these supposedly ideal conditions. To be fair the truth was often absent minded professors used to sow plants, but then forget to water them.
---
Mushy peas close A1
The lorry spilled its load of peas on the A1 A major trunk route was closed after a lorry and a bus collided, spilling tons of peas onto the road. Motorists had to steer clear of the
A1 near the Great Gonerby roundabout in Lincolnshire, after the southbound carriageway was closed.
Some 18 tons of the vegetable were shed in the incident, leading to long delays spilling over into
Nottinghamshire.
Emergency services which attended the scene say nobody was seriously hurt in the collision.
A police spokesman said the road has since re-opened to traffic.